Barclays is moving into this new Dublin office - with room for 300 more staff
The financial firm will occupy two and a half floors of the new Molesworth Street office block.
BARCLAYS BANK HAS signed a lease to let more than half of a new office block under development on Molesworth Street that's capable of housing up to 430 staff.
The 20-year agreement will see the financial firm take on 3,437 sq m of office space at investment property firm Green REIT's One Molesworth Street development in Dublin 2.
This will see Barclays occupy two and a half floors of the office building, with the option to take up a further half floor of the development upon the building's completion.
The two and a half floors at One Molesworth Street let by Barclays are capable of holding up to 430 staff – Barclays currently employs 120 staff in Dublin.
The financial firm will pay €2.35 million in rent annually for the office space, with each car parking space it avails of costing €4,000 per annum.
There are a further two full floors still to be let by Green REIT, with a retail space at ground level also available.
The property firm said it is expected the rest of the building will be ready for fit-out before the end of the year.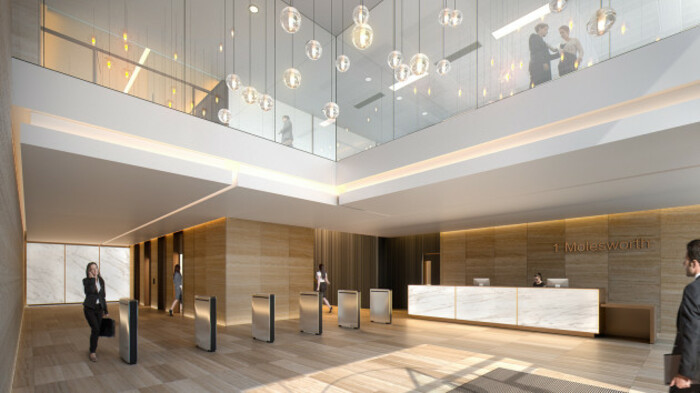 Source: Green Reit
Earlier this year, Barclays tried to downplay reports that it plans to open a post-Brexit EU headquarters in Dublin.
It was suggested at the start of this year that the bank planned to establish a European base in the Irish capital if Brexit negotiations failed to secure continuing passporting rights for British finance firms.
A spokesman for Barclays told Fora at the time that the company's headquarters would remain in London.
He confirmed however that the decision to look at Dublin was done to find a solution to a potential "passporting conundrum".
They're coming
Since the UK's referendum to leave the EU last year, there has been a lot of speculation about financial firms moving their operations away from London's financial hub, with Ireland often cited as a potential area for relocation.
Last month, the chairman and CEO of US investment and banking giant JP Morgan confirmed that the company plans to expand its Irish workforce.
This announcement followed the news that the US financial giant purchased an office block on Sir John Rogerson's Quay in the heart of Dublin's docklands that could house an extra 500 staff.
JP Morgan has also revealed plans to expand in other European cities, including Frankfurt.
Within the last few weeks, banking giant Bank of America has also confirmed plans to set up its new EU hub in Dublin post-Brexit.
The company said that it would move some roles from London to Dublin, but it did not specify how many people it may move to, or hire in, the Irish capital.
Sign up to our newsletter to receive a regular digest of Fora's top articles delivered to your inbox.