Uber's plan to deploy stationless e-bikes in Dublin has been rebuffed by officials
The city council said it would 'not be appropriate' to grant such a licence right now.
UBER'S PLANS TO deploy stationless electric bikes in Dublin have been refused by the city council – for now at least.
The ride-hailing giant met with Dublin City Council chief executive Owen Keegan in late November to make the case for operating stationless electric bikes, or e-bikes, in the capital.
Uber, which has effectively been banned from operating its core business here but does provide a food delivery service, acquired an e-bike startup called Jump last year for a reported $200 million.
Available in 16 US cities, Jump is currently expanding into Europe having launched in Berlin.
According to a return on the Lobbying Register, Uber's Kieran Harte met with Owen Keegan to drum up support for the Silicon Valley giant's bid to operate an on-street e-bike scheme in the capital.
But in a letter sent to Uber earlier this month and seen by Fora, Keegan said that it "would not be appropriate for the city council to advertise such a licence at this stage".
"Based on the experience in other cities, the council is committed to a gradual approach to the development of stationless bikes in the city, which takes account of the rollout of additional bicycle parking facilities," Keegan said in the letter.
He added that in May, the council will be re-examining the existing stationless bike licences, two of which were granted last year.
Uber did not immediately respond to requests for comment.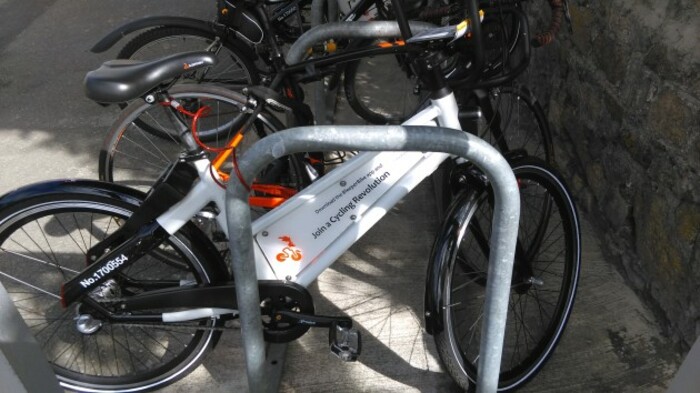 Dublin startup Bleeperbike is one of the operators that secured a licence from the local authority last year. It has so far deployed over 500 bikes across the city.
The bikes are booked and located through an app. Unlike the Dublinbikes scheme, users are not required to dock the bikes at specific locations.
Bleeperbike received a small investment last year from property mogul Richard Barrett and is looking at bringing its own electric bikes into its network.
The other licence holder is Urbo, which has yet to deploy its bikes.
Jump
Uber acquired electric bike- and scooter-sharing startup Jump in April 2018, which mainly operates in US cities. Since the buyout, the firm has begun pushing into Europe.
In December of last year, Uber began hiring for a new general manager to oversee the Jump division in the Irish and UK markets. It is now currently hiring for a London-based marketing manager to promote the service in Ireland and the UK.
Stationless bikes are big business, but the industry hasn't been without its challenges. China's Ofo, one of the industry's biggest players, with a reported valuation up to $3 billion, fell into financial woe in late 2018 after failing to turn a profit.
The company operates globally but last year ruled out a Dublin launch and earlier this month announced it was pulling out of London.
Get our NEW Daily Briefing with the morning's most important headlines for innovative Irish businesses.