Why this $3bn Chinese bike-sharing firm won't be launching in Ireland any time soon
Strict rules for shared-bike schemes in Dublin has made Ofo wary of an Irish expansion.
A BILLION-DOLLAR DOCKLESS bike firm has put its plans to launch in Ireland on ice because the policy for shared cycle schemes is too restrictive in central Dublin.
Beijing-based Ofo is one of the largest 'stationless' bikes firms in the world and operates in over 250 cities.
Within the last 12 months, the four-year-old Chinese startup has raised over $1 billion dollars from investors, including e-commerce giant Alibaba, and is now valued at $3 billion.
Unlike the station-based Dublinbikes network, customers use Ofo's app to find bikes parked anywhere in a region.
While this means there is more flexibility in where the bikes are used, it has also caused problems in schemes from China to Australia with the dumping of bikes in places like parks and waterways.
Since the finalisation of bylaws to allow bike-sharing in Dublin late last year, Ofo has been sizing up Ireland as a potential market.
The Chinese firm applied to Dublin council for a licence to operate a bike-share scheme in the city centre and has also met with representatives at Fingal council to discuss the launch of a similar scheme.
Dublin council is due to announce the two firms awarded licences later today, but Ofo has confirmed to Fora it isn't one of them.
Ofo UK and Ireland general manager Joseph Seal-Driver said the firm has been put off by the restrictions that Dublin City Council placed on its shared-bike schemes.
The council specified that all stationless bikes from licensed operators would need to be stored at designated bike racks and stands within its boundaries.
Seal-Driver said the firm would like to operate in Ireland, but it wants to launch "in the way which is proven to work".
"That is not with a tether as it is not our intention or want to use private cycling spaces in the city," he said.
"Our submission was well-received by Dublin City Council and while we are giving it a miss this time around, we are keeping the door open."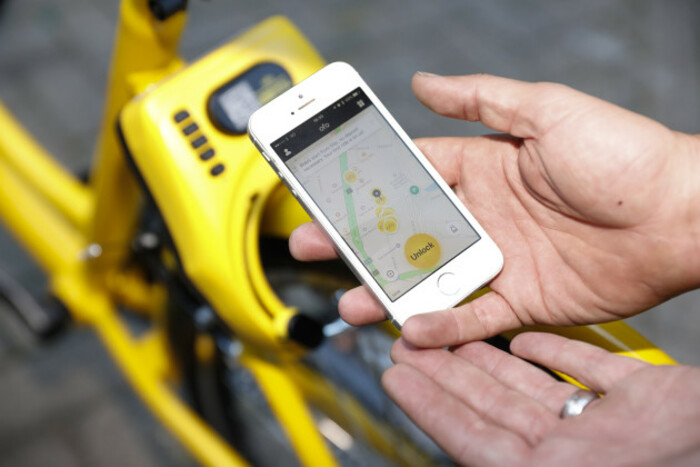 Source: Xinhua News Agency/PA Images
According to Seal-Driver, representatives of Fingal council visited Ofo offices in London earlier this year and observed the firm's operations in Hackney and Cambridge. But without a central Dublin presence, Ofo doesn't believe a Fingal launch would be viable.
"Due to Ofo not launching in Dublin city, we informed Fingal that we would not be launching in any other council area for the moment but we will remain in touch should any future opportunities arise," Seal-Driver said.
Fora contacted Fingal council to ask if the local authority is speaking to any other operators about a similar scheme.
The local authority said there are plans to launch a bike-sharing scheme in Fingal in "the very near future".
"Expressions of interest have been sought from various bike sharing operators and meetings with operators are currently taking place," a spokeswoman confirmed.
Licences
When Dublin council's plan to award licences was first announced, two Irish firms, Bleeperbike and Urbo, and Ofo had all expressed an interest in bike-sharing operations in the capital.
BleeperBike has confirmed to Fora that it has secured one of the two licences. A spokeswoman for Urbo would not confirm if the company was the other successful applicant.
According to the new bye-laws, an operator's initial permits will be valid for a duration of 12 months. After this period, operators can apply to renew their existing licence for a further three years.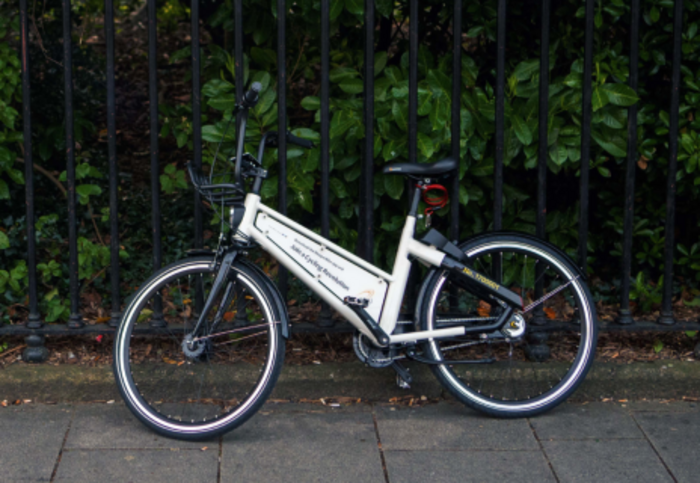 Source: BleeperBike
Firms that want to attain a permit will be required to pay an annual licence fee of €200 and a charge of €50 per bike in their fleet. In its submission to the council, Urbo argued that there should be no fee charged per bike.
There is no restriction on the number of stationless bikes that can be introduced by any one operator, but the council has the option to define an upper limit.
RTÉ previously reported that 600 bikes will be put on the streets in April, with the plan to introduce a further 1,500 in due course.
Update: This piece has been updated to include a comment from Fingal council.
Sign up to our newsletter to receive a regular digest of Fora's top articles delivered to your inbox.