Why Waterford's Suir Valley Ventures is betting big on virtual reality
Entrepreneur and investor Barry Downes says there's huge potential for Irish companies in the sector.
BARRY DOWNES IS bullish on virtual and augmented reality.
The entrepreneur co-founded Waterford-based Suir Valley Ventures last year with €20 million in its purse to invest in Irish startups. The fund is focused on boom areas like VR and AR, as well as the internet of things and fintech.
The firm has already had some success in the first 18 months or so that the fund has been around.
One of its first investments was Immersive VR Education, a Waterford company set up in 2014 to develop virtual-reality content for education. It's working with institutions like Oxford University to develop new learning programs.
The firm, now known simply as VR Education, listed on the Irish and London stock exchanges earlier this year and raised €6.7 million.
The firm's share price has since jumped about 70%, giving it a market value of more than €40 million. Downes and Suir Valley Ventures together own a 14% stake in the business.
It was a somewhat unusual move for the company to list on the markets at the early stage, rather than continue to go through the usual VC funding channels.
"Part of our strategy is to provide this as an additional option for companies to the normal route they can take, which is to continue to do private rounds," Downes told Fora.
"I think the success of the company on the market in a short space of time is great validation of that."
The route gives a company "access to a lot of capital," he added. "It can really accelerate its development."
Downes said that he had seen a lot of demand for VR and AR businesses on the markets – but he added that companies already need to be delivering strong revenue streams to explore this option.
"It takes the right kind of company and I do have to stress that. It's not suitable for everyone."
VR buzz
Suir Valley's other banner VR investment is Warducks, a virtual reality game studio in Dublin.
Globally, investors have pumped billions into VR and AR companies hoping to catch the next big thing. According to the latest figures, investment topped $3 billion in 2018 alone.
"AR and VR (are) the next platform," Downes said when asked whether he was worried that the sectors might fail to deliver on their hyped-up promises.
Companies like VR Education need to be viewed beyond simply VR, he said, as they are taking on a vast market and one that 'edtech' has had limited success in penetrating to date.
Downes pointed to US online learning firm Coursera. Massive Open Online Courses (MOOCs) were originally billed with a lot of promise but things haven't quite panned out as completion rates are rather low.
According to Downes, VR applies a new dimension to remote learning, allowing students to immerse themselves in a virtual world rather than effectively just watching videos online.
VR and AR will be much like how the earliest PCs ushered in the software and mobile device markets many years later, he added.
"The harder platforms enable billion-dollar companies to be created in the software space."
Falling costs of hardware will be key to this wider uptake.
"The hardware is on second and third generation and this is enabling the next generation of software companies to emerge, so we do see it as a very big deal," Downes said.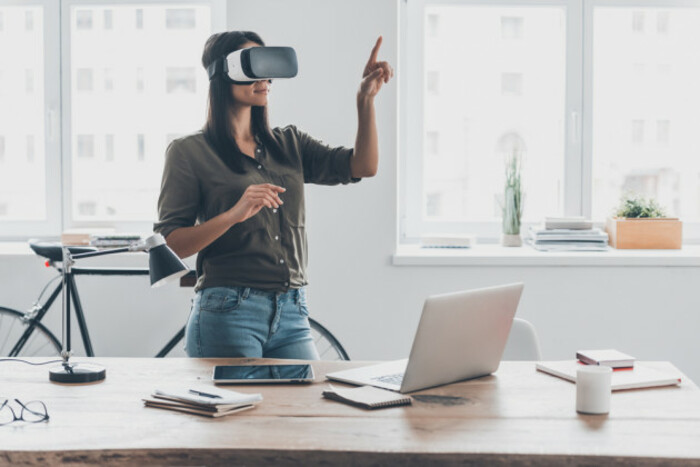 Source: Shutterstock
Facebook-owned Oculus recently released its newest headset the Oculus Go, a standalone model that is priced around $199, a marked drop from earlier models that cost more than $600 and required $1,000 computers to run them.
"At that price point you just take it out of the box, there are no wires, you don't have to connect it to your PC, it just works," Downes said.
The other side of the coin is augmented reality, which has already seen one major flop in the ill-fated Google Glass.
It failed as a consumer-focused product, but the revived Google Glass 2.0 is finding new life in enterprise and industry being used by the likes of factory workers to scan equipment for faults.
"If you look more broadly at industrial and utilities, we're seeing more and more smart glass AR applications," Downes said.
Similarly, aviation giant Boeing is developing smart glass technology that is being used in changing electrical wiring in aircraft.
"When we're thinking about enterprise AR we are thinking about smart glass technology," he said
Suir Valley's next steps
Suir Valley Ventures is based in Waterford. As well as investing in companies there, it has backed NDRC's ArcLabs accelerator at Waterford Institute of Technology.
Its €20 million fund continues to grow too. UK firm Sure Ventures, where Downes also works, committed to invest up to €5.6 million into the fund earlier this year.
It's now setting up a presence in Dublin, where it has also invested in IoT startup Wia and ProVision, a solution for tracking fleets of cars.
Isabelle O'Keeffe will be joining the firm to lead the Dublin location. She was previously an investment associate at Norwegian media group Schibsted and also worked with Techstars on its fintech accelerator with Barclays.
Based out of the Dogpatch Labs coworking space, O'Keeffe will be scouting for AR, VR, fintech, and IoT investments for the firm.
Suir Valley typically invests around €500,000 in a round of about €1 million alongside other investors.
Barry Downes is speaking at FutureScope 2018 at the Convention Centre, Dublin on 31 May. Fora is a network partner for this year's event.
Sign up to our newsletter to receive a regular digest of Fora's top articles delivered to your inbox.