An Irish startup that helps turn everyday objects into 'smart' devices has raised a big chunk of cash
Wia plans to use part of the funds to double its headcount in Dublin.
AN IRISH STARTUP that wants to make it easier to turn everyday objects into 'smart' devices has closed a €750,000 seed investment round.
Based in the National Digital Research Centre (NDRC) in Dublin, Wia provides a cloud-based service for developers that deals with the tech infrastructure needed to make internet-enabled devices.
Its system promises to save time for developers who would otherwise have to spend months writing swathes of code to build the required infrastructure.
The young company secured the €750,000 investment through Waterford-based investment fund Suir Valley Ventures, with some funding also sourced from state agency Enterprise Ireland.
As part of the deal, Suir Valley's Brian Kinane has been appointed to Wia's board of directors.
Founded in 2015 by entrepreneur Conall Laverty, Wia's system is used by developers in 85 countries.
Wia was involved in the NRDC Launchpad accelerator programme after it moved operations from Belfast to Dublin. The company went on to secure €30,000 at NDRC's investor day last year.
Laverty told Fora that the funding announced today will go towards doubling Wia's headcount in Dublin to 12 people by the end of the year. A portion has also been earmarked for the firm's planned expansion into the US.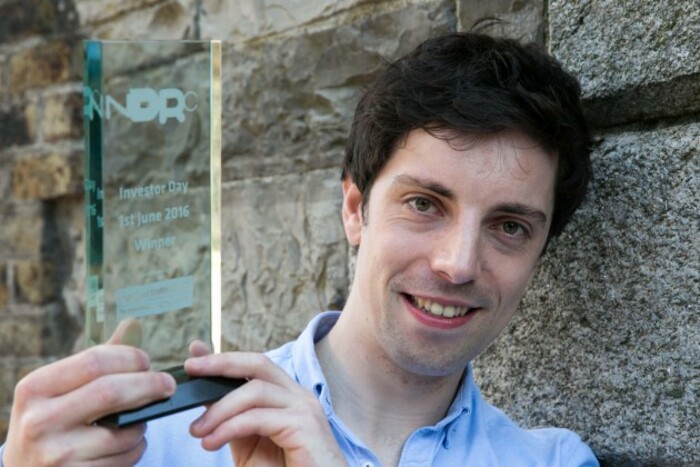 Source: Shane O'Neill Photography
"The capital is also going to be used for releasing the new version of our product," Laverty said.
"One of the big things that's happening at the moment is we're going to enable companies to take the powerful software that's in our cloud and run it inside their own organisation, on their own servers or hardware," he said.
When asked about the significance of securing backing from Suir Valley Ventures, Laverty said: "It's a massive jump, bringing on that significant knowledge base and expertise that Brian (Kinane) has and also Barry Downes, who's managing the fund.
"They're both really, really experienced guys and I really look forward to working with them."
Suir Valley Ventures
Based in Waterford, Suir Valley is headed up by Barry Downes, the founder of software startup FeedHenry, which was acquired by Red Hat for €63.4 million in 2014.
[embed id="embed_2"]
The fund is mainly focused on investing in high-growth startups in emerging sectors like virtual reality, fintech and the so-called 'internet of things', the category that Wia falls under.
Speaking to Fora earlier this year, Downes said the fund is particularly interested in backing companies that use augmented and virtual reality technologies.
At the time, he said Suir Valley Ventures was looking to invest in young companies in the Republic, with plans to branch out into Northern Ireland.
"We have €20 million to invest, but our goal is to get the fund up to €40 million this year," he told Fora in February.
"Our goal is to invest that into Irish startups, but longer term there is the opportunity to pull startups into Ireland as well."
Sign up to our newsletter to receive a regular digest of Fora's top articles delivered to your inbox.
read more on