A Dublin startup has raised €1m for technology that could help stop crashes
ProVision Vehicle Cameras designs systems for tracking fleets and driver behaviour.
A DUBLIN STARTUP that designs smart systems for tracking fleets and monitoring driver behaviour has raised €1 million to speed up its push into the UK.
ProVision Vehicle Cameras, which was launched in mid-2016, took on the funding from Waterford-based Suir Valley Ventures and private investors.
The company was set up by Mervyn O'Callaghan and Simon Murray, who were previously behind Edrive, a fleet monitoring firm that was sold to UK company RS Fleet in March last year.
O'Callaghan, ProVision's managing director, told Fora the company would use the investment to hire more software developers and expand its sales team in the UK.
"Our biggest opportunities are in the UK, although the US will be a big opportunity as well – that's part of the reason we're looking to fast-track our software development," he said.
The firm currently has 17 staff between offices in Dublin and Kent, but O'Callaghan expects that figure to roughly double over the next 12 months.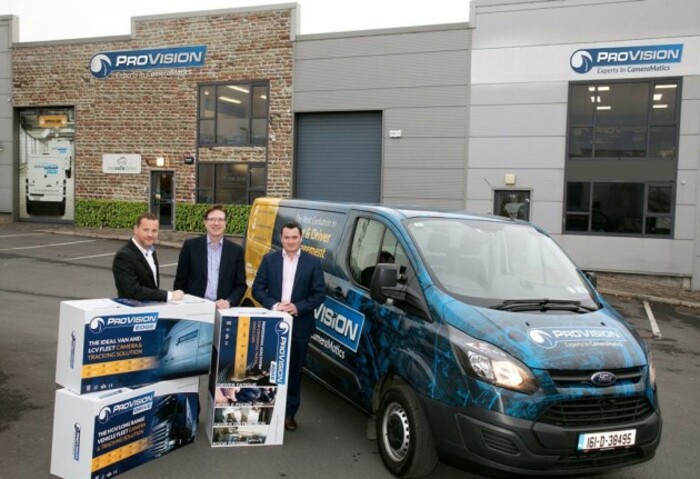 Fleet monitoring
ProVision fits a combination of sensors, radar technology and cameras to vehicles to help transport managers monitor their fleets via the startup's internet-based software.
"We are doing all of the traditional functions of tracking systems, but now we also have visual elements like smart cameras that can indicate things like if a driver moves out of their lane without indicating," O'Callaghan said.
"We can also look at fatigue or mobile-phone usage from drivers, and then feed that back to the fleet manager or insurance company – it's all about managing risks".
The technology can also alert drivers in real-time to incidents like them drifting out of their lanes, making it a potential preventative measure when fatigue is a factor.
O'Callaghan admitted there had been push-back from some drivers about the level of monitoring, but that ProVision's systems also served to exonerate drivers from suggestions wrongdoing in the case of incidents where they weren't at fault.
"Some drivers love it and some drivers don't like it so much, but a fleet manager or insurance company might say they're not the types of drivers they want," he said.
The company designs its own hardware and software, which it charges both an up-front fee and ongoing subscription rates to use.
US target
O'Callaghan said ProVision is already profitable, and he expects the company to hit up to €8 million in sales over the next 12 months.
In the longer-term, the company plans to target the huge US market – although it's expected it will need to raise more money from investors at that stage.
ProVision also recently agreed a partnership with AA Ireland that will involve the two outfits running a trial to work out if the startup's technology can be used to better determine drivers' risk profiles.
The company is the fourth Irish investment for Suir Valley Ventures, which was launched in February. The VC firm is headed by Barry Downes, one of the country's most successful software entrepreneurs.
Sign up to our newsletter to receive a regular digest of Fora's top articles delivered to your inbox.
read more on