Whiskey set to flow in Donegal as Sliabh Liag pushes ahead with its distillery plan
The business is hoping to start construction on a new site in September.
SLIABH LIAG DISTILLERS is pushing ahead with plans to build Donegal's first whiskey distillery in almost two centuries and is hoping to break ground on the project later this year.
The company is set to seek planning permission for a new €6 million distillery in Ardara imminently. All going to plan, construction on the project is due to start in September 
According to James Doherty, the co-founder and chief executive of Sliabh Liag Distillers, the company has already raised more than half of its funding requirement.
The business relocated the planned project to the site of its existing An Dúlamán Gin Distillery after it ran delays at a site in Carrick, where it was granted planning permission in 2017.
"We're disappointed about the delays with the original plans, but we're excited about the opportunity we've now been able to put together in Ardara," Doherty said. 
Doherty and his co-founder and wife Moira initially funded the project. The distillery also counts John Davidson and Dominic De Lorenzo – both formerly of drinks giant SABMiller – among its investors. James Keith, an SME consultant, is also a co-founder of the project.
Helen Stacey, the wife of the late Oliver Hughes – the founder of the Porterhouse chain of pubs who was involved in founding the project – is also a shareholder.
Some 12 other investors, including "enthusiastic" local people and businesses have also chipped in alongside as have some international "drinks people" that Doherty worked with in the past. 
'Profoundly Smoky'
With the new whiskey distillery, Doherty is hoping to create at least 40 new jobs in the area. The site will also include visitor facilities showcasing the history of spirits in the area. 
In 2016, Sliabh Liag released a blended whiskey called Silkie, and has been making its An Dúlamán gin – which is distilled with seaweed – for two years. 
The businessman wants to revitalise Donegal's once booming whiskey industry and bring production back to the county for the first time in 177 years.  
"It seems totally alien to me that this was the distillery heartland of Ireland and yet today there isn't a distillery. That's why we're here," he said. 
In the midst of a whiskey gold rush in Ireland, Doherty is still hoping to differentiate Sliabh Liag from the "post-industrial-revolution city-based flavours" by roasting his grains on old-fashioned peat.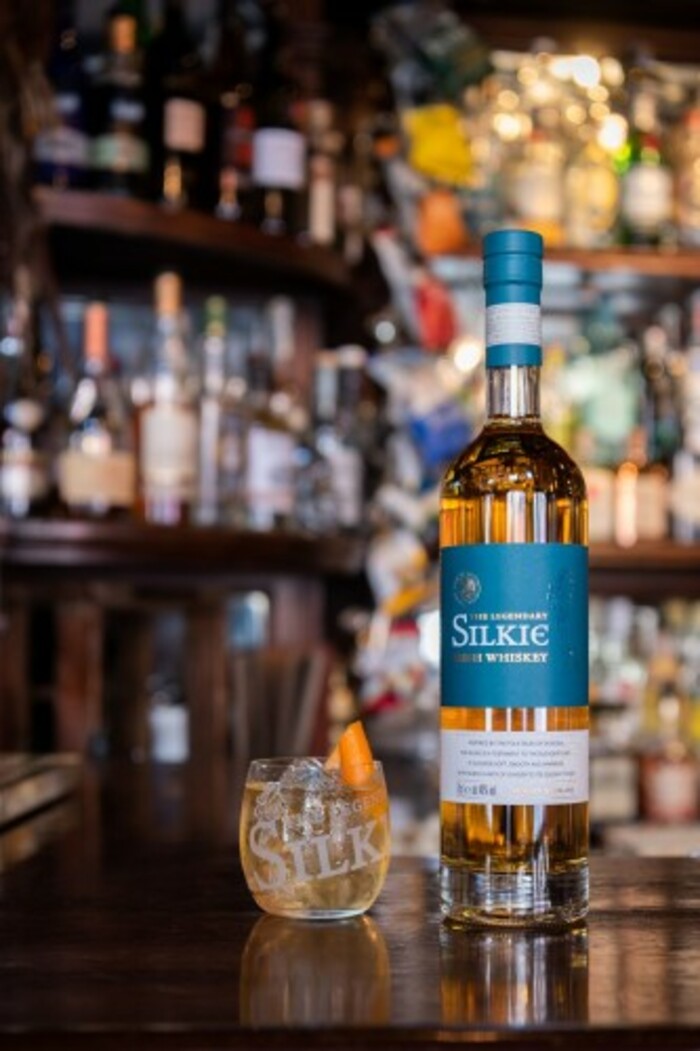 Source: Sliabh Liag
Warehousing
The new site in Ardara is set to include Sliabh Liag Distillers' own warehouse to head off any issues over space. A rising number of whiskey producers in Ireland means warehousing space is a pressing need – whiskey needs to be matured for at least three years – and delays could prove detrimental to smaller companies. 
"We've designed this scheme with sufficient warehousing for the first fifteen years of the business life cycle," Doherty said. 
In January, Bord Bia predicted that whiskey producers are set to surpass an industry target of shifting 10.5 million cases by the end of the year. In 2018, exports of whiskey were valued at €623 million. 
[embed id="embed_3"]
"I think from an industry perspective it's quite a challenge when you look at the growth figures. It's only the likes of Great Northern and John Teeling who are really genuinely making a dent outside of the big existing players," he said. 
"Guys that are producing those kinds of quantities need warehousing. Storage capacity is going to be an issue," he added. 
Note: This article was amended to include James Keith as one of the co-founders of Sliabh Liag, and to clarify that an Dúlamán is not blended. 
 Get our NEW Daily Briefing with the morning's most important headlines for innovative Irish businesses.