'Distillers will go out of business': Why Ireland needs to build big whiskey warehouses
Developers are worried planning delays could hurt small firms.
IRELAND NEEDS TO build large centres for maturing whiskey to hit industry growth targets – but developers warn that planning delays could prove detrimental for smaller firms.
Maturation is a crucial part of whiskey production. Legally, produce from distilleries can't be branded as Irish whiskey unless it has been matured for a period of at least three years.
While a number of distillers have built their own warehouses to store casks, it is widely accepted that centralised sites will have to come on-stream to cope with rising production, especially from micro-distilleries that depend on third-party storage.
However, large maturation warehouses are expensive to build. Developers must also adhere to strict fire safety laws, and insurance and security costs are high because the value of the product increases every year after the initial three-year period.
According to figures provided by the Irish Whiskey Association, the country is on track to sell 14 million cases of whiskey by 2020.
It is estimated that about 10 million cases, or about 120 million bottles, were shifted last year. The industry is hoping to hit the 24 million-case mark by 2030.
In order to achieve that target, Ireland will need additional warehousing to store the liquid, especially as global markets suggest there's an appetite for premium blends that can take 12 or more years to mature.
"If you're going to be selling 24 million cases by 2030, that means you're going to be producing a lot more whiskey every year between now and then. That means there's a lot more whiskey that's going to be in maturation," says William Lavelle, head of the Irish Whiskey Association.
"At a conservative estimate, you require an absolute minimum of 600,000 additional timber barrels of whiskey than there are now."
'Nobody wants it'
As previously reported by Fora, a 100-acre whiskey maturation complex in Westmeath capable of storing 150,000 barrels was recently denied planning permission over concerns it would 'scar' the surrounding landscape.
The refusal raised alarm bells with Alan Wright, the businessman behind the venture, called the Vault Whiskey Store. He believes that whiskey warehouses could suffer the fate of Apple's Athenry data centre, which was bogged down in the planning process for three years and has since been put on the back-burner by the US tech company.
Data centres and whiskey warehouses share similar qualities: they both require vast amounts of land but employ few people. They also tend to attract numerous objections from residents.
"The industry knows it's needed, but nobody wants it on their doorstep," Wright says.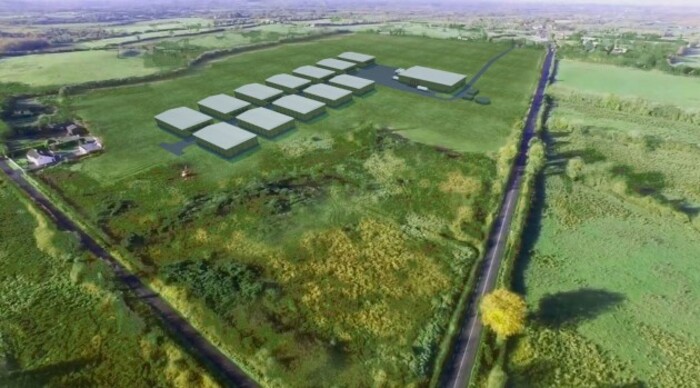 Source: Vault Whiskey Store
However, the Irish Whiskey Association insists that planning hasn't become a major problem yet, although the organisation says it's keeping an eye on whether there are overarching policy issues that need to be addressed.
Lavelle stresses that planning roadblocks that have arisen so far were due to "localised or site-specific issues". He also says there is excess capacity in existing warehouses.
"It is important to note that capacity is being planned for. The Vault (Store) was only one example of it. I think people are looking forward, planning forward," he says.
"I think there are one or two people having concerns that planning may cause an issue, but it hasn't become a bottleneck or a barrier as of yet."
However, veteran whiskey entrepreneur John Teeling of Great Northern Distillery warns that the industry could hit a snag within the next two years if large maturation sites don't come on-stream soon.
"In our case, we produce 1,250 barrels a week. That means I need 1,250 sq feet of warehousing every week. I would need that for a minimum of four or five years. So I would need about 300,000 sq ft of warehousing – that's me alone," Teeling says.
"There is a need for a couple of big warehousing complexes and the nearest one to (what's needed) is in Sligo in the Lough Gill Distillery. They've about 250,000 sq ft of warehousing available. The problem is it's in Sligo and a long way away from a lot of distilleries."
Source: Leon Farrell/Rollingnews.ie
Under the guises of his Dundalk-based Great Northern Distillery brand, Teeling has sought approval to build a 111-acre complex in Kilcurry, Co Louth.
That development has attracted 40 objections. On that basis, Teeling says he isn't hopeful the project will receive planning permission.
"It's a lot like data centres," he says. "If there were a couple of hundred jobs it'd be easier, but a data centre and a whiskey warehouse don't have many jobs."
Fire concerns
One of the main reasons locals object to whiskey maturation warehouses is over fire-safety concerns.
Under EU law, large-scale maturation warehouses must have sprinkler systems and other safety features in place in the event of a fire. Insurance companies require that machinery like fork lifts need to be spark-proof.
Nevertheless, Teeling insists whiskey warehouse fires are rare. He says the facilities are safe, and that it's a matter of educating concerned residents.
"When was the last time there was a whiskey distillery fire (in Ireland)? I think the last big one would've been in 1875 in Dublin," he says, referring to a major blaze in the Liberties area that killed 13 people.
Wright of Vault Whiskey Store adds that since the Dublin distillery fire over a century ago, "maturation has been a taboo subject".
The businessman – who also runs Writech, a firm that provides fire protection systems for distilleries – says large-scale warehousing is commonplace in rival markets like Scotland and the US.
"If you go to Scotland and drive from Aberdeen to Glasgow and over to the west coast, you will pass the guts of about 60 different maturation sites," he says.
"You've got 160 distilleries in Scotland. They're all flying it. They have their own building specs, they lobbied the government ministers and they have supported it.
"A similar line of thought is needed in this country. If not, we're going to remain in a stagnant position. We're not going to be competitive internationally, and unfortunately you're going to see 60-70% of these distilleries going out of business in no time."
Sign up to our newsletter to receive a regular digest of Fora's top articles delivered to your inbox.