Movidius founder after €300m sale to Intel: 'Losing control of the company is difficult'
But Sean Mitchell says the chip designer will be hiring 'a lot' of people in Ireland.
THE CO-FOUNDER OF Movidius says the decision to sell his company to Intel in a €300 million deal was tough, but a step he felt was right for the business.
Chief operating officer Sean Mitchell, who set up the Dublin-based company with David Moloney 10 years ago, also said that the company plans to retain a significant presence in the Irish capital.
Speaking at the InterTradeIreland Venture Capital Conference during the week, Mitchell said that he thought that the sale – estimated to be worth at least €300 million - "was the right one for the stage that we were at".
"Losing the ultimate control is difficult, but I think it is key to have trust that you're going into a deal that is going to have success."
Speaking to Fora at the event, he added that "there is always that issue of having control over your own destiny and passing that control on".
Movidius is one of the Irish tech industry's most promising companies, having received about $85 million in investment over several years to develop its microchips, which handle advanced vision-processing duties in various devices.
It has signed a string of deals in recent years to supply its technology to major tech-industry players like Google and night-vision equipment designer FLIR Systems.
Intel deal
It was announced at the start of September that Movidius was to be acquired by Intel, with the Californian chip giant indicating the Irish company's technology will likely be used to improve its 'realsense' platform, which, among other things, is used in advanced 3D cameras.
Movidius was loss-making at the time of its sale as it pumped money into its software and hardware development, and nearly went under in 2013 before getting a cash injection.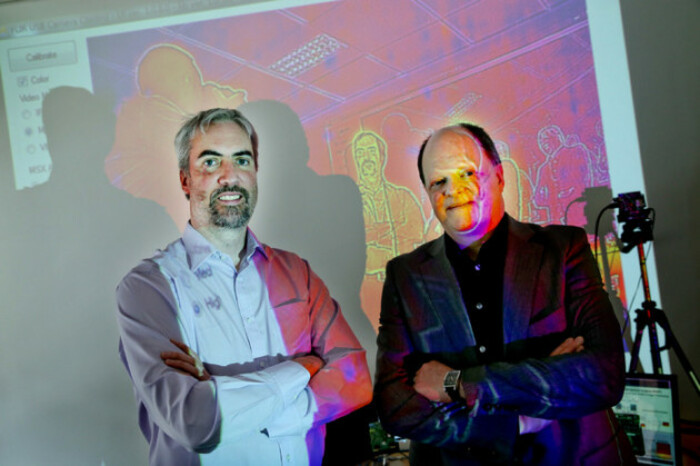 Source: Maxwell Photography
Mitchell said: "People would love to have the big Irish company that remains independent, (but) there are a lot of dynamics at play.
"We were in a position where we had proven the product market fit, the technology and were starting to scale up. If we were to remain independent we would have needed to raise another $50 or $100 million.
"We would have had to scale up incredibly aggressively. The market we're involved in is probably going to end up as winner takes all, there's not much of a prize for second place."
That meant there would be "many more years" of work and "lots more risks as the competition heated up", he added.
"That was the choice. There was a good deal on the table with a partner who could help us achieve that scale.
"A lot of investors in play there, the founders had limited influence (and) it suited people to do that. Losing the ultimate control that's difficult, it's definitely an adjustment.
"We had a responsibility to the team, all of these people who worked so hard on it, they wanted to see it have an impact. If I didn't feel that was going to happen through Intel I would have been a lot more concerned about it, but I'm pretty optimistic."
Co-founder Moloney previously said the sale to Intel was "a validation of decades worth of blood, sweat and tears".
Responsibility
Mitchell told Fora that the sale marked a "new beginning" for the company.
"We're part of a bigger company, but we're still building on what we were building before," he said.
Movidius currently has about 80 staff in Dublin and 200 worldwide, a number Mitchell said he could "easily see doubling". He said that the company is also "hiring a lot" of people in Ireland.
Source: Conor McCabe Photography Ltd
While Movidius's complex share structure means it is difficult to determine how much Mitchell personally gained from the sale, his significant holding meant he stands to make millions.
Asked if he was tempted to 'cash in his chips' and leave altogether, he said: "When a company spends a large amount of money on an acquisition, they have to make sure that they're going to get the value from that so they're very careful that they have a means to retain the team.
"Generally speaking, the team don't get their money out in the way that an investor would.
"The choice wouldn't be there, whether I wanted to or not, it's going to take years for the proceeds of the sale to flow, but I'm quite happy with that because I have a responsibility to make sure that the transition goes well."
read more on