Founder of Irish firm bought by Intel for €300m - 'It's a validation of decades of work'
David Moloney of Movidius said the deal takes his company 'to the next level'.
THE SALE OF Irish tech firm Movidius to internet giant Intel is the culmination of years of work, according to the company's co-founder.
Chief technology officer David Moloney, who set up the Dublin company with Sean Mitchell 10 years ago, told Fora that the deal was a no-brainer for the firm.
"It is very positive for the company and for the technology. Intel is the biggest company in the world in this sphere (so) the deal made sense," he said.
"What I find hugely satisfying is that we built the technology from scratch in Ireland and Intel has gone out of its way to acquire it. They are not the type of company that does things by half measures and I regard it as a huge endorsement.
"It is a validation of decades worth of blood, sweat and tears and it means that the technology has a life outside of this island."
Movidius is one of the Irish tech industry's most promising companies and has received about $85 million in funding over several years to develop its chips, which handle advanced vision-processing duties.
It has signed a string of deals in recent years to supply its technology to major players like Google and night-vision equipment designer FLIR Systems.
Pretty big deal
It was announced earlier this week that Movidius is to be acquired by Intel in a deal thought to be worth at least €300 million.
No firm details regarding the partnership have yet been announced. Intel has indicated that Movidius' technology will likely be used to help improve its 'Real Sense' platform, which, among other things, produces advanced 3D cameras.
Movidius made a loss of more than $15 million in 2014, pushing its accumulated losses at the time above $63 million as it pumped money into its software and hardware development.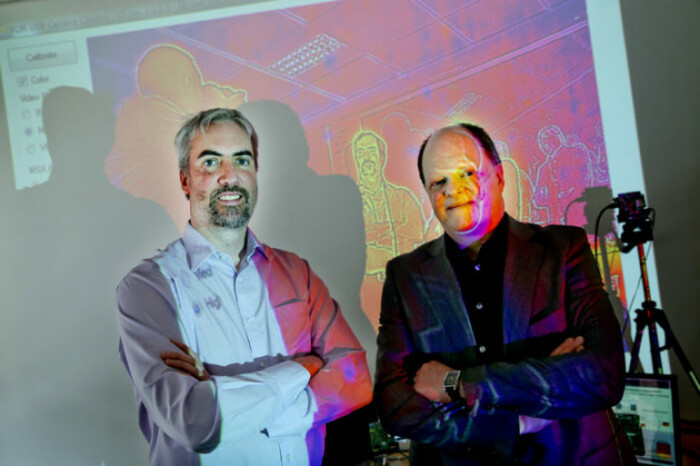 Source: Maxwell Photography
It was struggling financially before it got a cash injection from several venture capital companies in 2013, which allowed it to develop its Myriad 2 processor.
[embed id="embed_2"]
DCU graduate Moloney, who has worked in the semiconductor industry for more than two decades, said he was unable to comment on the financials of the deal as it has yet to close. However, he still holds the a large chunk of the company's shares alongside Mitchell.
London and Dublin-listed venture capital firm Draper Esprit told investors it expected a total cash return of £27 million for its 10% stake in Movidius.
Developing technology
Moloney said that the deal will help to keep the company well-funded and free to focus on developing its technology.
"As a small company you will always be limited in terms of the capital and the availability of cash, this gives us a completely different level of resources to draw on," he said.
"Intel has been a mainstay of traditional servers powering the internet and moving things towards embedded technology, it is a very attractive emerging area of the market and that is the space that we fit into.
"Intel brings scale to the business (and) the deal takes us to the next level, it gives us a chance to focus more on our technology and gives us capacity to roll out designs and products."
read more on