Michael O'Leary says strike action 'fear' has spooked passengers from booking with Ryanair
The airline's forward bookings for the October school mid-term and Christmas period have been hit.
RYANAIR BOSS MICHAEL O'Leary has said that repeated strike action in some of the company's key markets has spooked passengers from booking tickets with the airline.
In a statement today, Ryanair revealed it has lowered its full-year profit guidance by 12% to a new range of €1.1 billion – €1.2 billion.
The airline noted that forward bookings for the third quarter of the year – particularly for the October school mid-term and Christmas period – have been affected by customers fearing further strikes.
Earlier this month, Ryanair faced the biggest industrial action in the company's history as members from five European countries threatened to go on strike.
This industrial relations issue came at a time when the airline's relationship with pilots has also been an issue, with two days of strikes in Germany, Holland, Belgium, Spain and Portugal causing lower traffic in September.
Ryanair said that it expected traffic and fares in the second and third quarter to be lower than expected largely as a result of recent industrial actions "being incited by competitor employees".
"While we regret these disruptions, we have on both strike days operated over 90% of our schedule," according to O'Leary.
"However, customer confidence, forward bookings and third quarter fares have been affected, most notably over the October school mid-terms and Christmas, in those five countries where unnecessary strikes have been repeated."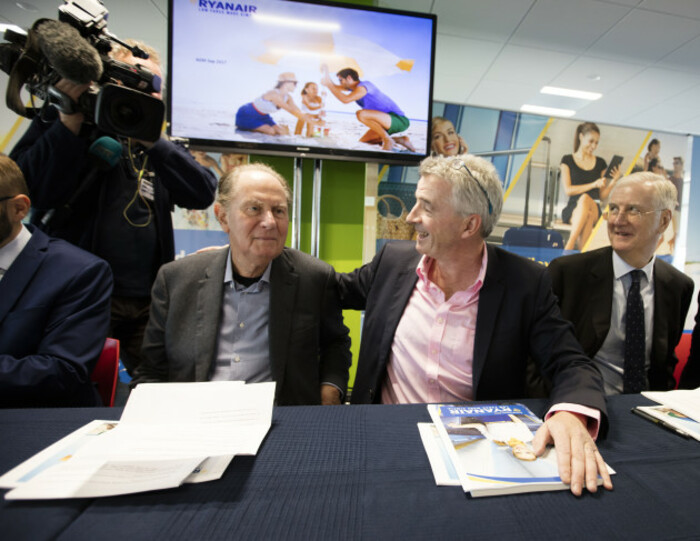 Source: Eamonn Farrell
He said that the strikes also added to Ryanair's costs as unhedged fuel costs have jumped as oil prices rise to $82 per barrel.
In response to the lower fares and higher oil price, Ryanair has decided to reduce the capacity of its upcoming winter schedule by 1%. 
The "modest" winter cuts will see the airline cut back operations at its Eindhoven, Bremen and Niederrhein bases.
"We will also now consult with our pilots and cabin crew at these three bases to minimise job losses.
"We expect to offer our pilots vacancies at other Ryanair bases but, as we have a large surplus of winter cabin crew, we will explore unpaid leave and other options to minimise cabin crew job losses," O'Leary added.
Union deals
Ryanair agreed to recognise unions at the end of last year and has been stuck in numerous battles with groups representing workers in recent months.
Earlier this year, an Irish union representing pilots that was in talks with Ryanair pushed for proposed bogus self-employment laws to specifically target the low-cost carrier's hiring practices.
Outside the Republic, the airline said it has "regrettably" been impeded in Spain, Portugal, Germany, Holland and Belgium in negotiations with unions and claims to have offered what unions asked for. 
"It is clear that these disruptions are unnecessary, and ill-judged at a time when other airlines are also cutting winter capacity.
"Ryanair cannot rule out further disruptions, which may require full year guidance to be lowered further and may necessitate further trimming of loss making winter capacity."
Sign up to our newsletter to receive a regular digest of Fora's top articles delivered to your inbox.