Brexit, Trump and taxes: Why Irish bosses are less optimistic this year
Fewer CEOs are expecting to see revenues and profit growth this year.
IRISH BUSINESS LEADERS are getting more pessimistic about the future and the economy, according to a new survey.
The annual 'CEO Pulse Survey' from global consultancy firm PwC has shown that fewer Irish bosses are confident about what the future holds for their business compared to last year.
In 2016, more than three-quarters of Irish chief executives were positive about future prospects compared to just two-thirds this year.
Last year, seven out of 10 Irish bosses had a positive economic outlook, but this year just over half of the 200 Irish business leaders surveyed were upbeat.
Fewer Irish CEOs thought their revenues, profits and staff numbers would increase this year compared to 2016.
Some of the main reasons cited for this pessimism included geopolitical issues such as the UK's decision to leave the EU and the impact new US policies could have on doing business in Ireland.
The majority of bosses also highlighted that high personal tax burdens, rising wage costs and the threat posed by cybercrime are also significant concerns.
There was also a spike in CEOs worried about the lack of affordable housing and office space in Ireland, up from 64% in 2016 to 84% this year.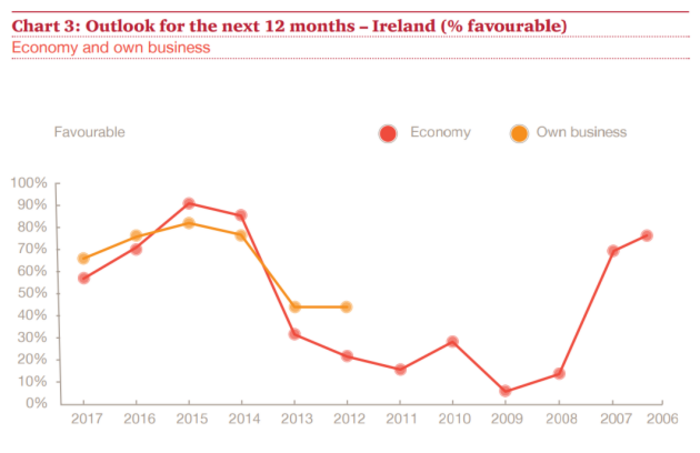 Source: PwC
Click here for a larger version
Most of the responses to the survey noted that it should be a top priority for the Irish government to create a national strategy to deal with Brexit.
Last month, the British government confirmed it wants to leave the customs union which allows EU countries to trade goods freely with one another.
The UK government also released its Brexit position paper which suggested that a 'cross-border trade exemption' should be introduced for small- and mid-sized businesses that operate between the Republic and Northern Ireland.
It stressed that it does not want to see the return of a so-called 'hard border' that would lead to customs checks between the two regions.
The paper did not make it clear what businesses would qualify for the exemption, but the British government said that it is an option it "intends to explore further with the EU".
FDI
Despite political uncertainty in the US being highlighted as a concern by Irish CEOs, the rumblings are unlikely to affect foreign direct investment into Ireland.
US president Donald Trump pledged to slash corporate tax rates from 35% to 15% as part of a move to help bring more investment back to the US.
Last year, President Trump said countries like Ireland were "outsmarting" the US and taking a lot of investment out of the US.
Despite this potential offer across the Atlantic, about nine out of 10 Irish bosses said they will maintain or increase their investment in the Republic.
Some factors that encouraged bosses to preserve this investment in Ireland included Ireland's favourable corporate tax rate of 12.5% and the ability to attract a highly-skilled workforce.
Sign up to our newsletter to receive a regular digest of Fora's top articles delivered to your inbox.