Primark is battling to keep one of its prime city centre properties off the land-hoarders list
The firm faces thousands of euro in levies over the long-vacant Independent House on Abbey Street.
THE FIRM BEHIND clothing chain Penneys is fighting to keep a prominent city centre location it owns off the vacant site register and avoid thousands of euro in levies.
Primark Limited has filed an appeal with the national planning authority in a bid to remove Independent House, a property it owns on Middle Abbey Street, from the land-hoarders list.
The vacant site register initiative was launched last year in an attempt to prevent property owners from sitting on land that could be potentially developed for housing.
An owner of a site on the register can be hit with levies of up to 3% of the market value of the plot. This figure is due to rise to 7% from next year.
After a site is placed on the register by the council, the owner has a 28-day window to appeal the inclusion of their property on the list. If the council upholds its own decision, the ruling can be appealed to the national planning board.
According to the published vacant site register for Dublin council, the building was placed on the list on 17 May.
The building, which was constructed in the 1920s, was the former headquarters of Independent Newspapers up until 2003.
The newspaper group moved out when the building was sold to a firm owned by developer Paddy Kelly and businessman Niall McFadden, a former shareholder of Arnotts.
The building was acquired five years ago by Primark and has been vacant ever since. It is located beside the Abbey Street entrance for the Penneys O'Connell Street outlet.
A spokeswoman for Primark told Fora that since the appeal is ongoing, the company is not in a position to comment.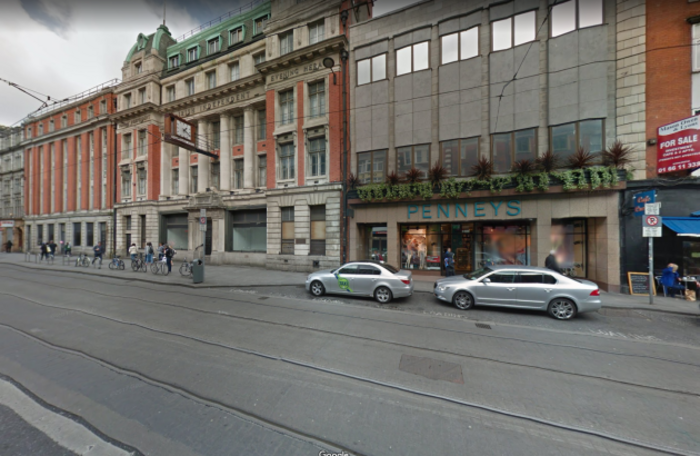 Source: Google Maps
High-profile developers
Since the introduction of the vacant site register, a number of well-known developers, including Glenveagh Properties and Ires REIT, have appealed the inclusion of their sites on the list.
Last month, high-profile developer Pat Crean lost an appeal to have a property he owns in Greystones removed from the land-hoarders list due to lack of action on the site, which has been approved for housing.
Retailer Dunnes Stores has also appealed against the inclusion of a prominent property it owns in south Dublin being listed on the register.
The Irish State is also sitting on large plots of vacant land, according to figures revealed following a recent parliamentary question.
Minister of State Kevin 'Boxer' Moran told the Dáil there are 98 unoccupied properties directly under the State's ownership.
Sign up to our newsletter to receive a regular digest of Fora's top articles delivered to your inbox.