Free Now's Irish boss says the taxi app's new name might seem 'a bit strange' - but give it time
Meet Alan Fox, the man responsible for ensuring Mytaxi's new moniker feeds into a wider strategy.
IN THE UPSTAIRS conference room of Free Now's Dublin headquarters, you'll find traces of the cab-hailing app's recently retired moniker, Mytaxi.
A large prop with the old logo sits on one side of the room. Branded pens are strewn across the high-top meeting table. On a corner shelf, there is a yellow and black visor cap emblazoned with a cheeky message – "We put the ride in pride" – in honour of the capital city's LGBTQ festival.
In the world outside this room, Free Now is spending €3 million on a major marketing effort to scrub the Mytaxi name from existence, just under two years after it first came into use following predecessor Hailo's acquisition by car company Daimler.
Alan Fox, the man overseeing the latest rejig as general manager for Ireland, acknowledges that two name changes in relatively quick succession "is not ideal".
Although it has drawn criticism on social media and from other commentators, the marketing veteran – who previously served as sales and marketing director at insurance giant AA Ireland – insists the move will make more sense in the months and years to come as the business rolls out other transport services.
"I've worked in marketing for more than 20 years. The name itself, like all new names, can feel a little bit strange at the beginning, but really it's what the brand is about that matters," he tells Fora.
"The Free Now brand is about bringing freedom of mobility to passengers. That's where it comes from. There may have been some confusion that (the service) is free, but it's about freedom."
The rechristening was born out of a joint venture between Daimler and BMW when the two German auto giants amalgamated a suite of mobility-service companies – such as car-sharing providers and electric vehicle charging points – under various 'Now' brands. 
The Free Now label is the new name for taxi-hailing apps Mytaxi, Clever, Beat and Kapten. The intention is to create continuity for users across more than 100 European cities.
"Across all of our markets, whether you land in London or Rome or Milan or wherever, you're able to immediately see the brand and have it work exactly the same as it does at home," Fox says.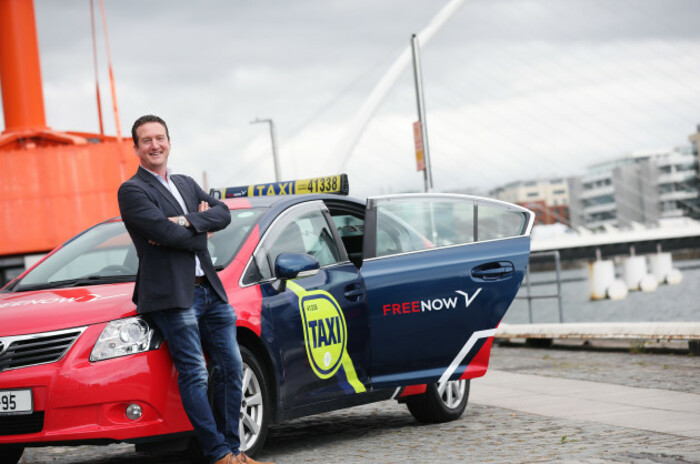 Source: Julien Behal Photography/Free Now
'Wow' customers
Fox took the reins from Tim Arnold about a year and a half ago, having spent five years at the AA, which provided a ring-side seat to the transport industry.
"I think during that time, I started to get a sense of what was happening in mobility more generally and the changes that were happening," he says.
The gig also ticked a few boxes on Fox's career checklist. He wanted to work for a well-known brand, and, having cut his teeth at telco firms, he was keen to get back into the technology space and consumer services.
"I love consumer services. I just really like that opportunity to wow people, to beat their expectations," Fox says.
But wowing users of cab-hailing apps has become increasingly challenging in the seven years since Hailo launched.
"You have to remember that at the time, expectations around taxi provision were very low," Fox says of the "halcyon days of Hailo".
"I can remember spending hours waiting for taxis in a queue or walking home. So when apps like Hailo came into the market, they completely revolutionised the market and blew expectations out of the water.
"Our average wait time has never been lower at just under three and a half minutes, but people aren't blown away by that any more. It has become normal. It has become harder and harder to beat people's expectations over time."
New services
Fox likens his start at Free Now to his time as prepay manager at telco firm Meteor, now Eir, in the mid-2000s.
"That take-off period for Meteor was very similar in terms of growth rates … They had to build brand credibility. They had to build out a service that worked, so there was a huge amount of investment that went into that," he says.
With 550,000 active users and 13,000 drivers across Ireland, Free Now is looking to grow beyond pure e-hailing by rolling out other services like 'Match', where users travelling in the same direction can share a cab and split the bill. 
Match was trialed in Limerick last year and is being tested in Grand Canal Dock and Sandyford Industrial Estate in Dublin.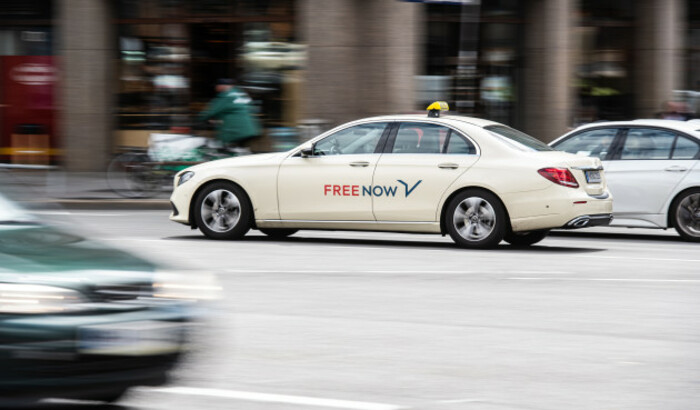 Source: Daniel Reinhardt/DPA/PA Images
Another of Free Now's recent innovations has proven somewhat controversial: in June, it introduced a €5 fee for passengers who cancel taxis after hailing them through the app.
Fox explains that the charge is intended to change certain consumer behaviour during peak hours at weekends, which is when about half of all cancellations occur.
"If three or four people leave a restaurant at the same time and they all hail a taxi each in the hope that one of them will be successful, we send four taxis inbound to that location.
"That means that three other passengers who may also be looking for taxis can't get one. That's the kind of behaviour we're trying to change."
[embed id="embed_2"]
Fox says the money collected will be reinvested in other services such as Match and that the "intention is not to make money", but to take pressure off Free Now's fleet.
As for changing the behaviour of drivers – who also have the power to cancel bookings – Fox says the company has reduced its pre-booking cancellation rate by communicating with drivers, offering them incentives and, on rare occasions, banning serial offenders from the service.
Long-term plans
As part of its longer-term play, Free Now is considering bringing electric scooters to Dublin, depending on how the government decides to regulate the transport method.
E-scooters occupy a legal grey area in Ireland. No scooter-sharing companies operate here, although Silicon Valley darling Lime is opening an office in Dublin and bike-share startup Bleeperbike is tinkering with the technology.
"We're very keen to deploy that here through the app to give people another choice, obviously once the regulatory position on it is clarified. We think there are very distinct use cases," Fox says.
As well as adding new consumer services, Fox is focused on building up Free Now's corporate business, which today accounts for about 15% of its overall trade.
He is particularly keen to generate more business at Dublin Airport, where operator DAA is reviewing the existing taxi framework.
About 80% of Free Now cabs that travel to Dublin Airport leave empty. That's likely because its passenger pick-up point is located in the short-term car park under current permit rules.
"The pick-up point that we have, in our view, isn't ideal … We think there's a significant amount of underutilised capacity that we could help with," Fox says, adding that Free Now has pitched its Match service to DAA as an option for business travellers.
Reflecting on his first year and a half as general manager, Fox notes that he is fronting Free Now at a time when it is entering a more "mature phase".
"We brought in people with more skills, different experiences from different industries and we've been pretty successful in doing that," Fox says of Free Now's 35 Irish staff, which he describes a mixture of "youth and experience".
"It's a really exciting thing to be part of. I think that's the thing that the team here love. They actually love change. You couldn't work here if you didn't."
Get our Daily Briefing with the morning's most important headlines for innovative Irish businesses.