Your crash course in... Just Eat and Takeaway.com's £9bn merger and the future of food delivery
The long-time rivals are joining forces as competition from Deliveroo and Uber Eats is unrelenting.
ON MONDAY, TWO of Europe's biggest names in the online food ordering and delivery space, Just Eat and Dutch rival Takeaway.com, came to terms on a merger.
The £9 billion rendezvous of the two publicly listed companies will create "one of the world's largest and most powerful food delivery websites", according to Takeaway.com chief executive Jitse Groen.
The merger is set to be approved by shareholders by the end of the year with the new entity to be dubbed Just Eat Takeaway.com NV and headquartered in Amsterdam.
Online food ordering and delivery has existed for over two decades but in the last number of years, competition in the market has ballooned with several new entrants and consolidation among others.
Just Eat and Takeaway.com's marriage marks one of the bigger consolidations in the market as rivals continue to gain traction.
Amazon recently pumped millions into Deliveroo, Uber Eats continues to spread its wings into other markets, and Bolt – formerly Taxify and which raised $67 million last month – opened up its own food delivery service this year.
So what effect will this £9 billion merger have on the future of food delivery?
A swelling market
To understand where Just Eat and Takeaway.com are going, it's important to understand how they got here.
UK-based and Danish-founded, Just Eat was established in 2001, many years before the boom in on-demand food delivery apps.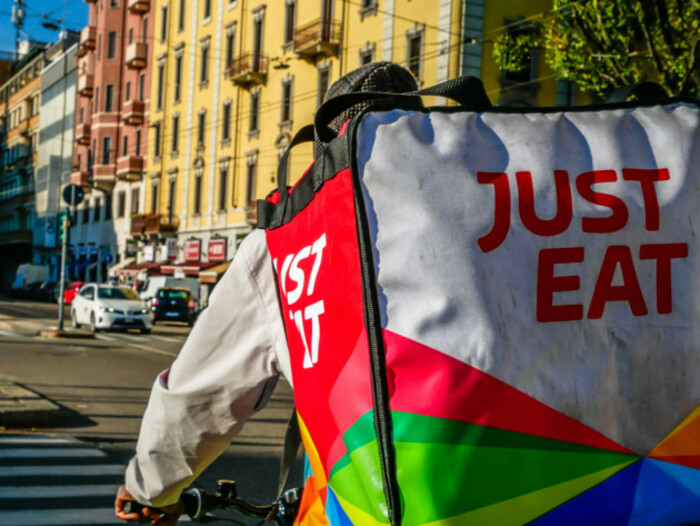 Source: Shutterstock/Eyesonmilan
It began life as a mere platform for restaurants to carry out the booking and purchasing of food. As a result, it has shifted into different shapes over the years, adding its own fleets of riders, as new players like Deliveroo and Uber Eats emerged.
Just Eat first launched in Ireland in 2008 and enjoyed a firm grip on the market for a number of years.
Deliveroo launched here in 2015 while Uber Eats arrived in November 2018, adding more constraints on what was already a busy market. The jostling continues between the three players for the number-one spot.

In its half-year results for 2019, Just Eat booked revenues of £464.5 million but with a staggering decline in profits. It reported before-tax profits of £800,000 – a stark contrast to the £48.1 million the year prior.
This is attributed to the company's significant investment in emerging markets like Brazil and crucially in on-the-ground delivery services when historically it was just a software platform for restaurants that had their own drivers.
It has been rolling out its own fleet of delivery riders in Ireland as part of this strategy to meet demand – the number of orders jumped some 21% to 123.8 million and in Ireland it recently inked a deal with Burger King.
Source: Takeaway.com
On the other hand, Takeaway.com won't be as familiar to Irish consumers. The Dutch company, founded in 2000 and a long-time rival of Just Eat, hasn't launched in Ireland.
Rather it has focused on mainland Europe including the Netherlands, Germany, Austria and Poland and had gross revenues of €184.5 million in the first half of 2019.
The combination of Just Eat and Takeaway.com creates a wider-reaching food delivery company that will touch on markets that individually would have required hefty investments.
Other than Ireland and the UK, Just Eat's European operations include Denmark, France, Italy, Norway, Spain and Switzerland.
The combined entity will have a greater spread over the continent and help it keep pace with the rapid expansion that Uber Eats has carried out in just a couple of years.
Shopping sprees
Both players are no strangers to mergers and acquisitions as Europe's online food delivery market twists and turns.
Over the years, Takeaway.com has scooped up local operators in countries like Bulgaria and Romania and late last year it bought the German business of Berlin-based Delivery Hero, another major global player in the space.
Meanwhile Just Eat has acquired more than two dozen companies or businesses in its lifetime, including Irish operator Eatcity five years ago. In 2016 it bought Delivery Hero's UK brand Hungry House and just last month acquired City Pantry, a catering marketplace.
However this merger marks possibly the most significant deal to date as the two combine forces in a market that shows little sign of slowing down.
Get our Daily Briefing with the morning's most important headlines for innovative Irish businesses.