A Cork firm has launched Ireland's first whiskey-focused investment fund
Over €10 million will be available exclusively to distilleries and businesses in the sector.
A NEW INVESTMENT fund has been launched that will be dedicated to investing in Irish whiskey distilleries and businesses.
The €10 million fund has been established by Ilen River Partners and is the first to focus solely on investment in the whiskey industry. It is also the first industry-focused fund established by the Cork-based investment firm.
The investment scheme has been supported by the Ireland Strategic Investment Fund and will offer financing tailored to the specific long-term needs of whiskey businesses as well as industry advice.
Ilen River Partners said that it has plans to grow the Irish Whiskey Growth Fund as required to meet demand.
Fearghal Ó Ríordáin, managing director of Illen River Partners, said that whiskey distilleries are playing "an ever more vital role within the Irish economy".
"There were just two whiskey distilleries on the island in the early 1980s. There are now 18 distilleries in operation, with more distilleries in the pipeline, all contributing to Irish tourism, agriculture, trade and exports."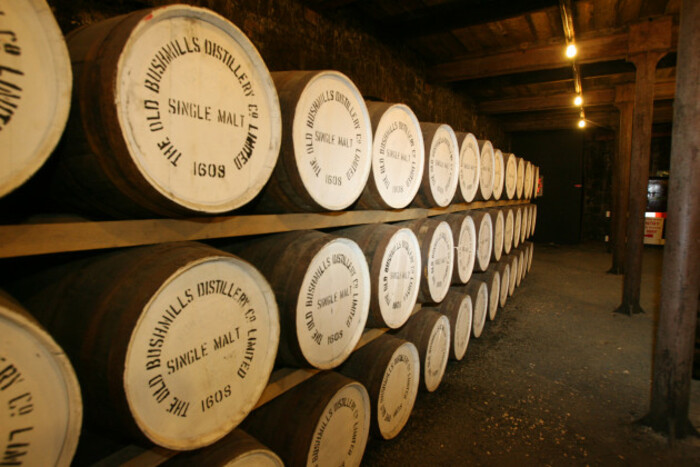 Source: PA Archive/PA Images
Whiskey growth
The value of Irish whiskey exports was roughly €600 million in 2017 and that figure is expected to rise in the coming years, according to Bord Bia.
Last month, the Irish Whiskey Association (IWA) outlined its plans to more than double global sales by 2030.
[embed id="embed_2"]
IWA boss William Lavelle said that half of all Irish whiskey is currently sold in the US, but there are plans to expand this reach.
"Our goal is to target more growth in more markets. We want to expand from our current 135 markets to at least the 170 markets where Scotch whisky is sold."
However, the IWA previously warned that Ireland will require additional facilities to hit these targets.
The group said the country particularly needs large centres for maturing whiskey to cope with rising production.
Sign up to our newsletter to receive a regular digest of Fora's top articles delivered to your inbox.