New figures show a drop-off in the value of publicity for Irish hospitality in British media
The value of coverage generated by tourism officials has declined in recent years.
COVERAGE OF IRISH tourism in the British press has become less valuable amid a changing media landscape and flat visitor numbers from the UK market, fresh figures show.
Documents published by all-island marketing agency Tourism Ireland show that the country's 'advertising value equivalent' (AVE) – a key metric comparing media coverage with the equivalent cost of paying for an ad – declined in the UK in recent years.
In documents accompanying a tender to provide public relations services in Britain, Tourism Ireland said that it hopes to grow its current AVE of €17.5 million in the UK.
In 2014, when the agency last tendered for similar services, Tourism Ireland said it generated publicity estimated to be worth €40 million across the Irish Sea.
The value of the new public relations contract has also decreased, from £250,000 per annum five years ago to £100,000.
A spokeswoman for the agency said that the €40 million figure recorded five years ago "refers to positive coverage about Ireland that Tourism Ireland delivered in British titles in 2013″.
She said this was an exceptional year because it included large-scale events like The Gathering and Derry-Londonderry City of Culture, which would have generated more articles than usual.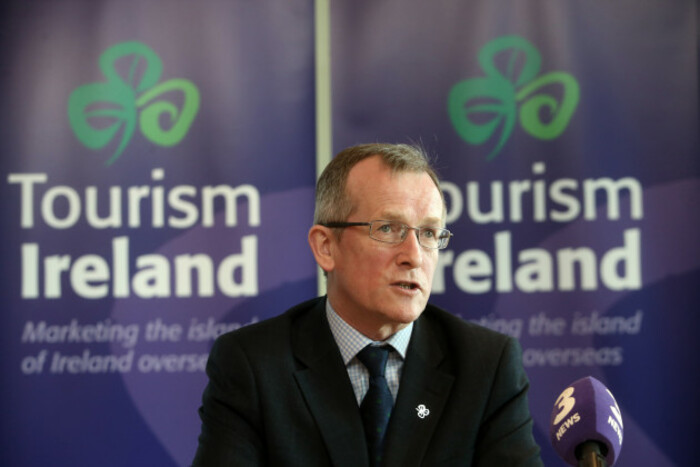 Source: Sam Boal/Rollingnews.ie
However, the spokeswoman did confirm that Tourism Ireland has recorded a decline in the value of publicity in UK media, which the agency has attributed to its shift from print to digital media.
"Our team in London has seen the (AVE) values for national and regional print titles steadily decline in recent years, in line with a drop in print sales and circulation figures, which have been declining year-on-year.
"However, our stories and articles are being carried in British titles – but increasingly in the online versions, which have lower (AVE) values."
Tourism Ireland CEO Niall Gibbons previously told Fora that the agency's 'share of voice' – a measurement of how the organisation's media coverage stacks up against rivals like Visit Scotland – dropped from "over 40% to less than 10% over the last seven or eight years".
Brexit
Britain is one of Irish hospitality's core foreign markets and remains so despite two years of visitor fluctuation in the wake of the Brexit vote.
CSO figures show that Britons took 3.46 million trips to Ireland from January to November 2018, an increase of 0.9% on the same 11-month period the year before.
Despite the slight bump in visitor figures, there are industry-wide concerns that any currency fluctuations or travel disruption caused by a no-deal Brexit could significantly damage Irish tourism.
Industry representative body Itic last year estimated a no-deal Brexit would cost the sector €260 million. Fáilte Ireland, the national tourism development agency, later told an Oireachtas committee that the figure is likely to be €390 million.
After last night's devastating defeat for Theresa May in the House of Commons, the likelihood of a so-called "disorderly Brexit" coming to fruition appear to have increased.
Trade bodies have campaigned for the government to restore tourism budgets to pre-recession levels to shore up against any dramatic changes in its key markets post-Brexit.
[embed id="embed_2"]
Tourism Ireland had €35 million to spend last year, which will increase to €45 million in 2019. A decade ago, it received €51.1 million in Oireachtas funding.
It recently launched its first major global advertising campaign in seven years, using the tagline 'fill your heart with Ireland'.
Opportunities
In the tender seeking PR services in the UK, Tourism Ireland acknowledged that now is "a very unpredictable time" in Britain, but added that "there is business to be won and with some exciting changes for next year".
In addition to promoting city breaks to Dublin and Belfast and building consumer awareness of marketing brands like the Wild Atlantic Way, Tourism Ireland hopes to leverage "once-in-a-lifetime" opportunities, particularly in Northern Ireland.
It plans to generate publicity off the back of the season finale of Game of Thrones, the popular HBO drama that was filmed in the North, and the British Open, which takes place at the Royal Portrush golf club in July.
Tourism officials will next month publish a review of the British market, the first such undertaken since 2012, and will provide businesses with "an in-depth understanding of who the (British) holidaymaker is and how they are behaving, so we can unlock potential".
Get our NEW Daily Briefing with the morning's most important headlines for innovative Irish businesses.