'Doomsday': Tourism firms stand to lose hundreds of millions of euro from a no-deal Brexit
Trade group Itic says such an outcome would be nothing short of 'catastrophic'.
IRISH TOURISM BUSINESSES could "immediately" lose hundreds of millions of euro if the UK leaves the European Union next year without an exit deal.
The Irish Tourism Industry Confederation (Itic) has suggested that "a doomsday scenario" of a no-deal Brexit, which threatens to disrupt EU-UK flight operations, would prove "catastrophic" for local tourism firms.
"Itic estimates that a hard Brexit would directly cost the Irish tourism sector approximately €260 million in its immediate aftermath," the group said in its latest Brexit bulletin.
That figure is based on the result of "a period of one week's flight disruption, a corresponding loss to carriers, increased costs to the food and beverage sector, and a decline in British tourism numbers".
Itic said any disruption to Britons' ability to travel to Ireland could result in half a billion euro of lost revenue in the longer-term as well as added costs "including a negative impact on jobs over the coming years, to say nothing of the indirect costs to the tourism sector of increased airport and port customs infrastructure".
The organisation – which counts Aer Lingus, the Guinness Storehouse and Tourism Ireland as members – said a so-called "backstop agreement" intended to prevent the return of a hard border between the North and the Republic "would be the best outcome for tourism, although unlikely to result in an immediate boost to demand from the UK".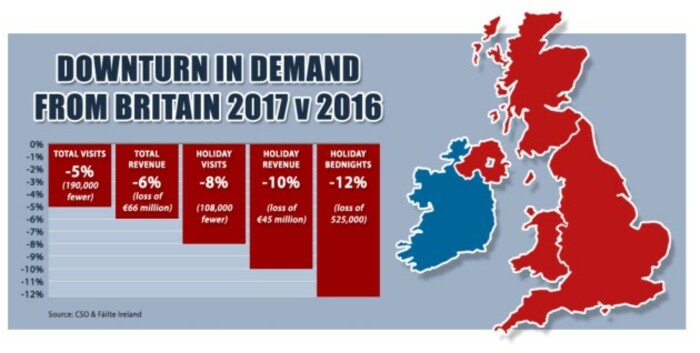 Click here to view a larger version
Decline
The number of British tourists coming to Ireland has diminished in the two years since the UK voted to leave the EU, dropping 6% last year to 4.7 million visits.
However, it remains Ireland's biggest overseas tourist market. Britons are also more likely to visit less-frequented parts of the country and come here during quieter times of the year, according to Itic.
In its analysis, the trade body said that 2016 – the year of the Brexit referendum – was "shaping up as a bumper year for visitors from Britain on the back of a positive growth trend in demand driven by a strong pound".
"Following the Brexit referendum result, sterling took a hit and the consumer confidence wavered in the face of dire predictions of an economic collapse. While the latter did not materialise, Ireland has seen tourism from Britain take a downward turn," the group said.
[embed id="embed_3"]
The decline in British visitors last year impacted all regions bar the south-west of Ireland, according to Itic.
"Dublin saw tourism revenue from Britain fall by €42 million last year, while the south- east, west and border regions each suffered a €10 million year-on-year loss," Itic said.
"The border, south-east, midlands and mid-east regions are relatively more dependent on the British market, accounting for close to 40% of income from overseas tourism in each region. Continued decline in demand from Britain would have serious consequences for employment in these regions."
Sign up to our newsletter to receive a regular digest of Fora's top articles delivered to your inbox.