Dublin hoteliers' sales took a hit during one of the summer's busiest months
Pundits say there is a silver lining on the horizon, though not everyone's convinced yet.
DUBLIN HOTELIERS' SALES took a hit during one of the busiest months in the travel season as hospitality firms juggled growing supply and softer demand with "VAT headwinds".
Citing figures from UK-based analytics firm STR, Davy stockbrokers said in a briefing note that revenue per available room (revPAR) – a key metric measuring the average amount of money a hotel makes on each room – decreased by 6.5% year-on-year to around €135 in July.
This was preceded by modest revPAR growth of 1.1% in June, a 5.9% dip in May and a 2.7% decline in April. So far this year, the figure has decreased 2.4% compared to the same period last year.
The average daily rate charged by Dublin hoteliers last month was down 3% to roughly €155, while occupancy decreased by 3.2 percentage points to around 86%.
Davy attributed the decline in the capital city to "growing supply combined with a softer demand environment" on top of "headwinds" created by the higher VAT rate for hospitality businesses, which went from 9% to 13.5% at the start of the year.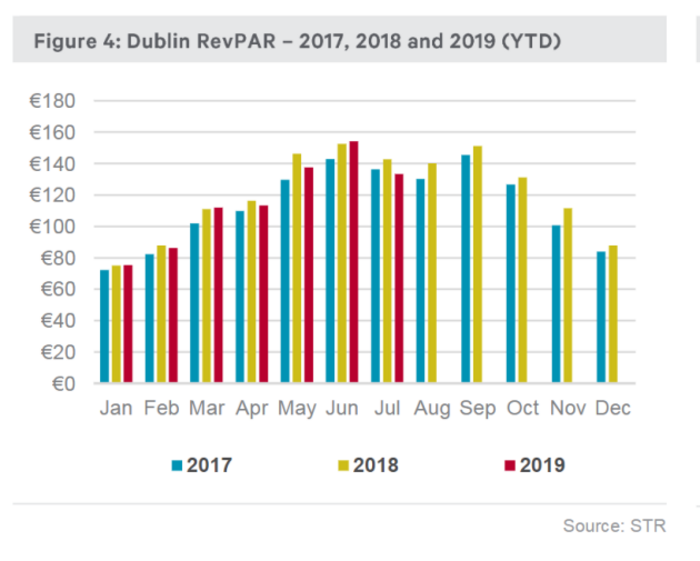 Click here to view a larger version
Despite the decline, Davy suggested there is a silver lining on the horizon. It noted that STR has revised its Dublin revPAR forecasts for the whole of 2019 from a 3.2% decrease to a 2% increase "despite the increasing level of supply coming into market".
The city has for many years experienced a shortage of tourist accommodation with thousands of new hotel rooms due to come on stream over the next year.
"We believe the high level of compression nights (when occupancy is over 90%) in Dublin in 2018 … demonstrates that Dublin city has a truly displaced significant level of potential room nights," Davy stated.
"Hence, as new room supply is added, it is easily absorbed given this level of displaced demand," it said in reference to demand that is not being satisfied by the current market.
In response to a query from Fora, Tim Fenn, the chief executive of the Irish Hotels Federation, said Dublin hotel room rates are "consistently highly competitive compared to other European city destinations and represent good value".
"It is too early to say how the year will work out for the hotel sector, both in Dublin and across the country. However, we do know from our latest member survey that there are signs of a slowdown in business growth from the UK and continental Europe," he said.
A separate report by accountancy firm Crowe suggested that 2018 was a "turning point" for the hotels industry as the rate of growth slowed in the face of increased costs, a bumpy sterling-euro exchange rate and Brexit uncertainty.
Get our Daily Briefing with the morning's most important headlines for innovative Irish businesses.