These are Ireland's 10 most valuable business brands
Guinness is on top and AIB is singing – but its rival Bank of Ireland is licking its wounds.
GUINNESS HAS RETAINED its position as Ireland's most valuable brand, with its worth swelling to an estimated €2.1 billion.
That's according to Brand Finance's yearly report assessing the strongest brands in the country.
The value assigned to each brand is based on an estimation of likely future revenues attributable to a brand and the calculation of royalty fees that could be charged for its use if it were to be licensed in the open market.
Diageo-owned Guinness retained its pole position in this year's analysis thanks to revenue growth in the European and African markets.
The new additions to its range of products, including its non-alcoholic beer, were also taken into account as they could allow the brand to reach a new customer base, Brand Finance said.
AIB, the fastest-growing brand, took second place in the leaderboard after its value increased by 40% – up to €1.9 billion.
The report noted that AIB's jump from fourth to second coincided with its decision to float on the stock market last year.
The increase in value represented a significant turnaround for the bank, which had its reputation shredded following the financial crisis and its subsequent bailout.
AIB is streets ahead of rival Bank of Ireland in the index, with the latter the only firm in the top 10 to see its brand value decrease after a plunge of 30%.
The decrease in value was attributed to its involvement in the nationwide mortgage tracker scandal. Strangely, this is an issue which also heavily involved AIB, which had nearly 10,000 of its customers affected.
The adjustment period Bank of Ireland is expected to go through following the appointment of its new chief executive was also cited by Brand Finance as a key issue.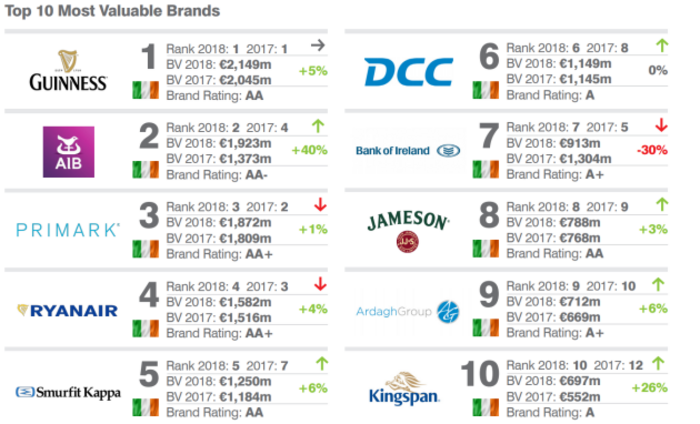 Two Irish budget brands, Penneys and Ryanair, completed the top four, but both recorded sluggish growth in the latest analysis.
Brand Finance highlighted that Penneys is under pressure from increased online competition while the retailer continued with its exclusively bricks-and-mortar strategy.
Meanwhile, Ryanair's brand value was affected by the damage to the company following the flight cancellation catastrophe last year that affected 400,000 passengers.
The report noted that Ryanair managed to limit the damage from the reputational nightmare through its deliberate decision to "manage customer expectations by positioning itself as a no-frills service, rather than prioritising emotional connection".
It added that this made the brand more resilient when catastrophe struck, however it is still unclear about what long-term damage had been done to the company's image.
Another big mover on the brand value leaderboard was Cavan-based insulation manufacturer Kingspan, which increased its value by a quarter to €700 million.
The rest of the firms that placed in the top 10 showed marginal growth on the previous year, with whiskey brand Jameson only increasing its value by 3%.
Irish packaging giants Ardagh Group and Smurfit Kappa both increased their values by 6%.
Sign up to our newsletter to receive a regular digest of Fora's top articles delivered to your inbox.