Overseas construction workers are turning down moves to Ireland due to high property prices
The property sector has suffered from a lack of skilled workers in recent years.
A GROWING NUMBER of Irish builders are struggling to fill construction roles and finding it difficult source overseas workers to fill the void.
Since 2015, when less than half of builders said it was hard to source staff, the skills shortage issue in construction has exacerbated.
A new survey of almost 300 industry professionals by the Society of Chartered Surveyors Ireland (SCSI) and PwC has shown that four-fifths of builders are now faced with skills shortages – a 7% increase compared to six months previous.
The report highlighted that quantity surveyors and commercial managers are in "very short supply", while there is also a lack of skilled plasterers, carpenters, electricians, bricklayers and plumbers.
Despite the acute shortage of workers, seven in 10 builders surveyed want to increase their headcount this year – up 9% on 2017.
SCSI chair Kevin James said surveyors have tried to bring in overseas workers to fill the skills void, but high accommodation costs have put them off the move.
"It remains to be seen where the additional labour will come from. SCSI members are experiencing the effects of the skills shortage first hand," said James.
"One member reported that block laying costs have increased by 25% in the past six months. Another believes a lot of skilled trades are hesitant in moving across to residential from commercial contributing to the shortfall."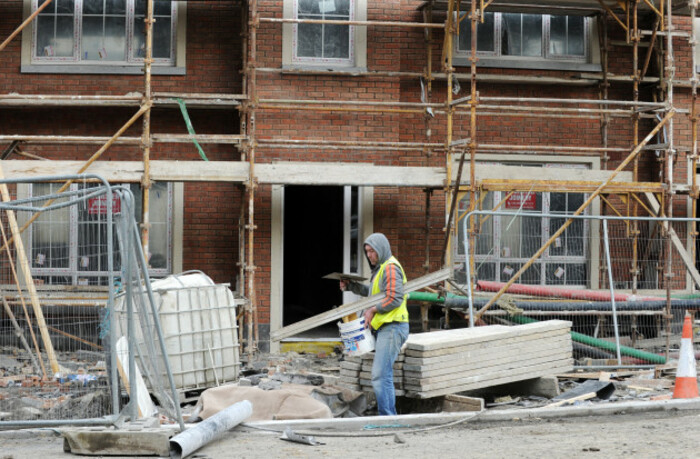 Source: Laura Hutton/RollingNews.ie
The increased demand for construction staff has been partially caused by a rush to develop new housing to address the chronic shortage of residential accommodation.
Other contributing factors include a spike in building in the tourism and commercial sectors to address the need for more hotel accommodation and office blocks.
The SCSI has previously stated that the mass emigration of construction talent during the recession has also led to a limited talent pool.
Planning issues
The report from the SCSI and PwC also highlighted other issues faced by chartered surveyors, including planning and regulatory challenges that they feel are "constraints" on the sector.
Nearly eight out of 10 surveyors said that they experienced issues with planning and regulations over the last six months.
PwC Ireland head of real estate Joanne Kelly said it was too early to tell if new regulations such as the fast-track planning process to speed up housing development could help alleviate these issues.
Sign up to our newsletter to receive a regular digest of Fora's top articles delivered to your inbox.