Ireland's food exports spiked last year but Bord Bia has warned: 'This is as good as it gets'
Dairy and meat sales shot up, but experts are worried.
IRELAND'S FOOD AND drink exports grew for an eighth-consecutive year in 2017, but Bord Bia has cautioned that this level of growth cannot be maintained.
According to new figures from the state agency, food and drink exports increased by 13% during 2017 to hit a record-level of €12.6 billion. Since 2010, food exports have grown by €4.7 billion overall.
This increase in exports was driven by a strong year for the Irish dairy sector and an increase in beef exports in 2017.
Speaking to Fora, Bord Bia chief executive Tara McCarthy said despite the bumper year for exports, the agency doesn't think this level of growth can be sustained.
"We do expect to have a further year of growth in the food industry (in 2018), but we don't expect it to be at double-digit level," she said.
"We do expect it to start tapering off. Recent forecasts on the global economy have noted this is as good as it gets, so we're very conscious in managing both our expectations and the risk factors we're facing as well."
She added that beef and dairy, Ireland's key food export categories, should record volume growth in 2018.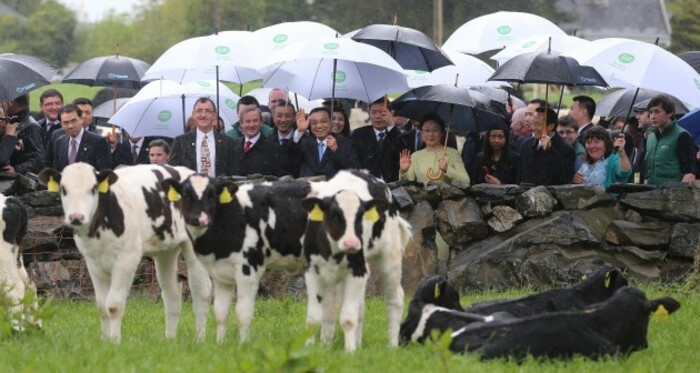 Source: Niall Carson/PA Images
Some of the "risk factors" highlighted by McCarthy included currency fluctuation, which have been partially caused by the UK's decision to leave the EU.
She said sterling has remained weak against the euro, making it difficult for Irish food businesses exporting to the UK.
Despite these and other issues, the value of exports into the UK did actually increase by 7% in 2017.
Breakdown
The UK remains Ireland's most important market for food and drinks exports, accounting for 35% of all good shipped abroad.
However, Ireland's reliance on our nearest neighbour has dropped slightly, with the share of total exports shipped to the UK down two percentage points compared to 2016.
A third of Irish exports go to other EU member states and, for the first time ever, international markets represent €4 billion of all exports.
The biggest driver of the export growth during 2017 was the dairy industry which has reached the "magic figure" of €4 billion again, following growth of 19% in the sector during the year.
The other key category was the meat and livestock sector, exports for which were just short €4 billion following an 8% increase. This increase in exports last year followed a modest decline in 2016.
According to Bord Bia, the edible horticulture sector is "stable" despite the vulnerabilities the mushroom sector has faced due to Brexit.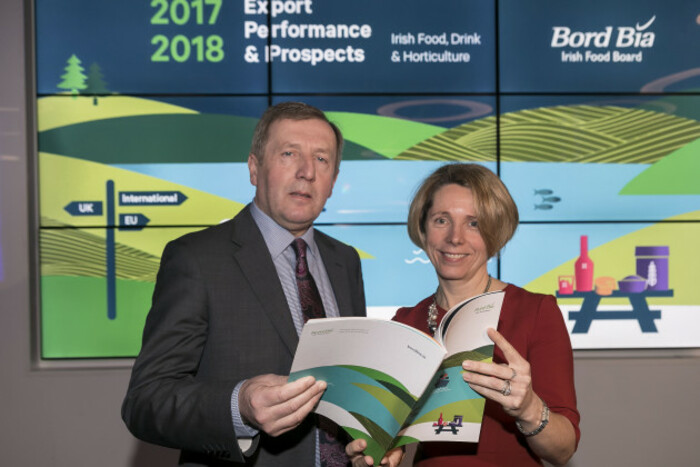 Source: Iain White - Fennell Photography
New staff
At the launch of the report, Minister for Agriculture Michael Creed also highlighted the forthcoming launch of the state's Brexit loan scheme – a measure to help firms that will be most affected by the UK's decision to leave the EU.
He said up to two fifths of this fund will be dedicated to businesses in the food sector, which is heavily reliant on the UK as an export market.
Some specific Irish dairy products are particularly reliant on the UK. One quarter of Irish butter and almost half of all Irish cheese is exported to the market.
Minister Creed added that some additional funding will also be funneled into Bord Bia by his department. This funding will be used to hire 30 additional staff, a lot of whom will be based overseas to increase Ireland's foothold in new markets.
Earlier this year, Bord Bia announced it was on the hunt for people to help it crack the major Asian markets outside China after making successful inroads in the world's most populous nation.
Since 2011, the Department of Agriculture's funding into Bord Bia has increased by 56%, with the agency now commanding an annual budget of €70 million.
Sign up to our newsletter to receive a regular digest of Fora's top articles delivered to your inbox.