Hop House 13's rise is making up for sluggish Guinness sales at Diageo
Bailey's has also continued its global 'turnaround'.
SALES FOR DRINKS giant Diageo's Hop House 13 Lager jumped over the past 12 months as the brand nabbed a larger share of the Irish beer market.
The data, contained in the company's preliminary results for 2017, came amid otherwise sluggish beer sales for the firm in Ireland. Diageo said turnover for its key brand, Guinness, increased only marginally in the year ending 30 June.
However net sales of Hop House 13, which was launched in early 2015, were up 31% year-on-year.
Diageo said it had now sold 25 million pints of the new product, enough to account for 3.2% of the beer market across the island of Ireland. That was up from a 3% market share the previous year.
Over the past year, it has pumped €1.7 million into advertising in pubs – and also barber shops – for the brand.
Sales of Diageo's other beer brands, including Smithwick's and Kilkenny, dipped by 4%. Meanwhile, there was a 10% bump in sales of spirits such as Gordon's gin and vodka brand Smirnoff.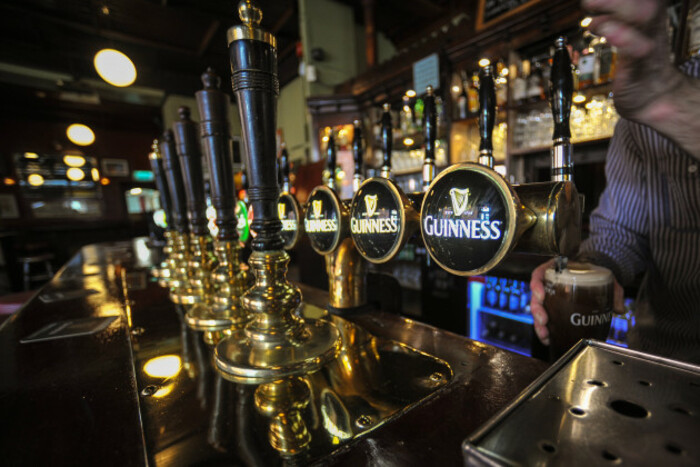 Source: SIPA USA/PA Images
The company's results also highlighted the "turnaround" its Bailey's brand has undergone over the past two years.
The liqueur – which Diageo said now uses the equivalent of 5% of Ireland's total milk production to manufacture - had global sales growth of 5% in the past year, with exports hitting €487 million.
The Bailey's brand also performed strong in the Republic, where sales grew 7%.
Globally, net sales of Guinness were also flat as the brand on the back of a 5% decline in Africa. Nevertheless, sales in Europe increased by 2%.
The drinks maker reported that global sales for all its products increased to £12.1 billion – a 15% rise – and operating profit jumped by 25% to £3.6 billion.
Dublin expansion
The Guinness-maker is currently in middle of a major expansion of its facilities at its St James's Gate hub in Dublin, with a number of developments in the works.
[embed id="embed_2"]
Earlier this year, Diageo got the go-ahead for a €25 million plan to construct a new distillery on the site of the former Guinness Power House on Thomas Street.
The distillery will produce its new whiskey blend Roe & Co as it looks to capitalise on the success of the fast-growing category.
This month, the drinks maker also revealed plans for yet another development near St James Gate when it applied for planning permission for a multimillion-euro expansion of the Guinness Storehouse.
The tourist attraction, which has grown to be Ireland's most-visited attraction since it was opened in 2000, will invest €16 million into the construction of two new developments at the site.
Sign up to our newsletter to receive a regular digest of Fora's top articles delivered to your inbox.