Meet the Irishman who wants to turn Emirates airline's 'fantasy land' into a reality
Enda Corneille lays out the Gulf carrier's growth ambitions for its Dublin route to Dubai.
EMIRATES' COUNTRY MANAGER for Ireland, Enda Corneille, once dreamed of becoming a pilot.
In the late 1980s, when he was working for Aer Lingus, the then State-owned airline launched a recruitment drive for cadets.
"I put my name down and did the test. I got the test, got the first interview and the next interview was with pilots," Corneille recalls.
To help prepare for the next phase of the recruitment process, someone recommended that he spend some time in a cockpit "so I at least knew what I was talking about".
"A friend of a friend of a friend knew someone who had a tenth of a share in a two-seater aircraft out in Trim. I met him one Sunday. A young fellow, he looked about 12. He was an Aer Lingus first officer."
Corneille and the pilot squeezed themselves into the tiny aircraft and hurtled down the grass runway in Co Meath.
"He hoisted her up really quick. He said, 'I can't do this with the Boeing 737s.' We did loops, loops and loops."
The instructor, it turns out, was a young Willie Walsh, now the chief executive of Aer Lingus and British Airways parent IAG.
The story goes to show the somewhat incestuous nature of the air travel world, to which Corneille has belonged for more than 30 years.
It's not a glamorous industry, he says. But it is infectious.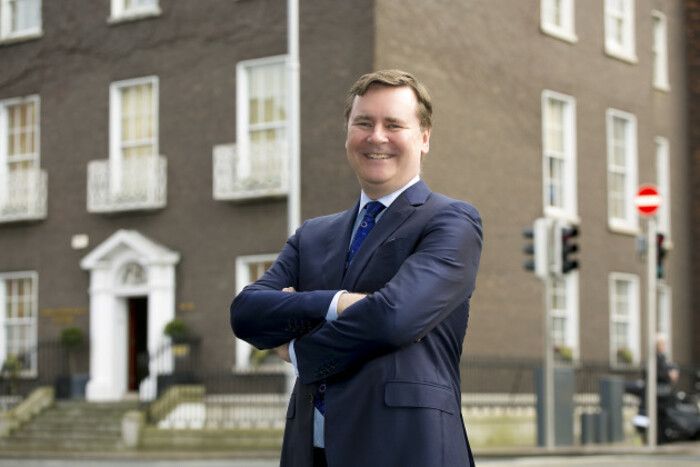 Source: Emirates
The Dublin-born aviation exec started at the bottom as a clerk counting tickets for Aer Lingus and worked his way through the commercial and management side of the business.
He never did become a pilot – although his "plane-mad" father for years told everyone he was: "He never really understood what I did."
After completing an MBA in 2012 and leaving the national carrier, Corneille spent a stint working as a roving instructor at the International Air Transport Association, where he taught airline management to several carriers – including Gulf airlines Etihad and Qatar Airways, rivals of his current employer, Emirates.
Corneille was appointed Ireland country manager for the airline about four years ago and it's been something of a learning curve.
"It's been the quickest four years of my career," he says. "A big chunk of it was very new in terms of the route structure, in terms of the network approach."
Emirates operates a so-called 'hub and spoke' model, favoured by several US carriers. Unlike no-frills Ryanair and EasyJet – which specialise in direct, point-to-point services – the Gulf airline's business is based on filtering traffic through a central hub in Dubai and feeding passengers to onward, long-haul connections.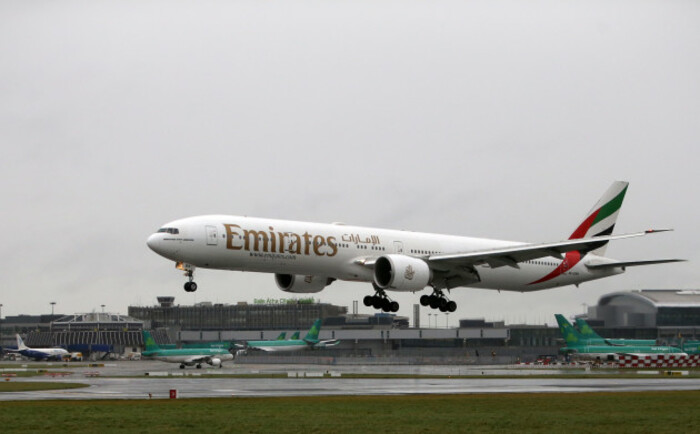 Source: Sam Boal/Rollingnews.ie
Of the 22,000 passengers that fly on the twice-a-day Dublin-Dubai route each month, about 80% travel to destinations further afield like Sydney, Perth and Manila.
"It's all built around quite a complicated jigsaw. You move a flight by five minutes, it's a huge deal because it upsets the whole dynamic … Therein lies a real drive for punctuality because you can't afford to be late," Corneille says.
He insists that Emirates' Irish office at Skybridge House – plonked between Ryanair's headquarters and Dublin Airport Terminal 1 – receives very few complaints, only a handful each month.
Corneille – who describes himself as a "hands-on" manager – says that when a complaint does come in, he will usually call the customer to deal with the problem himself.
"It generates quite a reaction because people don't expect to get a phone call," he says. "You can learn so much from what is behind what happened. You can certainly retrieve the goodwill quicker. That's my style, but it's Emirates' style as well."
'Accessible'
The world's largest long-haul carrier, Emirates is synonymous with luxury and prides itself on offering a detail-orientated 'experiential' product.
For example, its gargantuan Airbus A380s offer on-board showers in first-class. In Dublin, business-class passengers flying on the Boeing 777 are collected by limousine if they live within 50km of the airport.
The association with premium travel presents something of a challenge for the United Arab Emirates-based airline.
"We've got to ensure that Emirates is not perceived as inaccessible; that Emirates is not something I or you can't afford or a family can't afford," Corneille says.
"You're not building a product that is too shiny or too business-classy. Not everyone's going to have a shower on board."
That said, Corneille has noticed a shift in the demands of airline customers, which have become "more sophisticated" in the last decade.
He thinks passengers still want to get a cheap fare, but it's not the only factor when they're booking a holiday.
"You see that with the greater number of central airports that Ryanair serves. People no longer want to travel to somewhere that's 50 miles from their destination so they're prepared to pay a little bit more."
Asked how the airline manages to pitch itself to both families on a budget and wealthy globetrotters, Corneille says that the concept of value for money has "different connotations" for different markets – but every passenger wants the plane to take off and land on time.
"We're a volume business. The airline seat is the most perishable item. Every day, I have 720 seats that we need to fill. If I don't fill them today, I can't fill them tomorrow. Ultimately, you're in retail."
Corneille insists that Emirates' ability to keep its fares competitive is purely down to the the company's long-haul to long-haul business model, which has been profitable for 30 years and recently reported a net profit of $762 million.
The airline, founded in 1985, is ultimately owned by the government of Dubai and its CEO and chairman is Sheikh Ahmed bin Saeed Al Maktoum, a member of the royal family.
Corneille has met the Sheikh once, but ironically not in his current role; the two pressed palms in 2006 when Aer Lingus launched its Dublin-Dubai service.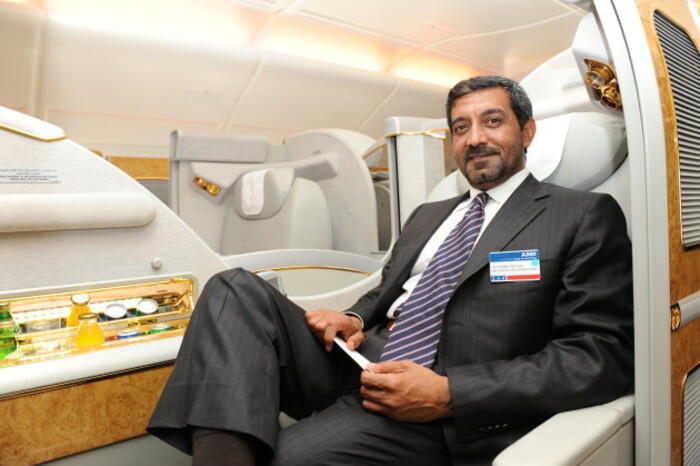 Source: Abd Rabbo Ammar/ABACA/PA Images
Emirates received $10 million from the Emirati government to cover startup costs three decades ago and says it hasn't received any State funding since.
"The story of Emirates is very transparent. Accounts are published for every single year," Corneille says.
"The profitability is down to the business. Our model is collecting traffic from six continents and redistributing it over to Dubai to 156 destinations. That's the model. Parts of it are profitable and parts of it are more profitable than others, but there are no secrets in there."
Future plans
Last month, Fora reported that Emirates has shelved plans for a third daily Dublin-Dubai service due to infrastructural constraints at Ireland's busiest airport.
Speaking to this publication since then, Dalton Philips, CEO of airport operator DAA, agreed there are pinch points that need to be addressed but stressed the existing facilities – which currently cater for 30 million passengers – can handle up to 55 million "with small modifications".
Corneille – who recently had lunch with the airport boss – is still convinced that Dublin Airport will require a third terminal to support Emirates' growth ambitions.
"I do have some sympathy for the DAA. They're constrained quite a bit by the way charges are determined at Dublin Airport," he says, referring to the airport fees determined by the Commission for Aviation Regulation.
"There are certainly pain points at Dublin Airport. I suppose my earlier point was if strategically we want to grow this airport, you simply cannot do it with the facilities that we have."
Corneille is convinced that Philips – who once headed up luxury retailer Brown Thomas and fronted UK supermarket Morrisons – is capable of giving customer-airlines what they want.
"He would have dealt with suppliers (in retail), he would have dealt with customers. The airlines are his customers as well as the people who travel through the airport.
"I know he sat down with Aer Lingus, sat down with Ryanair, I've met him a couple of times. He's listening to what his customers are saying. The challenge, as best he and DAA can, is to translate that into action."
If infrastructure wasn't an issue, Corneille says Emirates would have its own airport lounge in Dublin and would bump up the frequency of its flight to Dubai.
"If we lived in fantasy land, where there are no constraints whatsoever, I would certainly, within five to 10 years, have three flights a day and at least one of them be on an (Airbus) A380 – at least one of them," he stresses.
As previously explained by Fora, the double-decker superjumbo jet has never landed at Dublin Airport and – much to the disappointment of aircraft fans – that's unlikely to change any time soon.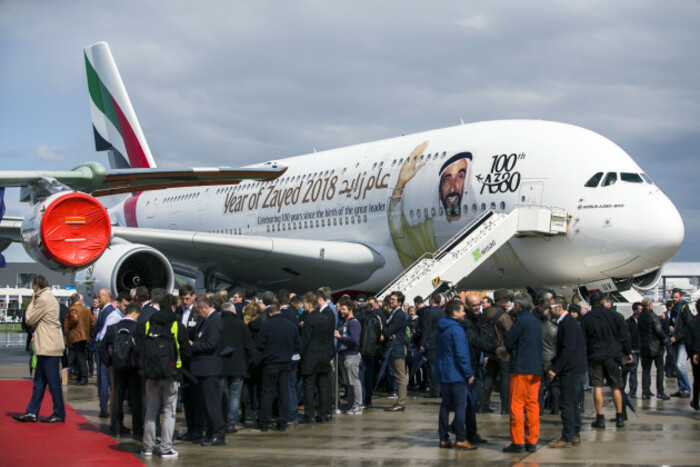 Source: Emmanuele Contini/NurPhoto/Sipa USA/PA Images
But Corneille says the dream is "entirely realisable" between 2019 and 2022, especially after Emirates ordered 36 of the aircraft in a deal worth $16 billion.
"We have the aircraft coming down from the manufacturer and we want to build out our European frequencies to double daily, to triple daily and beyond – we have 10 flights a day from London, so we want to grow.
"But you have to live in the real world and we'll just have to see how the next couple of years pan out."
Competition
One of the biggest changes at Dublin Airport this year is the launch of two new eastbound services: Cathay Pacific's direct route to Hong Kong and Hainan Airline's flights to Beijing.
Corneille says the extra competition isn't affecting Emirates – yet.
"As that competition beds in, they'll present a greater threat," he predicts. "Anyone who's flying aircraft on your routes is a competitor. We've seen Ethiopian do good business into South Africa. You have to take everybody seriously."
When asked how Emirates plans to protect its patch from other operators carrying eastbound passengers, Corneille says it will put the focus on promoting its network of onward route connections.
"Each of them – Etihad, Qatar, Cathay – have strong brands, good products. I think where we are maybe edging a little bit ahead is the scale of the network.
"But at the end of the day, if you're driving your car and you're spending all the time looking in the rear-view mirror, you'll crash. I'll take cognisance of competitors, but my full focus is on our business and what we can do."
Sign up to our newsletter to receive a regular digest of Fora's top articles delivered to your inbox.