As it fights to keep a café open, Dunnes argues it hasn't made a Starbucks-style violation
The retailer was ordered to close its Café Sol outlet in Liffey Valley by the local council.
DUNNES STORES IS fighting to keep its Café Sol outlet in Liffey Valley shopping centre open after being ordered to close down the operation by south Dublin council.
The retailer was issued an enforcement notice in relation to the café in September.
South Dublin County Council said Dunnes never received the required planning permission to open the Café Sol outlet and that it was only allowed to operate a retail store at the site.
An appeal against the enforcement notice has been lodged by Dunnes after the two parties agreed for the case to be reviewed by An Bord Pleanála.
The retail giant has argued that the café represents only 1% of the floor space at its Liffey Valley store and as a result is only a partial change of use.
In its appeal, Dunnes referenced the planning disputes faced by coffee giant Starbucks in Ireland, but wanted to "make it clear" why its enforcement notice was different to those issued to the local operation of the Seattle coffee behemoth in recent years.
The franchise holder of Starbucks in Ireland has faced the wrath of several local planning authorities in recent years after opening a number of coffee shops without permission.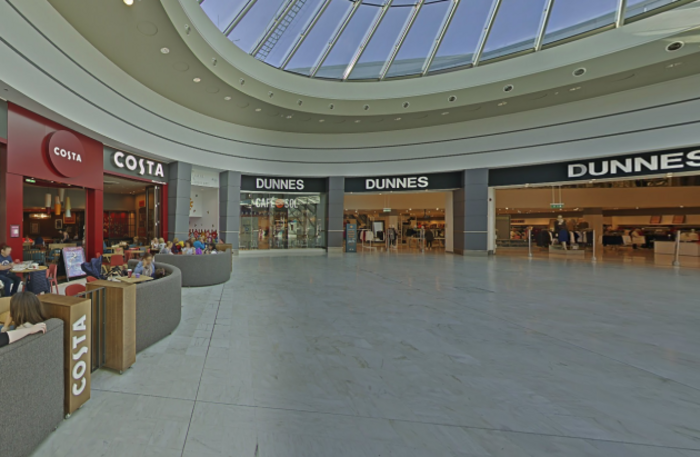 Source: Google Maps
In its appeal to An Bord Pleanála, Dunnes cited specific cases where Starbucks ran into issues with its Airside Retail Park branch in Swords and its Patrick Street location in Cork, which was closed down by the council.
These Starbucks locations were opened in units zoned for use exclusively as retail stores.
Dunnes maintained that its situation is different because it has only changed a small section of its store and not the entire unit.
The café in Liffey Valley has seating facilities, but the retailer claimed this area can be used by all customers, not just those visiting the coffee shop.
Dunnes also noted that Penneys has been permitted to have an Insomnia café based out of its stores in Liffey Valley and Waterford.
It said Penneys' in-store cafés are similar to the Café Sol outlet because they are only accessible from the shop floor and not from the main mall.
Dunnes also cited a 1988 High Court case faced by an unnamed rehabilitation institute for people with a disability, in which the institute was permitted to operate a training and assessment facility in an office space because it was ancillary to general admin use.
Possible penalty
Dunnes Stores opened in Liffey Valley in 2001 and extended the shop six years later. Since it acquired Café Sol in 2015, the retailer has brought the coffee brand to a number of its stores.
In the enforcement order from south Dublin council, Dunnes was told to close down the café by November 2018 or face a €5,000 fine. The council also told the retailer to pay €650 of expenses incurred by its investigation into the case.
The planning dispute will now be ruled on by An Bord Pleanála. If the national planning authority rules in favour of the council, the decision can still be appealed to the High Court.
If An Bord Pleanála rules in favour of the council and the enforcement notice is not observed, the local authority can pursue legal proceedings against Dunnes, with a maximum fine of €12.7 million applicable. 
Get our NEW Daily Briefing with the morning's most important headlines for innovative Irish businesses.