As Dublin firms struggle to recruit, the rental crisis shows no sign of letting up
Goodbody analysts have issued a stark warning on the country's low level of housing stock.
THE COUNTRY'S GROWING rental crisis shows no sign of letting up any time soon, analysts have warned.
The quarterly Daft.ie rental market report showed that rents across the country were up 11.3% year-on-year during the 12 months to the end of September.
The average monthly rent nationwide is now €1,334, some €304 higher than at the Celtic Tiger peak 10 years ago. The figure is highest in Dublin, where rents have increased by 36% in the last decade.
This comes at a time when businesses are complaining that the capital's shortage of residential accommodation is affecting their ability to expand operations and recruit staff.
Tech firm HubSpot recently told Fora it has struggled to convince skilled workers to relocate here, while Crowley Carbon said it is building its new development centre in Sofia due to higher salary expectations and the cost of living in Dublin.
Analysts at Goodbody stockbrokers said the Daft.ie report contained "very familiar conclusions" about the current state of the country's rental market, with prices hitting new all-time highs while supply is at an all-time low.
The pundits added that demand will remain "robust" due to a combination of rapid employment growth and population increases, and a lack of available accommodation.
"There is no reason to believe that rental growth will slow to any significant extent any time soon given the current low level of stock and ongoing strong demand," Goodbody said in a briefing note.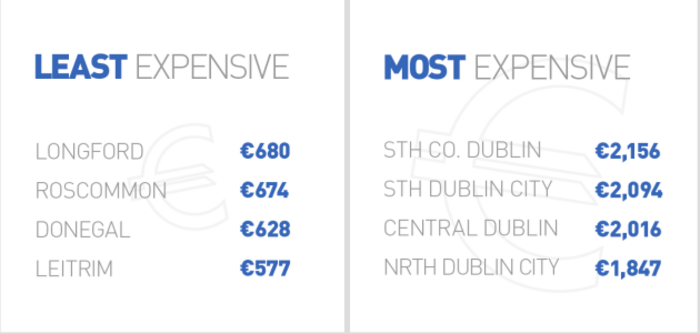 Source: Daft.ie
Click here to view a larger version
Home building
According to the Central Statistics Office, home completions grew by 24% year-on-year in the third quarter of 2018, with more than 12,000 new homes coming on stream in the year to date.
Goodbody has estimated that a total of 18,000 new homes will be built in 2018, but said that this remains half of the estimated level of demand.
The stockbroker added that the latest housing figures show "little sign of addressing the rental shortage", particularly when it comes to apartments.
"Weakness in apartment construction remains the most disappointing aspect of the data. Ongoing uncertainty around building regulations has contributed to this performance, but viability is also an issue in large parts of the country," it said.
Analysts were not optimistic that the situation will change in the near future, saying that they are "likely to be writing about similar trends in three and six months time".
Note: Journal Media Ltd has shareholders in common with Daft.ie publisher Distilled Media Group.
Get our NEW daily digest of the morning's most important headlines for innovative Irish businesses.