Despite planning roadblocks, spending on Irish data centres will top €1 billion this year
A new report has forecast that total investment in these structures will hit €9bn by 2021.
INVESTMENT IN DATA centres in Ireland will pass the €1 billion mark this year, according to a new report.
The Republic has become a hotbed of data centre activity in recent years with some of the world's leading tech firms building the large-scale developments in the country.
New research, which was released as part of the second annual Data Symposium in Dublin City University by industry group Host In Ireland, has forecast that investment in data centres in Ireland will be over €1.1 billion this year.
This will bring total data centre investment to date in Ireland up to €5.7 billion. The figure is expected to reach €9 billion by 2021.
The report noted that there are currently 46 centres in operation in Ireland, with a large cluster of these based in south-west Dublin.
Host In Ireland boss and founder Garry Connolly said there is still strong growth in applications for data centre planning permission in the specific areas of the Irish capital.
He added that sustained growth in the Irish data centre sector is dependent on the availability of energy in the Dublin metro region.
There has been a net increase of 60 megawatts to Ireland's energy grid since the end of 2017 to account for the energy needs of planned and operational data centres, according to the report.
However, since a number of data centres are still being built and at the planning stage, less than half of power allocated to data centres in Ireland will be used this year.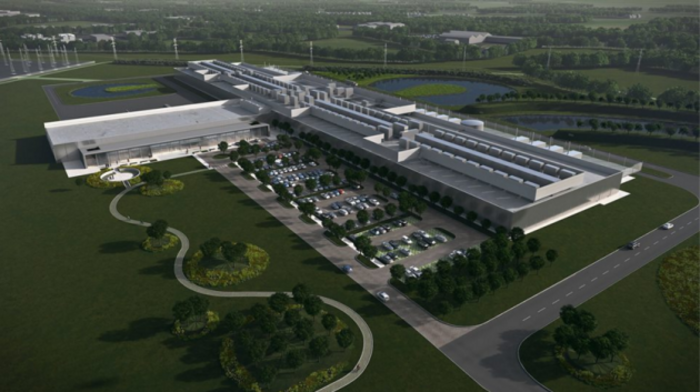 Source: Facebook
Planning disputes
The spike in data centre projects has also led to several high-profile planning disputes, most notably the long-running appeals over Apple's proposed facility in Athenry .
Large-scale data centres come with significant energy needs. For example, Amazon's data centre planned for Mulhuddart in north-west Dublin will use as much electricity as a small city at times of peak demand.
The development, which is about three times as big as the pitch in the Aviva Stadium, will employ 30 people upon completion.
Another big tech player that has grand data centre plans for Ireland is social media giant Facebook, which is spending hundreds of millions of euro on the construction these developments in Meath.
Many of these tech giants have commented that Ireland is an ideal destination for the construction of data centres due to its temperate climate, which reduces the cost of cooling the massive structures.
In a bid to tap into the data centre hype, Clare County Council issued call to landowners and developers last year to nominate sites that could be used to build data centres in the region.
Sign up to our newsletter to receive a regular digest of Fora's top articles delivered to your inbox.