Facebook has no plans to stop building in this former cow paddock
The tech giant has revealed it may need to expand its new data centre again.
FACEBOOK COULD FURTHER expand on its data centre plans on the site it has purchased in Meath if the company's growing user base continues to test its servers' capacity.
Yesterday the tech giant announced it had received planning permission for a second building at the site in Clonee, where construction is already underway.
Speaking to Fora, Facebook head of infrastructure Tom Furlong said if the rate of growth at the company continues, the company might need to develop more data capacity in the county – potentially adding more space to the 621,000 sq ft plan.
"The actual planning approval for the site is for three full buildings. We would like to be able to add those buildings if the business dictates we need them," he said.
"Facebook is growing at a very rapid rate, so the headlights we need to see where we're going sometimes mean we can't see far enough out there."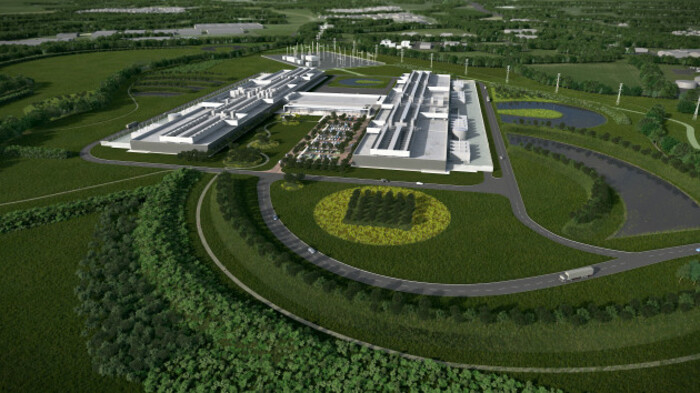 Source: Facebook
Ideal Irish weather
After scouting Europe for a suitable location for the building, Furlong said Facebook chose the site because of the potential to power the centre entirely by renewable wind energy.
As the wind nearly tore the roof off the marquee during his talk in Clonee yesterday, Furlong pointed up and added, "this is why we are here".
Ireland's cool climate will also play a big part in maintaining the servers housed in the Meath data centre. The company's only other similar complex outside the US is in Sweden.
Dan Madrigal, the man responsible for scouting new sites for Facebook in Europe, said natural weather conditions in Ireland mean the company will not need an expensive air conditioning system to prevent the data centre hardware from overheating.
"The combination of humidity and temperature here is just the right amount. We are able to do an indirect cooling system, which means we in technical terms are able to get free cooling in order to cool our data centre," he said.
"The indirect cooling system we are going to build here draws air directly from the atmosphere and into our data centre. There will be a lot of savings in electricity."
Furlong added the Irish weather conditions could make the Clonee data centre over one-third more energy efficient than other Facebook operations of this type worldwide.