Amazon is planning a new data centre the size of three football pitches in west Dublin
The new facility in Mulhuddart will employ about 30 staff when completed.
INTERNET GIANT AMAZON has applied for planning permission to build a massive new data centre in Mulhuddart in north-west Dublin.
According to plans submitted by Amazon Data Services Ireland Limited to Fingal County Council, the centre will be 20,739 sq m (223,000 sq ft). This is about three times as big as the pitch in the Aviva Stadium.
The facility, which will be located at Cruiserath Road, will cost about €200 million to build, according to the Irish Independent which first reported the plans.
According to documents submitted to the council, subject to permission being approved "construction work is anticipated to commence in mid-2017 with approximately 12-18 months for construction".
It is estimated that there will be an average of 250 building staff working on the project during its construction phase. Some 400 workers are expected to be on site during peak construction.
"Once operational, an anticipated 32 employees will be present on site daily with additional maintenance and support service visitors as required," it said.
The overall height of the facility will be 13 metres.
Lifespan
Documents submitted by consultants on behalf of Amazon said that the appearance of the building "is intended to complement a number of the recently constructed industrial buildings at BMS, Alexion and Montjeu pharmaceutical facilities".
Amazon said that it could build up to seven more data centres at the 26-hectare site, which is owned by the IDA.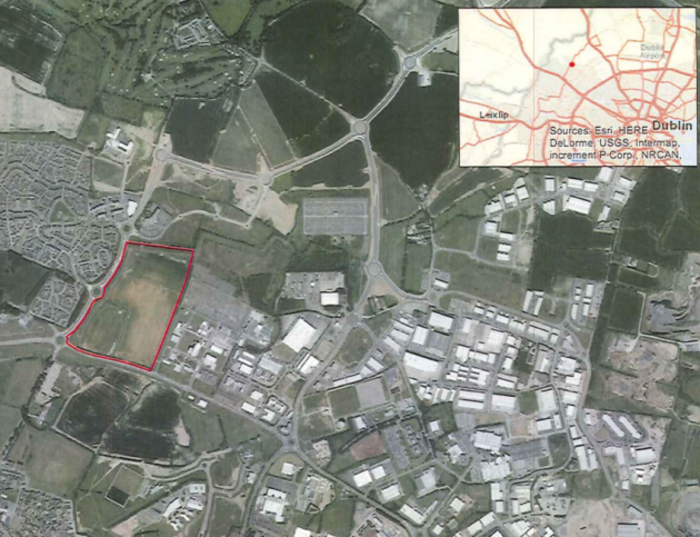 Source: Fingal County Council
It is envisaged that the Mulhuddart data centre will have a lifespan "of at least 10-20 years".
"Upon closure all buildings, plant, equipment, etc, will be fully decontaminated and decommissioned in accordance with prevailing best practice," the documents said.
"The buildings, once rendered environmentally safe, will more than likely be retained and sold on for future use following closure".
Other data centres
The company already has several data centres in Dublin, including one located in nearby Blanchardstown and three near Tallaght.
It is also planning to build a data centre near Dublin Airport, at the Clonshaugh Business and Technology Park.
Last year Amazon announced that it would hire 500 people in Ireland to fill several different types of jobs including data centre technicians and software engineers.

At the time, the firm employed about 1,700 people in Ireland, where it has developed an engineering base for new technologies that are used to support retail operations and devices.
Several other large tech companies have built, or have plans to build, data centres in Ireland including Facebook, which is working on a facility in Clonee in Meath.