Clare wants to exploit its 'cool temperate climate' to become a data centre hub
The local council is calling on landowners to suggest potential sites for such facilities.
CLARE COUNTY COUNCIL IS calling on landowners and developers to nominate sites that could be used to build data centres in the region.
The council has issued a public tender seeking expressions of interest from individuals and firms that own or can identify land that could  be used for the development of such facilities.
Ireland has long been considered a European data centre capital because its moderate climate makes it cheaper for companies to cool the large networks of computer servers they use to store information.
Clare County Council said it is looking to develop at least one data centre before 2023. It is looking for land that would be "easily 'developable' with the potential for future expansion possibilities".
According to the tender, the council believes Clare is ripe for the development of data centres because it is on the edge of the Atlantic and has a "cool temperate climate".
"Clare has a significant advantage and opportunities for the development of data centres to serve the expanding cluster of multinational and global industries located on our doorstep," the document said.
Other factors in Clare's favour include direct access to European Union markets and an "exceptional pro-business environment", as well as good air travel connectivity through Shannon Airport.
The county council also claimed that Clare is "Ireland's leader in low-carbon and renewable energy generation" – an important factor for data centres, which typically consume a large amount of energy.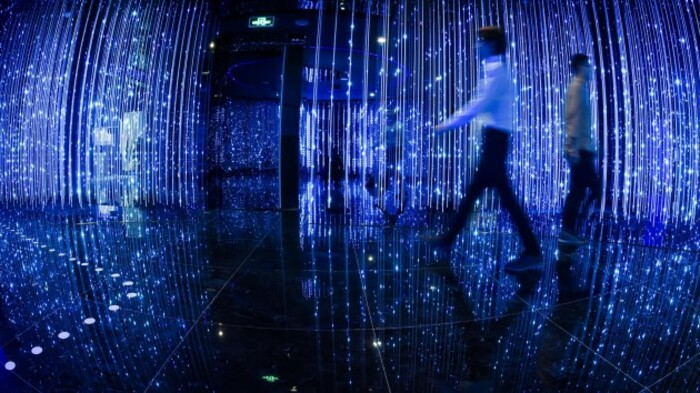 Source: Ou Dongqu/Xinhua News Agency/PA Images
Joint venture
The bid to turn the county into a data centre hub falls under the local authority's 2017-2023 county development plan.
Under that scheme, Clare County Council is hoping to deliver "one or a number of data centres".
It is hoped a suitable landowner will enter into "a joint venture through partnership with Clare County Council and other stakeholders, and crucially the delivery of a data centre in County Clare before 2023″.
The invitation for expressions of interest is open until 19 January 2018. The tender comes after US tech giant Apple said it is still "considering" an €850 million data centre in Galway that has been bogged down by planning delays.
The Athenry facility has been delayed for two years following objections from a handful of people.
Last week, the High Court blocked a last-ditch effort to overturn approval for the first phase of the planned multimillion-euro facility. The government has said it will look at introducing fast-track approvals for data centres to speed up the planning process.
Sign up to our newsletter to receive a regular digest of Fora's top articles delivered to your inbox.