Limerick's billionaire Collison brothers have made Fortune's famed 40 under 40 list
The pair joined Taoiseach Leo Varadkar for the latest instalment.
THE LIMERICK BROTHERS behind billion-dollar payments firm Stripe have made the exclusive Fortune 40 under 40 club for 2017 – a list of the most influential people in the world.
John Collison, 27, and his brother Patrick, 28, two of the world's youngest self-made billionaires, started the US-based company Stripe in 2009.
Since then, the company has gone on to receive $460 million in venture capital, a tranche of which was raised last year from US investors. That funding round valued the company at $9.2 billion.
With Stripe's soaring valuation, it is estimated that the two brothers' shares are each worth around $1.1 billion.
According to Forbes, there are only three self-made billionaires aged under 30 – the Collisons and Snapchat co-founder Bobby Murphy.
The Stripe brothers were listed sixth on Fortune's list, just one place behind fellow Irish entrant Taoiseach Leo Varadkar, who made his debut in the club. They are among the youngest members of this year's list.
However it's not the first time the pair has featured on the exclusive list. Patrick and John first made their 40 under 40 debut in 2015 but did not feature in the 2016 edition.
Other notable names on Fortune's list include Facebook's Mark Zuckerberg, tennis star Serena William and French President Emmanuel Macron, who was placed first.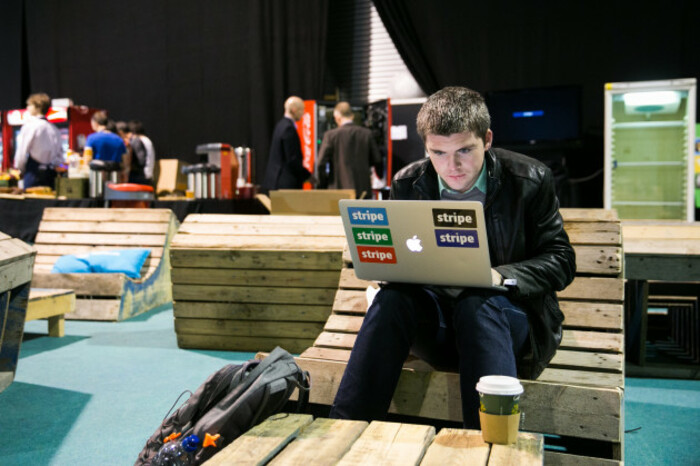 The Stripe story
Stripe is the second startup success story the Collison pair has enjoyed. Before they created the billion-dollar payments company, the pair sold another company, Auctomatic, for $5 million in 2008.
Both companies have gone through the well-known tech accelerator Y Combinator in Silicon Valley.
Since Stripe launched in 2011, some of the tech world's highest-profile investors have put their money behind the Collison brothers.
SpaceX and Tesla founder Elon Musk and Peter Thiel, one of the first investors in Facebook, both backed the payments firm in the early days.
[embed id="embed_2"]
Last year, Japan's Sumitomo Mitsui Card Company, the country's largest credit card provider, joined Visa and American Express by investing an undisclosed sum in the startup.
Earlier this month, Patrick Collison revealed that Stripe has also quietly struck a deal to process payments for e-commerce giant Amazon.
The terms of the deal are undisclosed, with neither Stripe nor Amazon commenting on its value.
However, Bloomberg said that it would involve Stripe handling a "large portion" of Amazon's transactions and said that the agreement could help the Irish-founded firm "greatly increase its transaction value".
Sign up to our newsletter to receive a regular digest of Fora's top articles delivered to your inbox.