Savills is struggling to let part of this Dublin office and says co-working hubs are the reason why
The owners of the building received no interest for some units in their brand new Silicon Docks office.
REAL ESTATE GROUP Savills has claimed the growth in Dublin's co-working and shared office sector has made it hard to lease even prime office units in the heart of Dublin's Silicon Docks.
Savills has brought to market a number of units in the brand new office block, called 5 Hanover Quay, which is located in Dublin's tech quarter.
The units – on Horse Fair Road – are a short distance from the offices of tech giants such as Facebook, Airbnb and Google. They were built as part of a joint venture between Oaktree Capital, Bennett Developments and Nama.
In a letter to the building's owners, Savills chairman Roland O'Connell said four small units on the ground floor were offered on the market but "response has been poor". 
O'Connell said there were a number of factors putting off potential tenants from leasing the office units – which range in size from 31.8 sq m to 44.8 sq m.
He added that one factor making these units "less attractive" was the growth of co-working and shared office spaces in Dublin.
"You will be aware that this has affected demand for units as large as a full floor in 5 Hanover Quay and similar buildings in the area," O'Connell said. 
"Many occupiers in this size category are companies who expect to grow and serviced office centres can allow them the flexibility to do so which would not be practical here. A further attraction of serviced offices centres is that small companies do not have to spend money on fit out or office equipment such as photocopiers etc."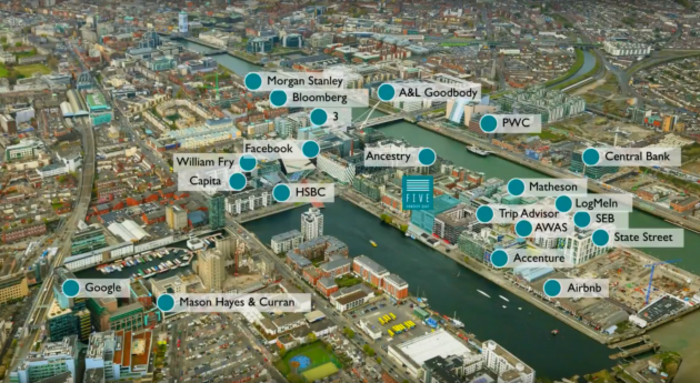 Source: YouTube/Idea Limited
O'Connell also cited other factors that he said affected Savills' ability to lease the four office units – which were on the market for €619 per sq m.
Even though the offices are located in the heart of Dublin's tech hub, he said the units on Horse Fair Road "do not offer the level of profile that many small occupiers want".
"If they are not profile conscious they will locate in co-working buildings or on upper floors but if they are profile conscious, they want to front onto streets with heavier footfall and this area as a whole does not offer this unless you front onto Grand Canal Square itself." 
Modifying plans
Savills' letter has come at a time when tech giants are buying up lots of Dublin property. Google has expanded its presence significantly, while Facebook has signed a deal to move into a larger space in Ballsbridge. 
Following the real estate firm's feedback, a planning application has been lodged by 5 Hanover Quay's owners to amalgamate some unlet units into a single open-plan office.
They have requested planning permission to remove internal partition walls to create a larger office space on the ground floor. The overall gross floor area of the building will remain the same. 
In the planning application, consultants for the building's owners said the previous approach to lease several small units on the ground floor resulted in an "inactive street frontage due to lack of interest".
"There has been no interest in leasing these small enterprise units. This has resulted in an unlet dead frontage along Horse Fair Road since the completion of the development." 
The consultants added that the "dead" street will harm the chances of other space in the building being let.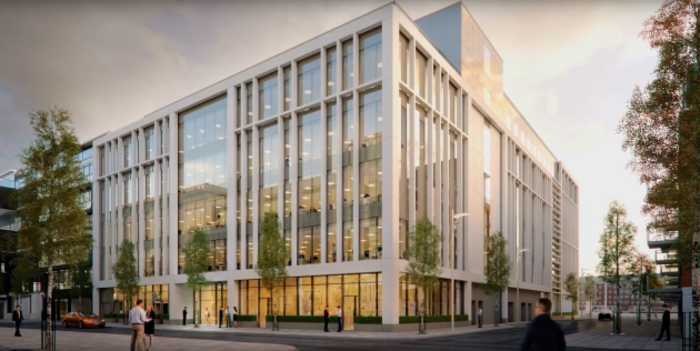 Source: YouTube/Idea Limited
The owners received planning permission to construct the seven-storey building – located near offices for a number of tech multinationals such as Airbnb, Facebook, Google and Twitter – in 2015, with works completed in the middle of this year.
Earlier this year, vehicle-technology firm Aptiv agreed to lease just over a third of the 14,864 sq m office at 5 Hanover Quay after it announced plans to move its global headquarters from the UK to Dublin.
Co-working trend
The co-working sector has exploded in Ireland in recent years, with indigenous players like Iconic Offices, Dogpatch Labs and Glandore competing with international giants.
US firm WeWork, which has around 500 co-working offices worldwide, also moved into the market this year. It has opened two locations in Dublin with several more in the pipeline.
Last year, Savills made its own play in the space and rolled out an Airbnb-style subsidiary website called Workthere. The service allows businesses to search for 'flexible' office spaces in Dublin.
Earlier this month, Workthere boss Georgina Dillon said 2018 was a "record year" for the take-up of serviced office spaces, but she forecast that take-up won't be as big in 2019.
Update: This piece was amended to show the cost per sq m of the four offices in 5 Hanover Quay.   
Get our NEW Daily Briefing with the morning's most important headlines for innovative Irish businesses.