Baristas and burritos: How Circle K is prepping for fuel's decline
The forecourt retailer says more than 50% of transactions are now non-fuel purchases.
FORECASTING THAT 2025 will be the "tipping point" of electric cars, service station operator Circle K is betting on baristas and burritos to shore up its future revenues.
Paul Doggett, head of category management at Circle K Ireland – which rebranded from Topaz this year – said the company is looking to create new reasons for people to visit forecourts.
"Being a fuel retailer, obviously one of the biggest challenges we have is electric vehicles … But it's also where we would see a big opportunity for us to be able to develop food as an alternative reason to visit our sites," he told Fora.
Doggett said that more than half of all transactions at Circle K are non-fuel purchases, and that coffee in particular is a "significant" revenue generator.
As part of its efforts to re-imagine the business, Circle K has started replacing self-service coffee machines with full barista services, which are currently offered at 23 of the company's 160 sites.
Doggett acknowledged that the shift away from fuel won't be seamless, noting that the company will "have to sell a lot of cups of coffee to make up for one tank of petrol".
"If you're filling up your car, you'll be spending somewhere between €20 and €50, but if you're just buying a bar or chocolate or a sandwich you're paying €1 to €4," he said.
However, he insisted that ancillaries will ultimately be more profitable than the "very low-margin" business of supplying fuel.
Rebranding
At the end of 2015, then Denis O'Brien-owned service station chain Topaz was purchased by Canadian convenience retail group Alimentation Couche-Tard, which operates the Circle K brand.
The company has more than 7,800 sites in North America and 2,600 in nine European countries and posted revenues of more than $13 billion last year.
It started rebranding existing forecourt sites in Ireland earlier this year at a cost of €20 million, and announced that it would invest €35 million to build new sites.
There are currently 160 company-owned Circle K outlets across the country as well as 275 dealers.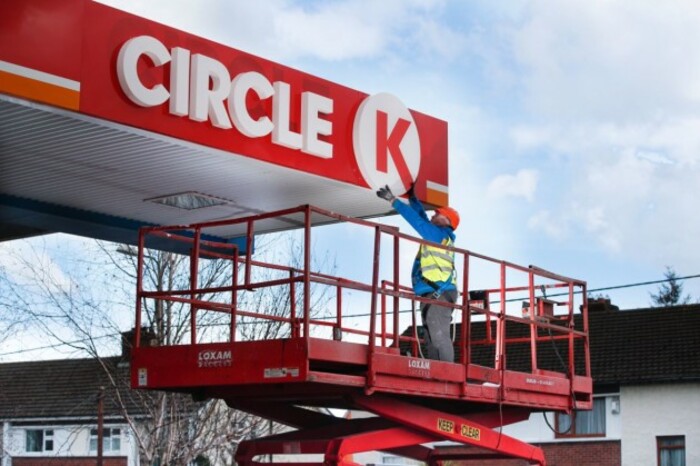 Source: Conor McCabe Photography
Although the company has a large international presence, Doggett said that other markets "wouldn't be as advanced" as Ireland when it comes to the food side of the business.
Part of this is because Topaz already had a significant deli offering when it was taken over by the Canadian group.
One of Circle K's newer food projects, a quick-service Mexican restaurant called Cantina, was first developed in Ireland in 2016 and has since been exported to Norway and will be rolled out in other markets in the future.
In Ireland, the concept is only available at six locations, but Doggett said there are plans to add three more in the new year.
Competition
Although fuel providers Applegreen and Maxol are immediate rivals of Circle K, Doggett said the company is increasingly pitting itself against traditional convenience stores and grocers.
"If you look at where our sites are positioned, there are more in urban areas and so from an accessibility point of view, people are able to call in if they're walking, cycling, commuting on public transport," he added.
While Applegreen has expanded its food offering in recent years by introducing third-parties like Costa Coffee, Burger King and Subway, Doggett said that's not a route Circle K is planning to go down.
"Our primary objective is to develop our own brands and our own food concepts. That continues to be our strategy and that's not going to change any time soon," he said.
Get our NEW Daily Briefing with the morning's most important headlines for innovative Irish businesses.