After a troubled Dublin launch, BleeperBike has found a way back on the streets
The 'stationless' bike scheme has launched in south Dublin and two universities.
AFTER A STYMIED launch in Dublin's centre, bike-sharing company BleeperBike is taking its 'stationless' scheme to the city's south ahead of a planned rollout outside the capital.
Earlier this year, the startup's first foray was stopped in its tracks by Dublin City Council when the local authority determined that draft bye-laws to regulate the service were required.
This resulted in BleeperBike's stationless bikes, which can be located and activated via a smartphone app, being removed from the city's streets - where they would compete with the council-supported Dublinbikes scheme – until bye-laws were drafted.
Speaking to Fora, BleeperBike founder Hugh Cooney said he had his "business hat on" and wanted to be first to the market after cooking up the idea for a year.
"This is going to be competitive market and there will be others, not just BleeperBike, six or 12 months down the road. I had meetings with Dublin City Council. I didn't have a 'yes' or a 'no', so I made a decision to secure first-mover advantage."
Since BleeperBike's stunted launch, another Irish startup in the space called Urbo has started a pilot scheme in London and wants to make similar moves in Ireland.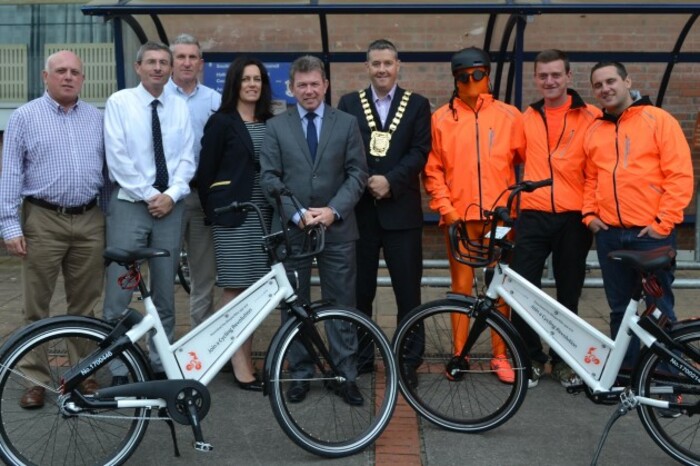 Source: SDCC
Cooney said he has no intention of fighting Dublin City Council over the bye-laws, which were due to be discussed at this month's council meeting but have been delayed until November.
Instead the Portobello-based startup is focused on finding new areas to launch and has cut a deal to run a pilot scheme in areas around south county Dublin.
BleeperBike also has the all-clear to place its bikes at locations in University College Dublin and Dublin City University.
Students can use bikes at the university to travel outside the campus but must end a journey at a bike rack that is also within college grounds.
Cooney told Fora that the initial launch in Dublin city centre was "frustrating" but the new pilots will give him a chance to prove his service will not involve bikes clogging up the streets.
"From the council's perspective, it gives them a chance to see how it's working and gives them flexibility to end the service if it's not working out. Equally, if the bikes aren't being used we will relocate them somewhere else.
"There needs to be demand for this service and we'll only know if demand is there in these villages in south Dublin in the next two to three months of the trial."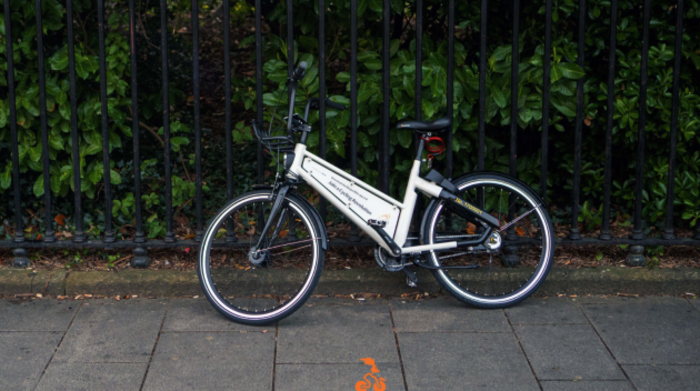 Source: BleeperBike
According to Cooney, he has also held discussions with a number of other councils across Ireland about introducing the stationless bikes.
"We will engage with them to see whether or not they want a bike service and whether the infrastructure exists there. We're optimistic in the next month we'll have one location in the west of Ireland.
"We want enough bike racks so the bikes can be parked. There are some areas where councils have said they are happy for it to happen, but they need to go in and put the bike racks in place before we launch."
He said it's important to have bike racks so they can create designated parking zones, which would make it harder for people to abuse the service by parking against lamp posts or railings.
Manoeuvring 
BleeperBike has six staff on its books at the moment and a fleet of 1,000 bikes. Some 150 of those bikes are out for public use as part of the Dublin pilot projects, and the remainder are in storage.
Cooney said the company has been bootstrapped so far using his savings. During the summer, €300,000 was invested in the company behind BleeperBike by its Irish holding company.
It has also secured investment from an international player in the bike-sharing industry, China's YoBike. The Asian firm, which has operations in Sweden and Bristol, gave BleeperBike 500 bikes in return for a stake in the company.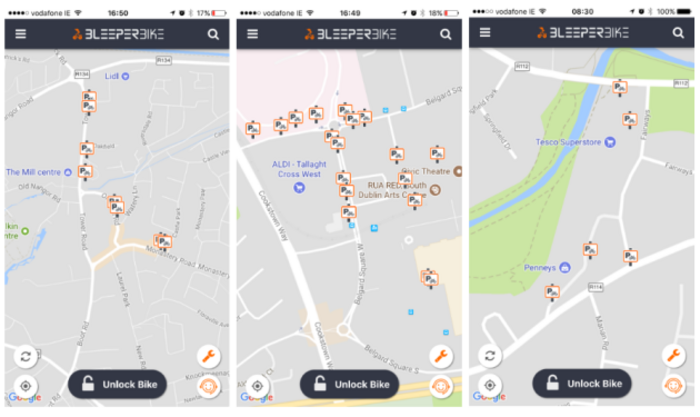 Source: BleeperBike
Cooney said another opportunity he is currently exploring is partnerships with property developers.
In the past few weeks, BleeperBike has been approached by Dublin-based developers about doing deals to supply bikes at bike racks near properties located in areas that cannot avail of the Dublinbikes scheme, according to Cooney.
"Property developers want to provide people with connectivity to other modes of transport.
"So properties a long walking distance from nearby public transport will be our primary focus because we can't estimate how long the city centre bye-laws will take.
"We have to make this business work on the assumption the laws could take 12 to 24 months."
Sign up to our newsletter to receive a regular digest of Fora's top articles delivered to your inbox.
read more on