Dublin's new 'stationless' bike company has stalled its launch after council concerns
The local authority warned the public that BleeperBike didn't have its consent to operate.
THE LAUNCH OF a new 'stationless' bike scheme in Dublin has been pushed back while the company tries to iron out permission from the local council.
Last week Dublin City Council raised concerns about shared bike service BleeperBike, which was due to launch today, saying that it does not have the local authority's consent to operate.
BleeperBike's CEO Hugh Cooney is now due to meet with the council later this week in an effort to reconcile the two sides.
In an email to Fora, Cooney said that the BleeperBike service will now be rolled out "over the coming weeks" instead . He did not specify a date.
BleeperBike was to work via a smartphone app, which customers could use to locate and hire the company's bikes across the cities. Users would be charged per journey before locking bikes up for future users.
However unlike the Dublin Bikes scheme, where bikes must be left back at special stations, BleeperBikes can be left at any designated area for bike parking.
The company had planned to launch its offering in Dublin on Sunday. People with a registered account could top it up by €5 to get five rides of up to one hour each.
It was expected to launch with about 1,000 bikes. The smartphone app was to be used to unlock the bikes.
Cooney is the son of former Enterprise Ireland chairman Hugh Cooney. According to the Sunday Time, the BleeperBikes CEO invested about €750,000 in getting the 'dockless' bike model off the ground using technology licensed from Chinese firm YoBike.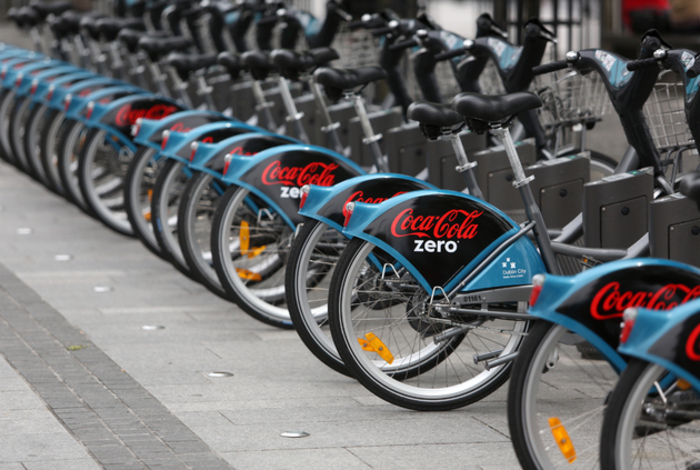 Source: Sam Boal/RollingNews.ie
Delay
BleeperBike has delayed its launch as it looks to engage with the council.
"There is no official launch date for BleeperBike, the service will be rolled out over the coming weeks," Cooney said. He said that the company "showcased" its upcoming service this morning.
He said that a meeting with Dublin City Council has been scheduled for Friday "where any concerns will be discussed".
Cooney said it is planned that the company will have 'zone supervisors' giving live demonstrations on how to correctly secure BleeperBikes on bike racks across Dublin.
"If a user parks one of our bikes illegally they will be notified, if it happens a second time their account will be suspended," he added.
Dublin City Council said that it has agreed to meet with the company before the end of the week.
However, it added: "If the commercial service is rolled out and bikes are distributed across the city's streets, it is the intention of Dublin City Council to remove the bikes as previously advised."
Bye-laws
The council said in a statement last week that it was agreed at a recent transport committee meeting "that bye-laws to do with stationless bikes had to be developed".
It also said the company needed to run a pilot service.
"As bike-share schemes provide a public service within the city's streets and make use of its public realm, it is considered that regulation through bye-laws is necessary," the council said.
The council said that the BleeperBike launch was "premature pending the preparation of bye-laws", and said it would have the power to remove the bikes from the public domain as they are unlicensed and advertising the service they provide.
It said in a statement today the "preparation of bye-laws for stationless bike schemes will commence shortly.
"A technical dialogue with the market will also be initiated with a view to facilitating a pilot," it said.
"It is Dublin City Council's intention to give each potential operator an equal opportunity to engage with and present their scheme to the city."
Sign up to our newsletter to receive a regular digest of Fora's top articles delivered to your inbox.
read more on