BleeperBike's Dublin launch date fades as its bikes are removed by the council
The company wants to roll out a 'stationless' bike scheme across the city.
THE LAUNCH OF a new 'stationless' bike scheme in Dublin has been pushed back several months while the council works on new bye-laws to govern the sector.
Shared bike service BleeperBike was due to launch last week with 1,000 bikes.
It was to work via a smartphone app, which customers could use to locate and hire the company's bikes across the city. Users would be charged per journey before locking bikes up for future users.
However unlike the Dublin Bikes scheme, where bikes must be left back at special stations, BleeperBikes can be left at any designated area for bike parking.
Dublin City Council warned the company that it did not have permission to operate in the city and that its launch was "premature" as the authority was yet to introduce bye-laws to govern the 'stationless bike' sector.
It added that because bike-share schemes provide a public service within the city's streets and "make use of its public realm", they need to be regulated.
Soft launch
Despite the council's warnings, several of the company's bikes were made available to the public after its intended launch date. The council has since said it removed "a number of bikes from locations around the city".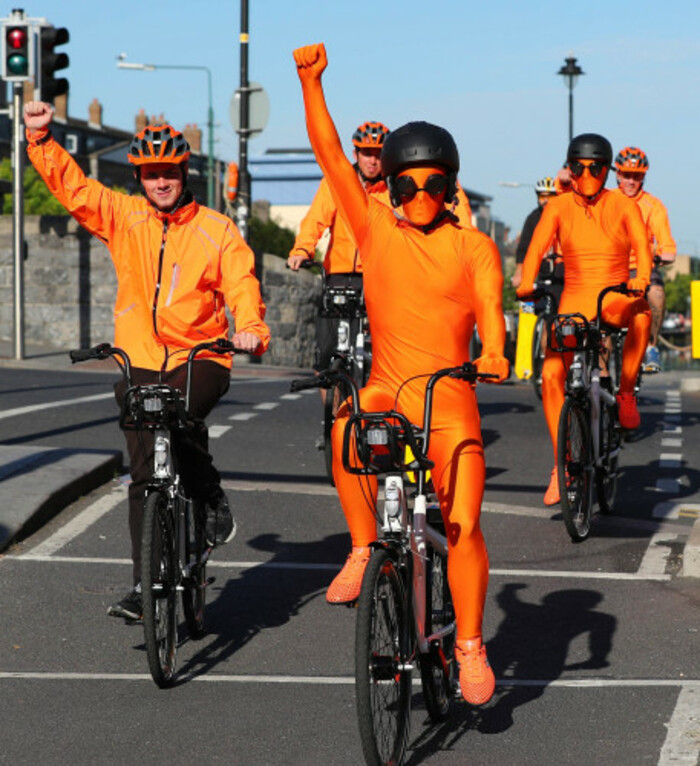 Source: Marc O'Sullivan
A meeting was held between the parties earlier this week and BleeperBike CEO Hugh Cooney told Fora that the company now intends to wait for the introduction of the new laws before rolling out its service.
"We will be holding off until the bye-laws are in force. There will be fees payable by operators. Assuming they make business sense, we will be looking to launch straight away."
Cooney declined to comment when asked about the company's bikes being removed by the council.
It is understood that several other companies are also looking to roll out a stationless bike operation in Dublin. Cooney had previously emphasised the importance of being the first company to market.
Asked if he was disappointed that he could lose 'first mover' advantage, he said: "We probably will, but it will be better for everyone if stationless bike-sharing happens in a controlled way."
Cooney said he was hopeful that the bye-laws could be introduced in as little as two or three months.
In a statement to Fora, Dublin City Council said it would likely take significantly longer for the regulations to be drawn up, agreed and put into place.
"Efforts will be made to expedite this process, but given the requirements, it is anticipated that these bye-laws will be in place towards the end of this year," the council said.
Sign up to our newsletter to receive a regular digest of Fora's top articles delivered to your inbox.
read more on