With sales on the up, wine drinkers were willing to indulge a little last year
But excise duty is holding the sector back, according to an industry report.
WE'RE NOT EXACTLY splashing out, but Irish consumers are happy to settle for reasonably priced wines over cheaper options.
According to a new report by the Irish Wine Association (IWA), most Irish people bought bottles of wine priced between €9 and €10 in 2015, while the number of drinkers that picked up €11 and €12 bottles also increased slightly compared to the same 12-month period in 2014.
Overall wine sales are on the rebound, as retailers shifted just over 8.5 million cases last year – still a fair bit off the record high of 9 million in 2011.
Despite the growth, beer remains the most popular alcoholic beverage in Ireland, while wine accounted for just under 28% of sales.
A quarter of us prefer Chilean wine over other regions – a decent margin ahead of Australia in second place, which enjoyed just over 18% of the market share.
Source: Irish Wine Association
White wines accounted for half of sales last year and have remained more popular than red and rose for the last five years.
Excise duty
Unsurprisingly, the IWA report was highly critical of Ireland's excise duty rate, which has remained at €3.19 per €9 bottle since 2014.
The Ibec-member organisation noted that Ireland has the highest excise rate on wine in Europe, making wine in Irish restaurants double the price of table wine in Spain.
"The message coming from the wine industry today is clear: reverse excise increases and support thousands of small businesses and jobs across the industry," Michael Foley, chairman of the IWA, said.
"Excise on wine is totally out of line with our EU neighbours… In addition to high excise, the potential negative impact of Brexit is further hitting the wine industry, in particular the weak sterling driving cross-border shopping."
[embed id="embed_2"]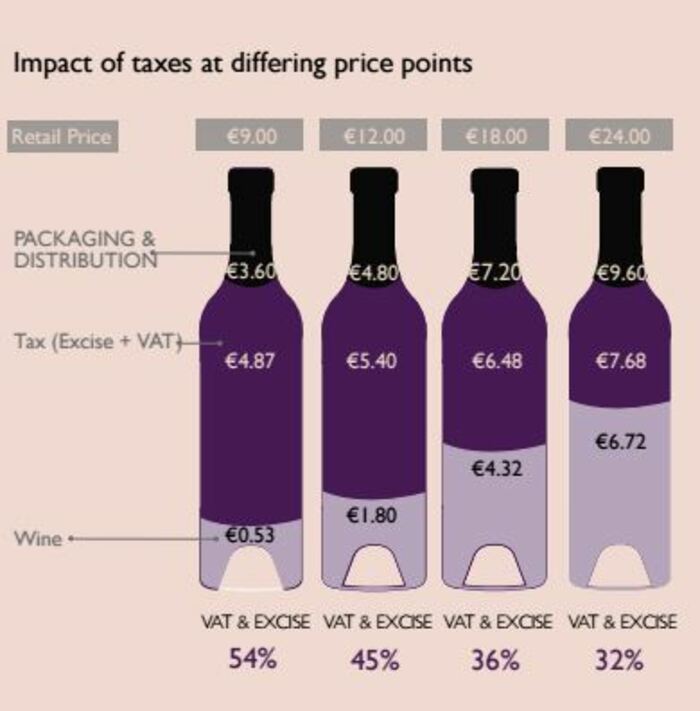 Source: Irish Wine Association
The IWA claimed that excise duty is damaging Ireland's tourism industry because the price of alcohol is one of the reasons why tourists said they wouldn't return to this country.
Evelyn Jones, government affairs director of the National off-Licence Association, called on the government to reduce the rate by 15%.
Spanish wine exporter Sergio Soriano Cano, who launched the report, described Ireland's excise rate as "crippling" and backed the industry call to reduce the rate in the next budget.
"In Spain, the excise rate on wine is zero," he said. "Wine in Ireland is very expensive by EU standards, because a huge amount of the cost is taken by the Irish government.
"In Spain people tell me that they would love to visit Ireland but the wine is too expensive and we like to have wine with our food."