Beer makers want the government to sort out the 'regressive' excise duty
Production is up, but thirst for a cold one has dropped again.
THE IRISH BREWERS Association (IBA) has urged the government to reduce Ireland's excise duty on beer in the next budget, calling it a "regressive tax" on both the brewing sector and "hard pressed consumers".
In a self-published report on Ireland's beer market, released today, the IBA called on the government to lower the tax, which is the third highest in Europe.
"Excise has been a problem for quite a while in Ireland,"  Jonathan McDade, head of the IBA, told Fora.
"It has gone up about 42% in the last five years. It can be quite a hindrance in terms of growth, innovation and investment in the sector.
"We've seen that a lot of jobs can be created with an excise reduction. In 2013, the UK government reduced excise on beer three years in a row. As a result 26,000 jobs were created in the brewing sector."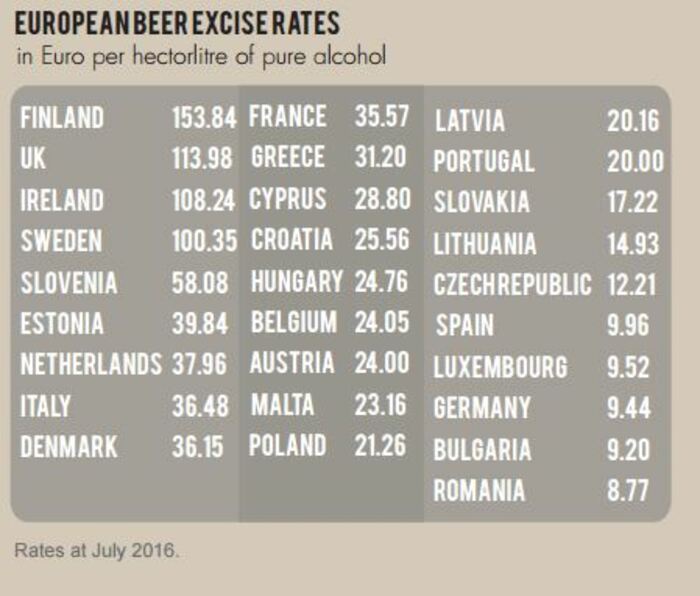 Source: Irish Brewers Association
Consumption drop
Ireland exported €265 million worth of beer in 2015, according to the report, a 16% rise compared to the same 12-month period in 2014.
Production was up for the first time since 2011 with manufacturers producing 775 million litres of beer last year, an increase of 6%.
Since 2011, beer has maintained a 47% share of Ireland's alcohol market, according to data from the Revenue Commissioners.
However, consumption dropped 2% last year with an average consumption of 79.9 litres per capita.
Jonathan McDade attributed this drop to a variety of issues including lifestyle changes.
"Overall, it's a reflection of people's changing habits when it comes to alcohol in general," he said.
"Consumption of all alcohol, including beer, is actually down about 25% since 2001. It wouldn't be a major concern at this point – the industry is more focused on export value."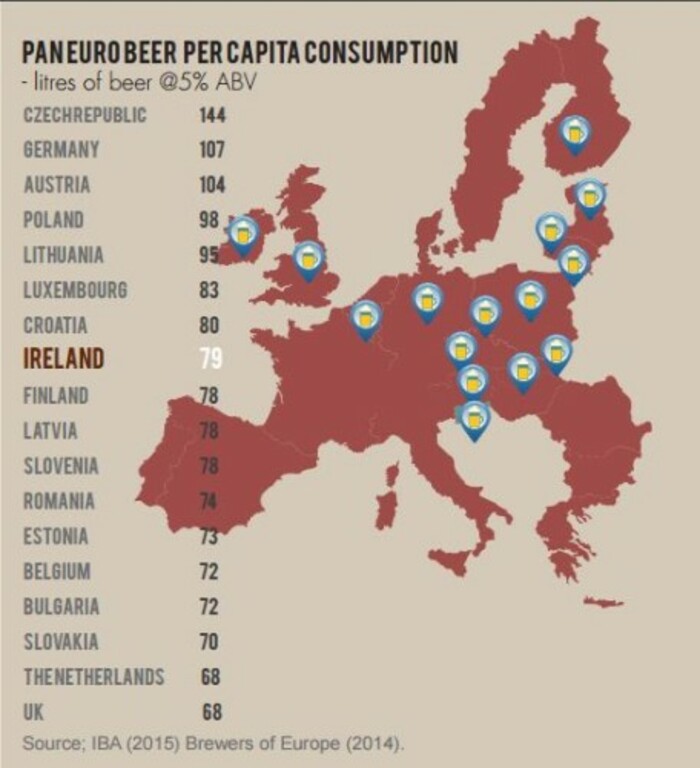 Source: Irish Brewers Association
Craft beer
The much-hyped craft beer sector increased its market share slightly to 2%, up from 1.2% in 2014.
"I think we can expect craft beer to steadily increase its market share over time. I'm not sure if it will replicate the phenomenon over in the United States, but there have been some encouraging signs in the sector."
Microbreweries produced 2.4 million litres of craft beer last year.
The report also indicated a recovery in Ireland's pub trade, with 67.3% of beer purchased in pubs, nightclubs, restaurants and other venues, an increase of 4%. Meanwhile, supermarkets and off-licenses accounted for 32.7% of beer sales, a decrease of 4.3%.