Shared office space provider WeWork is taking over another building in Dublin
The US firm has signed a 20-year lease for a new office development on Harcourt Road.
SHARED WORKSPACE PROVIDER WeWork is expanding its presence in Dublin with the leasing of a new office development at 5 Harcourt Road.
The US company will be the only tenant in the new 4,650 sq m seven-storey building, which is due to be completed this month.
It has signed a 20-year lease with property firm Green Reit, with initial rent of €3 million per year.
An analyst at Davy said that the deal is "strong in the current market", with rent at more than 10% above forecasts.
Paul Culhane, development director of Green Reit, said that the property company is "delighted" to lease the entire building to WeWork.
"We look forward to welcoming WeWork to the building as it broadens its existing presence in this vibrant part of Dublin city centre," he said.
WeWork expansion
US company WeWork, which leases out office space to startups and small- and medium-sized companies, has been rapidly expanding its footprint across Dublin in recent months.
The firm recently opened its first Irish office space in Iveagh Court, near Harcourt Street, and is also planning to open premises on the south quays and North Wall Quay.
Last month, it was announced that WeWork will be the anchor tenant in Dame Street's One Central Plaza, which is currently being redeveloped.
The former Central Bank headquarters will house 1,300 workers over eight floors of office space when it is completed next year.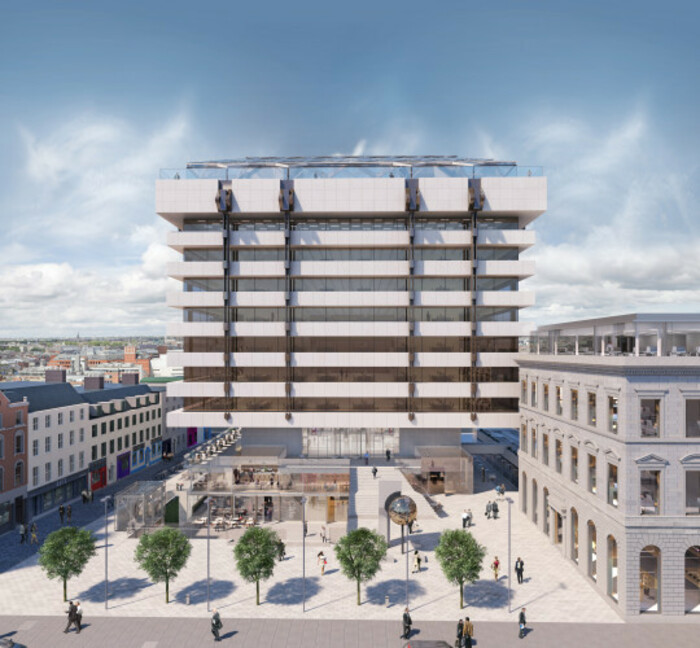 Source: Hines and Peterson
Co-working office business WeWork was set up eight years ago in New York by Adam Neumann and Miguel McKelvey. It now has over 230 locations in 74 cities across 22 countries.
Costs can vary for desk and office space. At WeWork's Iveagh Court location, hot desks cost €390 per month and dedicated desks are €470 per month, while private office areas are also available at rates of between €13,400 and €24,900.
With the rise in popularity of shared office spaces, a number of Irish operators have also been expanding in Dublin, including Iconic Offices, Glandore and Dogpatch Labs.
Sign up to our newsletter to receive a regular digest of Fora's top articles delivered to your inbox.