Months after launching its first spot, WeWork is opening another Dublin co-working space
The international hot desk firm has signed a lease to move into the capital's docklands.
SHARED OFFICE SPACE provider WeWork has announced plans to expand its presence in Dublin just months after opening its first location in the Irish capital.
Last year, the international firm which leases out office space to startups and small- and medium-sized companies, revealed its first Irish location in Iveagh Court.
The company has just announced plans to open its second co-working space in Dublin's docklands by October this year.
An agreement has been signed with property firm Ballymore, which was founded by one of Ireland's best-known developers, Sean Mulryan, and its development partner Oxley Holdings to lease a near-10,000 sq m space at No 2 Dublin Landings.
Prices for space at the new WeWork development are yet to be released, however hot desks at Iveagh Court cost €390 per month and dedicated desks are €470 per month.
Private office areas that can seat between 21 and 50 employees are also available at rates of between €13,400 and €24,900.
In total, the completed No 2 Dublin Landings scheme will span 93,000 sq m and include 270 residential apartments, garden areas, 2,000 sq m of separate commercial office space, restaurants, bars and retail outlets.
Two tenants of other nearby developments, which are also part of the 'Dublin Landings' scheme, include the Central Bank and the National Treasury Management Agency (NTMA).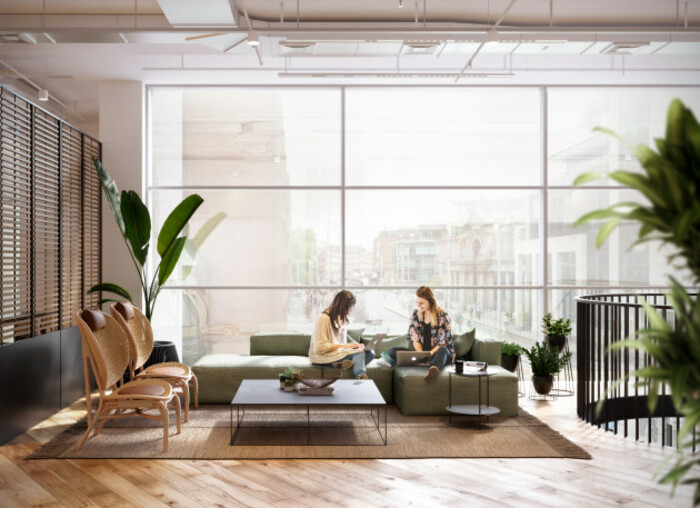 Source: WeWork
The co-working phenomenon has taken off in Ireland in recent years with a number of international and Irish operators opening collaborative working environments.
Three years ago, startup hub Dogpatch Labs opened its space in an old retail and whiskey store rooms unit in the CHQ building on the capital's docks. Other new players in the Dublin market include Iconic Offices and Huckletree.
The trend has also spread outside the capital where co-working spaces such as the PorterShed in Galway and Republic of Work in Cork have opened in recent years.
Expansion
In addition to the new Dublin docklands space, WeWork has also agreed to lease 4,600 sq m of the former Ulster Bank Dublin headquarters at George's Quay.
The expansion in Dublin is part of US firm WeWork's wider focus on expanding its European presence. Recently the company revealed plans to open the world's largest collaborative workspace in London in 2019.
The co-working space business was set up in 2010 in New York by Adam Neumann and Miguel McKelvey.
Over the past eight years, it has expanded to 230 locations in 71 cities across 21 countries worldwide, with its desks leased by 210,000 members on a regular basis.
Sign up to our newsletter to receive a regular digest of Fora's top articles delivered to your inbox.