Vodafone will launch 5G in Ireland next year - once new phones hit the market
It says the service will be 'complementary' to fibre networks like the troubled National Broadband Plan.
VODAFONE PLANS TO have its 5G services ready for sale in Ireland by the end of next year – but take-up of the technology will hinge on compatible mobile devices hitting the market.
The telecoms company launched its first live 5G test network site today in Dublin's docklands as part of its trials ahead of a formal rollout.
The eventual arrival of 5G could see data speeds of 20 Gbit/sec, which is up to 10 times faster than existing 4G networks.
"We expect a launch in the later part of next year to coincide with the availability of the first handsets on 5G," Vodafone Ireland's interim chief technology officer Max Gasparroni told Fora.
All of the major smartphone manufacturers have either confirmed they are working on 5G-ready handsets or are strongly rumoured to be developing the devices for sale next year.
Besides the availability of consumer hardware, Gasparroni said one of the "biggest challenges" for the time being was the availability of radio spectrum, the high frequency bands used to deploy mobile networks.
Gasparroni said Vodafone has access to the spectrum that it currently needs for 5G – winning an auction last year alongside four other firms – but expects it will bid on further bands in the future.
"There will be other (spectrum) bands," he said."There will be the 700 MHz band that will be auctioned we expect within the next year or two. They will be a very good band for ensuring deep indoor coverage and rural deployment."
The new band will be suitable for sending signals over long distances, requiring relatively few cell towers – making it ideal for isolated areas.
Rural broadband coverage is a significant issue in Ireland, highlighted again recently by the controversy around the bidding process for the National Broadband Plan and the resignation of Denis Naughten.
"5G is a step change compared to 4G in terms of capability, but in Vodafone we believe 5G can play a complementary role to fibre rollout, not a substitution," Gasparroni said.
"It could be a valuable solution for very sparse rural areas where fibre may be very slow in getting there. Then in other areas, 5G could be a stopgap solution, an interim solution, as fibre reaches more and more."
He said Vodafone is facing huge customer demand to provide bandwidth as people use more data and more devices.
"Today you have the likes of Netflix, and then there will be 4K streaming and you'll have many more connected devices," he said.
"The amount of devices and the type of applications that people will have in their homes will increase all the time."
Vodafone previously carried out a 5G live demo in Ireland in February, hitting speeds of 15GB per second. It said at the time that the commercial rollout of its network could take two years.
Accelerator
Vodafone and Ericsson, which provides the hardware for the network, are also partnering with NovaUCD at University College Dublin to launch a 5G accelerator programme where participants will be able to build services using the high-speed network.
During a launch event this morning, chief executive of Vodafone Ireland Anne O'Leary held Ireland's first international holographic call with Gasparroni, who was calling into the event from Germany, over the 5G network.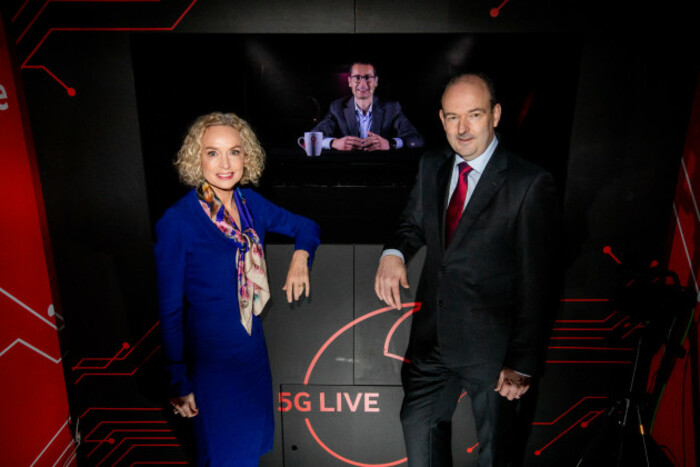 Source: Naoise Culhane
"With the speed and efficiency now offered, we can experiment with new and innovative IoT devices that will ultimately have the power to transform how we deliver products and services," O'Leary said.
Vodafone has been very active in pushing 5G development. Earlier this year it lobbied Transport Minister Shane Ross over new connected car rules in Europe that exclude 5G, arguing that the EU's preference for short-range Wi-Fi among vehicles would stymie the development of 5G in Ireland and Europe.
Get our NEW Daily Briefing with the morning's most important headlines for innovative Irish businesses.