Vodafone Ireland is worried that new EU rules will 'stunt' the growth of 5G technology
The carrier has been lobbying the government over the framework that will govern connected car systems.
VODAFONE HAS CALLED on Transport Minister Shane Ross to fight its corner in Europe over the future of 5G and car connectivity.
While fully autonomous cars are still a way off, connected vehicles are gradually becoming a fixture on the roads as part of systems like collision-avoidance and internet-enabled dashboards.
A skirmish is taking place around the EU's technical framework that will support these connected and autonomous vehicles.
European officials are currently examining legislation, which would favour vehicle-to-vehicle connectivity. Those systems would involve cars communicating with one another and surrounding infrastructure using short-range Wi-Fi.
However in a letter to Ross seen by Fora, Vodafone Ireland's director of strategy and external affairs Liam O'Brien said these rules would rule out 5G-related tech, which would allow cars to communicate over high-bandwidth cellular networks.
"This is inconsistent with the European Commission's commitment to technology neutrality and would stunt the overall emergence of 5G connectivity infrastructure in Europe," he said.
Vehicle-to-vehicle is "a less flexible alternative" and this preference will hamper the development of 5G networks in Ireland, Vodafone argued.
O'Brien asked the Minister to represent the issue in Europe to "prevent this damaging legislation from becoming a reality". Vodafone told Fora that it requested a meeting with the minister but this has yet to take place.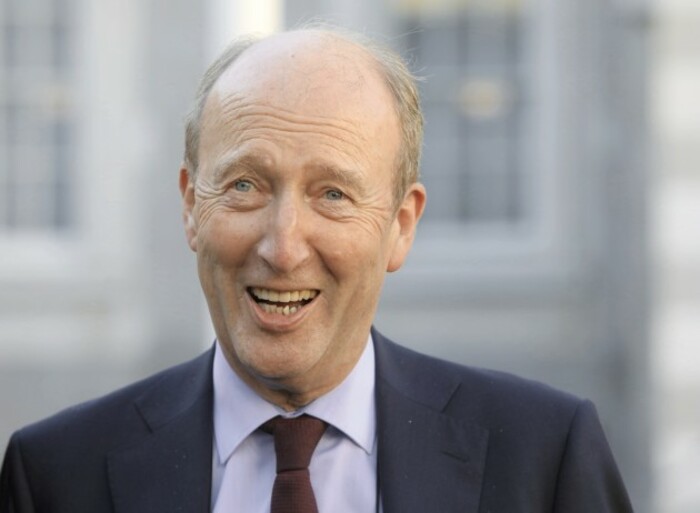 Source: Rolling News/Leah Farrell
A spokesperson for the Department of Transport said it has noted Vodafone's views on the European rules and is "engaged in the current and ongoing discussions" with the European Commission.
Vehicle-to-everything
The European Commission is hammering out rules and standards as part of the directive governing co-operative intelligent transport systems, or C-ITS, which refers to the systems used to connect cars, devices and infrastructure.
It has sparked a debate among players in the European automotive and telecoms industries over what technical standards should be used.
Vodafone and a number of other telecoms and car makers are backing cellular vehicle-to-everything technology – a long-range communication standard in which the car connects to cellular networks.
Proponents say it is a necessary precursor to the rollout of 5G technology, which could allow for peak data speeds of 20 Gbit/sec – 10 times faster than existing 4G cellular technology. 5G services are expected to be available in Ireland next year.
One lobby group backing cellular networks as the basis of the EU's new rules is the 5G Automotive Association (5GAA), whose members include Vodafone, BMW, Ford, Daimler and a number of major firms like Intel and Softbank.
5GAA argues that cellular vehicle-to-everything technology is more flexible and will prepare the industry and car owners for speedier adoption of 5G when it becomes a reality.
In a letter to the European Commission in July, 5GAA argued that limiting connected car communications to short-range Wi-Fi would "imperil the EU automotive industry's ability to compete" with the US and China.
The organisation further stated that it would lock car makers into technology that has "no evolutionary path towards compatibility with 5G".
The short-range standard on the other hand has the backing of Siemens and Volkswagen; the two have worked on projects together with the technology.
Three Ireland, Vodafone's main rival in this country, has not taken a firm position on the debate.
"V2V (vehicle-to-vehicle communication) and V2X (vehicle-to-everything communication) aren't competing technologies, but rather complementary ones," a Three spokesperson said in a statement.
"We are continuing to engage with car manufacturers and exploring technical solutions and innovation in conjunction with them," it added.
Source: YouTube/Autotalks
The European Commission claims it is following a 'technology neutral' position on the legislation and is expected to make a decision by the end of the year.
[embed id="embed_3"]
Field tests
Vodafone recently revealed that it has been working with Israeli transport tech firm Continual for the last two years to conduct connected car field tests in Ireland.
The two companies have been analysing how data is used by devices when in transit – in cars, buses and trains – to improve any connectivity issues.
Currently connected cars generate small amounts of data. "(The) goal of this project was to ensure we are ready for the future exponential growth in this sector," Vodafone said.
Sign up to our newsletter to receive a regular digest of Fora's top articles delivered to your inbox.