After Urbo never launched any bikes, Dublin City Council will re-advertise its licence
The stationless bike-share startup says it's still 'actively trying to get bikes on the street'.
DUBLIN CITY COUNCIL is set to re-advertise one of its bike sharing licences after one firm, Urbo, never deployed any bikes.
Urbo was one of two operators, along with Bleeperbike, that were granted licences in May 2018 by the council to deploy stationless bike-sharing services, which are booked through an app.
The services run alongside the council-operated Dublinbikes programme.
The licence was awarded in May, but Urbo has faced some delays in getting its bikes out on the streets of the capital.
In correspondence seen by Fora, Urbo's Sean O'Dwyer told the council in September last year that the company's developers were gauging the app and software and its bikes were undergoing "a few changes required to make the bike more suitable for Irish weather and users".
He added that Urbo was negotiating a sponsorship deal with a soft drinks company and requested an extension to a deadline for launching operations into October 2018, which was granted at the time.
When contacted by Fora, O'Dwyer said the company is still "actively trying to get bikes on the street."
New licence
Kevin Meade, senior executive officer of the council's transport department, said that the licence will be re-advertised in the coming weeks – due to be granted by the end of May – and Urbo would have to re-apply.
"It's a whole new process again so anybody that's interested can apply," he said.
In the case of Bleeperbike, which deployed its bikes soon after securing approval, its licence will likely be renewed.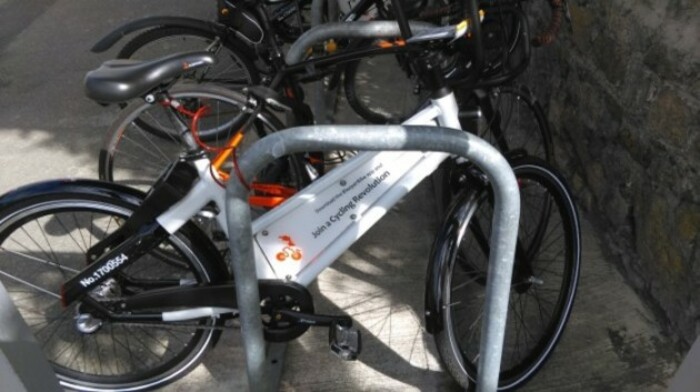 Source: Fora
"As long at the council is satisfied with the service that was provided, then the licence will be automatically renewed," Meade said.
"At this stage we are satisfied with the service that Bleeperbike are providing so it would be our intention to renew their licence."
It remains council policy to have two operators of stationless bikes so only one licence will be advertised.
Other companies have expressed interest in launching in Dublin.
Ride-hailing giant Uber lobbied Dublin City Council to get its stationless electric bikes on the streets. It was denied earlier this year but was told by officials that the licensing situation would be reviewed in May.
Outside of Dublin, Urbo was also operating in the UK but last summer pulled its bikes from a number of locations, including some boroughs in London and the town of Ipswich.
In announcing a service postponement in London last June, Urbo said it was "due to these locations no longer being suited to our business model".
Get our NEW Daily Briefing with the morning's most important headlines for innovative Irish businesses.