Twitter's top Irish advertisers will be able to jump the queue - for a price
The social media company is rolling out its First View feature today.
TWITTER HAS LAUNCHED its ad 'takeover' option in Ireland, giving advertisers the ability to effectively leapfrog competitors to take prime position on people's screens.
The 'First View' feature, first unveiled in the US in February, allows companies to pay for the privilege of taking the top ad slot in users' feeds whenever they first visit the platform.
The video-only option means advertisers can top the Twitter timeline for 24 hours. The company said the ads will only appear on the first login, limiting the scope for the feature to annoy the public by bombarding them with the same messages.
Sky is going live in the number-one slot today as it plugs the new Game of Thrones series, which returns to screens tonight.
The feature has progressively been rolled out globally since its launch and will today be in place in 29 markets with the European push. It is not clear how much of a premium advertisers pay for the top position compared to regular, sponsored posts.
Here's what it looks like in practice: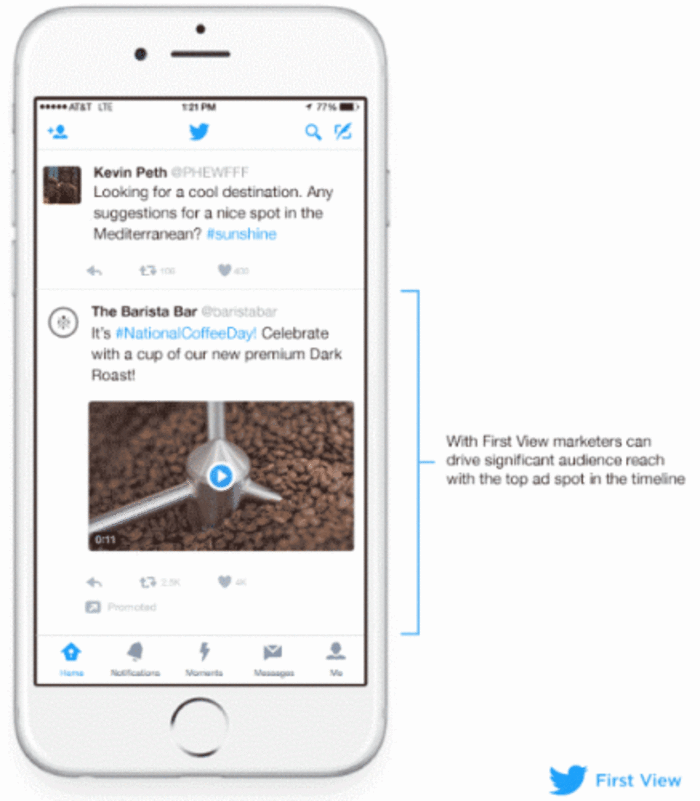 The revenue quest
Twitter has been aggressively expanding its ad offerings to boost income, although so far it has done little to swing the social media company into profit.
Last year it reported revenue of more than $2.2 billion – up nearly 60% on 2014 – although its net loss was little changed at $521 million for the 12 months.
[embed id="embed_2"]
The First View feature introduced a two-tier structure to Twitter's ad approach for the first time, expanding the company's pitch to its more deep-pocketed customers.
Given the video focus, the entertainment business has unsurprisingly been the most vocal cheerleader for the added option.
Sky Ireland head of brand Michael Markey said social media was "one of the most important media channels" for the company and it was "very excited" to be the first to use the feature in this territory.
read more on