After raising $250m, hospitality tech startup Toast is doubling its Dublin base
The company houses engineers in the capital and will be expanding its product range.
FRESH OFF RAISING $250 million in its latest funding round, restaurant software and hardware startup Toast plans to double the number of staff at its Dublin office this year.
The Boston-based outfit develops a system for food businesses to accept payments, operate online orders and delivery, and manage different facets of the business such as back-office admin for staff.
Founded in 2013, the company says its technology ultimately helps restaurants manage the flow of customers – by keeping payments running smoothly and gathering feedback – to ensure the retention of patrons.
Toast's office on Clarendon Street in Dublin 2 currently employs 30 people and the company plans to nearly double that headcount by the end of the year.
A spokesperson for Toast told Fora that it hopes to grow the team to 100 by 2020. It employs 1,500 people in total across its three offices, located in Ireland's capital, Boston and Omaha, Nebraska.
With its latest investment announced at the end of last week, Toast is now valued at $2.7 billion.
The series E round, which brought its total funding to nearly $500 million, was led by major tech funds TCV and Tiger Global Management. Other backers of the company include Bessemer Venture Partners and Fidelity's Eight Roads Ventures.
R&D spend
Toast said it will be investing over $1 billion in research and development over the next five years.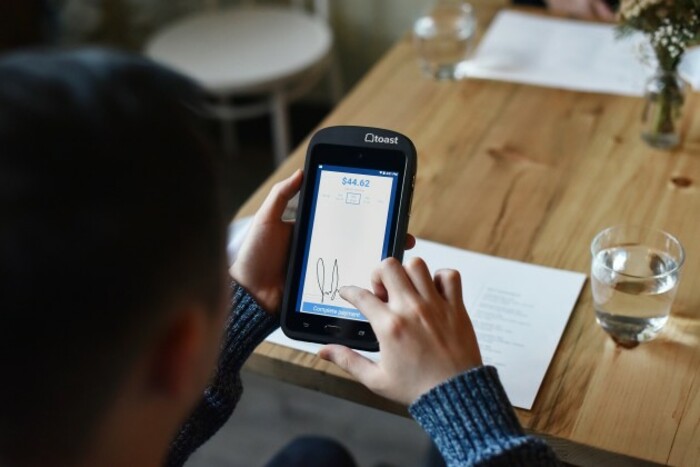 Source: Toast
The Dublin office – Toast incorporated its Irish entity in 2017 – is currently hiring for positions in engineering and software and mobile development.
It said it plans to release new products this year that will simplify tasks like recruiting and retaining talent in the hospitality sector, an issue that has plagued restaurateurs in Ireland.
Other investments in 2019 will include providing restaurants with new data insights tools and real-time reporting functions.
Although it has not revealed its revenue figures, Toast previously claimed that its sales grew by 148% in 2018.
Commenting through a statement on the latest multimillion-dollar funding announcement, Toast CEO Chris Comparato marvelled at "how far we've come" since the company was founded six years ago and said tens of thousands of restaurants use its services.
Get our NEW Daily Briefing with the morning's most important headlines for innovative Irish businesses.