Why Tayto Park sees its future in luring the suit-and-tie brigade
The Meath attraction is aiming to bring in a million visitors per year.
TAYTO PARK IS drumming up extra business during quieter, 'off-peak' months by getting corporate types to shed their suits and let loose on its attractions and rides.
Speaking to Fora, the crisp-inspired park's general manager, Charles Coyle, says corporate bookings have become a growing segment of the company's annual takings.
"It is something that has been under-utilised by ourselves. It is a sector that is growing and we'd like if next year or the year after you're looking at anywhere between 7.5% to 10% of our business, which is quite considerable considering the fact that it has come from a very low base," he says.
Coyle says corporate types tend to visit when there are fewer punters – early May, September and October – which is "good news" for the park.
"We do have a huge amount of corporate events booking in for early May, probably more than any other year we've had," he says.
"We're well able to deal with any amount of customers on our peak days, but it's trying to spread the crowd so you can get people to come in off-season periods."
Coyle says the attraction is managing to retain a lot of corporate bookings, which is unusual since companies tend to send workers to different destinations each year for annual away days.
At the moment, the park - which is located near Ashbourne in County Meath – is only operating on weekends but will be up to full speed again from May till the end of December.
The amusement park and zoo normally takes in a lot of cash during the busy Easter break, but this year the bleak early spring weather took its toll.
"Unfortunately this year, Easter was very early and the weather was horrendous," Coyle says.
"It wasn't a great Easter for us, but we had two days where it didn't rain out of 15 … we had huge numbers come in on those days. It's encouraging to see that."
Coyle estimates that anywhere between 5,500 to 6,000 people visited on the two good days, while the park catered for just 2,500 when the weather was bad – a far cry from the 10,000 it hosts at the height of the summer.
Naturally for Ireland's only major amusement park, the weather plays a big part in determining ticket sales for any given day.
Even in July – when the park is at its busiest – Coyle believes a poor forecast can deter as many as 4,500 patrons from showing up. It is "one of the greatest challenges", he says.
Source: Leon Farrell/Photocall Ireland
Family affair
Tayto Park opened in 2010 and was the brainchild of former farmer Ray Coyle, Charles's father. The elder Coyle started snacks manufacturing giant Largo Foods in 1982 and acquired the iconic Tayto and King crisp brands for €62 million in 2006.
After 35 years at its helm, he retired from Largo just over a year ago but is still CEO of Tayto Park.
"He's here every single day, and he certainly lends his knowledge and thoughts on how things should be run on a day-to-day basis, but Ray would be more involved in the strategic, long-term view of how the business is going," Charles Coyle says.
"It's great to have him because he always seems to notice when we're not doing something right. He's very quick to let us know … Every time I think I've learned everything, I've very quickly learned something new. I've been very fortunate to work beside him."
The business is something of a family affair, with Coyle's sister and Olympian, Natalya, and mother, Ros, also working for the business.
All four Coyles are shareholders in the park's parent company, and in 2016 the attraction generated a near-€3 million profit – although that was down on the €5 million it netted the previous year.
"The focus is always on the business, whether it's at the dinner table or in the park. You're always working towards the same goal. You may have differing views of how to get there, but that just makes the end-goal that much stronger," Coyle says.
Some €45 million has been invested into the park so far – including €10 million of Ray Coyle's cash for the Cú Chulainn wooden roller coaster - and the company plans to keep investing in new rides, attractions and infrastructure, although Coyle is keeping his cards close to his chest.
The newest addition to the park is a driving school for children, which is run partnership with motoring brand Nissan.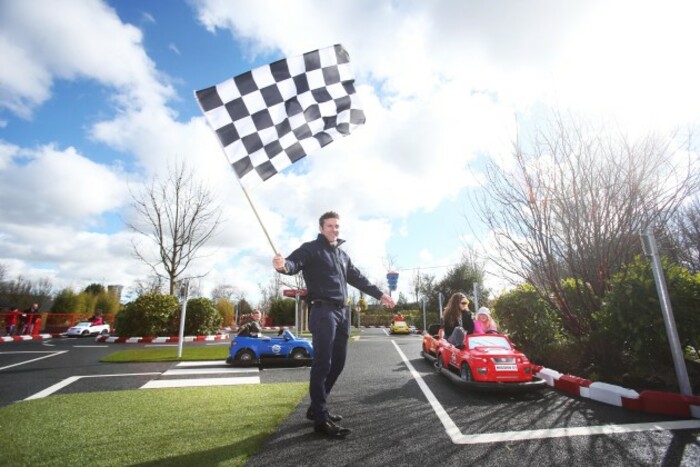 Source: Leon Farrell/Photocall Ireland
It's also hoped that Meath County Council will approve a 250-bedroom seven-storey hotel that's currently in the planning process.
"That would be one step towards turning ourselves to a destination," Coyle says.
He says the park will never be as big as the UK's Alton Towers resort – which is owned by Blackstone-backed Merlin Entertainment – but is aiming to become Ireland's answer to Paultons Park, a family-friendly theme park in Hampshire that hosts 'Peppa Pig World'.
Tayto Park's management has learned a lot about best practice from its UK and mainland European counterparts.
"A couple of years ago, just after the (Cú Chulainn) roller coaster was installed and running in June 2015, we probably reached our max capacity because we put in a huge amount of rides, but we had no idea just how busy we were going to be," Coyle says.
"We probably didn't have as many attractions for people and as such they were either queuing or they spent most of their time walking around the zoo and factory tour, so they didn't really get the full 'Tayto Park experience'.
"As such, we probably suffered for it as a result. People thought that we didn't have a huge amount to offer."
In 2016 and 2017, the company installed extra food outlets and other infrastructural facilities and created a greater walking distance between rides to get the crowds to disperse more.
"On any given day in the park, we think we can easily cater for up to 12,500 to 14,000 people. In August and July, we have 10,000-odd people in a day," Coyle says.
"One of the things we've learned from our colleagues in the industry in the UK and the continent was to spread the crowd to ensure that on those peak days you don't suffer and your guest experience doesn't suffer."
Million-visitors mark
Unsurprisingly, the bulk of Tayto Park's customer base is made up visitors from the island of Ireland: 60% from the Republic and 30% from the North.
Coyle estimates that four in every five attendees have visited the attraction at least once before.
"Our core market is always going to be Dublin, Kildare, Meath. That's where the largest population base in the country is and we're right on its doorstep," he says.
However, he does think there's more scope to bring in extra business from the UK.
"Mr Tayto is extremely well-known in Liverpool, Manchester, London. People do recognise it as a brand, so I think it would be successful in pulling some of those people over."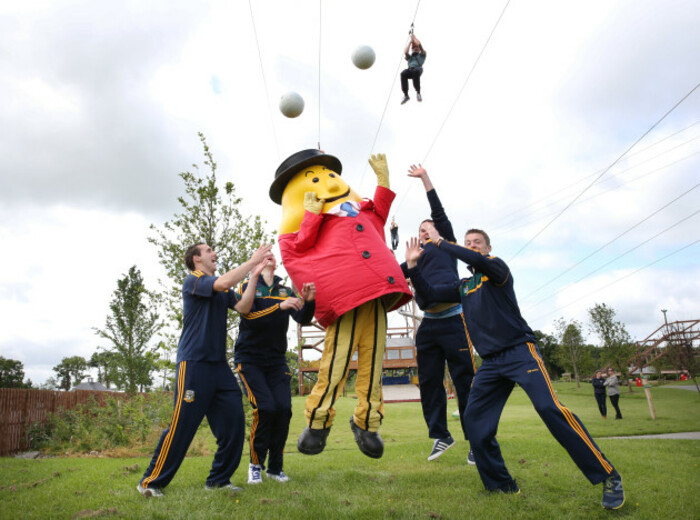 Source: Reference 90306580 Photographer Sasko Lazarov/Photocall Ireland
But the company doesn't have the budget for a full-on advertising campaign in Britain and puts most of its marketing spend into targeting punters in Dublin, Cork, Galway and Belfast.
Tayto Park is expecting to bring in about 760,000 punters this year, similar to 2017′s tally.
The goal is join the likes of the Guinness Storehouse and Cliffs of Moher and become a million-visitor attraction. Ray Coyle has previously stated that 2021 will be the year it happens.
"That's always the goal, to get to one million," the younger Coyle says. "We are hopeful that we'll be able to give our guests enough reason to come back and new guests.
"We do believe in a couple of years' time we'll be fairly close to it, but it's going to take a while and a lot of work in terms of giving people reasons to return and good customer experience. It's also going to cost a lot in putting in new attractions."
Sign up to our newsletter to receive a regular digest of Fora's top articles delivered to your inbox.