After 35 years, the iconic face of Tayto Crisps has stepped away from his company
Meath businessman Ray Coyle is one of Ireland's most successful entrepreneurs.
RAY COYLE, THE man behind Tayto Crisps, has resigned from the board of the company he founded 35 years ago.
According to new documents just filed to the Companies Registration Office, Coyle resigned as a director from two Tayto companies at the end of last year.
He also stepped down from the board of Largo Foods, Tayto's parent company, which he founded 35 years ago in 1982.
Largo Foods owns the King, Hunky Dorys and Perri brands alongside its most famous name, Tayto.
Coyle's resignation comes after he sold his final 25% stake in Largo Foods to Germany firm Intersnack in 2015.
Previously Coyle had sold a 15% stake in his business to Intersnack in 2007 for €15 million.
The German firm was the majority owner of the business when the Meath businessman sold his remaining shares, but he had an option to buy back an 11% stake in the business.
However, he told the Sunday Independent in 2015 that he did not intend to exercise the option, and would more likely focus on other projects, such as Tayto Park.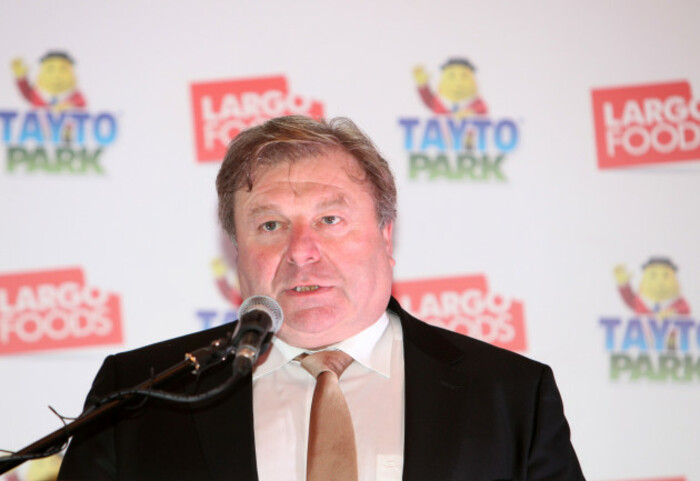 Source: Leon Farrell/RollingNews.ie
As part of the deal which saw him sell his final stake, Coyle agreed to remain on the Largo board until at least the end of 2016.
A spokesman for Largo told Fora that Coyle is travelling and is unavailable for comment.
However, he added: "As per the announcement yesterday, Ray has resigned as chairman and director of Largo Foods which is part of the normal process of selling his holding in Largo Foods.
"He is no longer involved in the day-to-day running of the Tayto brand. However, he maintains a continuing relationship with Largo Foods particularly through Tayto Park."
Largo Foods is an unlimited company, meaning that it is not required to publicly publish its accounts.
The last set of accounts available before the company went unlimited showed that the firm made a €2.6 million profit on turnover of just over €84 million in 2010, when it employed about 550 people.
Tayto Park
The 65-year-old Coyle previously worked as a farmer. He started Largo in 1982, building it into one of Ireland's largest indigenous food companies.
Largo acquired the Tayto and King brands from Irish food and drinks company C&C Group for €62 million in 2006.
Coyle still has several other connections to the Tayto brand, most notably through his involvement in Tayto Park.
The businessman spent millions building the park, and dug into his own pocket to the tune of €10 million to build its flagship wooden roller coaster.
The family-friendly park was opened in 2010 and has since become one of the country's biggest tourist sites, attracting hundreds of thousands of visitors every year. It made a profit of about €1.6 million during 2014.
This article was updated to include a comment from Largo Foods.