Sproose's crowdfunding effort didn't work out, but it's still gearing up to expand its services
The on-demand laundry startup has joined the NDRC accelerator and is raising funds again.
LATE LAST YEAR, on-demand services startup Sproose threw its hat into the equity crowdfunding ring by launching a campaign to raise €200,000.
Running on the recently launched platform, Spark, the Dublin-based startup, which provides on-demand laundry services, hoped the public could help with its investment efforts – but as chief executive Conor Wilson told Fora, crowdfunding is not that straight-forward.
Equity crowdfunding campaigns allow investors to back startups online, with big and small amounts.
Spark launched last year as the first platform of its kind in Ireland – and has seen success with startups like Fleet – but there have been such services active in the UK for years.
In its bid to raise €200,000, Sproose was offering up 9% in equity but the campaign hit a few roadblocks along the way.
Throughout the first few months, it extended its deadline a number of times to eventually secure around €178,000 worth of pledges before deciding it wasn't working out.
Wilson said that the startup should have secured at least half of the fund pledges from investors before even launching the campaign online.
"The advice is, you should try and secure over half of what you needed before you actually open the crowdfund," he said. "We got up to €178,000 of the €200,000 but around halfway through that we kind of saw that we might not hit the target."
Around this same time, Sproose started exploring other options for funding and honing its business model.
As Wilson puts it, the company "took our foot off the gas" on the crowdfunding effort to re-align its focus.
Last month the decision was made to end the crowdfunding effort after the startup was accepted into the NDRC accelerator, which came with a €100,000 investment.
Investors' money isn't actually taken until the campaign is successful, so backers were never out of pocket as a result – but the team came away with some valuable lessons.
Wilson explained that very few pledges in crowdfunding come from passers-by and there's a still a great deal of old-fashioned pitching necessary to get investors involved.
"At a minimum you should have half of the campaign absolutely locked in with certainty from investors you chat to."
"Then have pretty much the full second half nearly locked in," he said.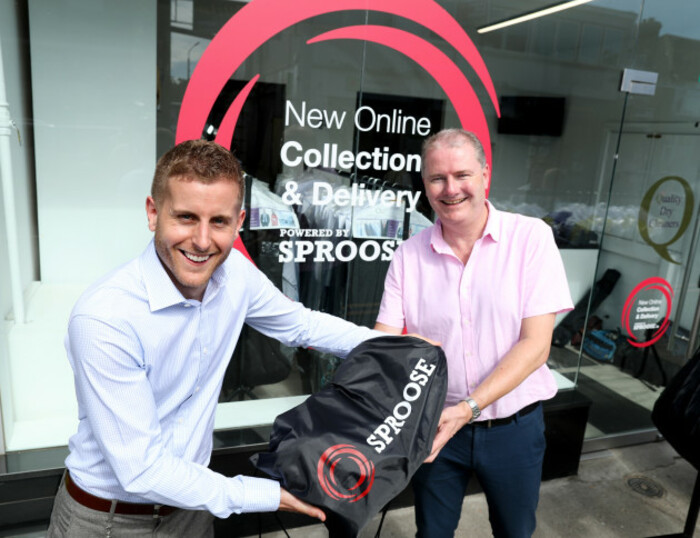 Source: Maxwells Dublin
Wilson added that Spark is still a new platform and doesn't have the same prominence as more well-known equivalents in the UK like Crowdcube.
"I would suggest, particularly if you're going with a young crowdfunding platform, that you should pretty much try and have 100% (of funds) locked in. The crowdfund then would simply act as an additional buffer. It might generate €10,000 or €20,000, just to get you over the line."
Honing the product
Sproose's efforts are now focused on the NDRC accelerator, which will help the company sharpen its product offerings and revenue models.
All the while the startup is still aiming to raise another €200,000 that it hopes will be matched by Enterprise Ireland. The €100,000 from NDRC, which comes in two tranches, is a separate investment.
The startup began life as an on-demand laundry and dry-cleaning service but it is expanding that remit into other services, such as bike and electronics repairs and car valeting, and is going after corporate clients and property managers.
"We're targeting property management companies, so property managers who have a wide portfolio of either residential or commercial office buildings who are looking to add a little bit more value to the tenant," Wilson said.
"Property managers can add this to their list of what they do so they can win new contracts or retain their existing contracts."
"Then we also go direct to corporate companies, so typically 150-plus employee office buildings … (Companies) looking to improve their employee experience by delivering time-saving services for them."
This will involve some revamping of the software underpinning the service.
"It's almost built and we have about five or six pre-sales in, so companies that have bought into it on the notion that we will have it in the next few months."
Get our NEW Daily Briefing with the morning's most important headlines for innovative Irish businesses.