'Seas of steel' and 'hell on Earth': Why dozens of solar farms are in planning limbo
Locals have appealed 27 projects to the national planning board in the past year.
A SOLAR FARM project was appealed to Ireland's national planning board an average of at least once every fortnight over the past 12 months.
As Ireland struggles to meet its renewable energy targets, a Fora analysis of An Bord Pleanála data reveals that groups of concerned locals have objected to 27 solar developments around the country between November 2016 to November 2017.
None of these projects have so far been refused permission at planning-board level, but the outcome of 23 of the outstanding solar farm developments has yet to be decided.
Two of the projects were given the green light with attached conditions, while another two appeals were deemed invalid.
As previously examined by Fora, Ireland currently has no commercial solar industry to speak of, unlike its near-neighbour the UK and much of continental Europe.
Meanwhile, a lack of national guidance around solar farm planning rules has been cited as an issue in properly assessing the developments.
During the same 12-month period, a further 27 appeals were submitted by solar farm developers. There was a roughly 50-50 split between those looking to overturn planning refusals and those looking to alter the conditions attached to their application.
Of the developers looking to overturn a planning refusal, just one has been successful so far: Terra Solar Ltd's 30,000 sq m development in Listowel, Co Kerry, was given the all-clear in April.
Another project - Solas Éireann Development's build in Blessington, Co Wicklow – was ultimately refused. One appeal was withdrawn. The rest are also awaiting a decision from An Bord Pleanála.
There were two projects that were appealed by both the developers and locals. One was approved with conditions attached, the other is awaiting a decision.
Cork attracted the highest number of appeals from locals during the 12-month period, with five developments there referred to An Bord Pleanála.
Four projects each in Meath and Wicklow were appealed, while concerned locals rallied against three Waterford developments. The reasons for the objections were varied.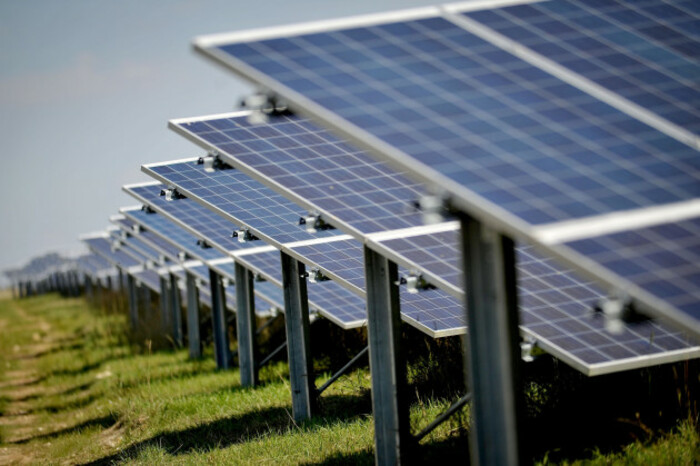 Source: Tim Ireland/PA Wire/PA Images
'Unknown health dangers'
Gaelectric Renewable Energy Developments is hoping to build a 15-hectare solar farm with ancillary buildings in Rathdrum, Co Wicklow, within the next 10 years.
However, construction has been stalled after a group of 20 residents submitted an appeal to An Bord Pleanála.
The locals commissioned architecture and urban design firm Sheridan Woods to prepare a third-party appeal on their behalf.
In the document, the firm claimed that the proposed development would "present an incongruous built form that will detract from the character and setting and consequently the cultural heritage of the area".
It also complained of an "inadequate assessment" of the visual impact the solar panels might have on various viewpoints and that there would be traffic problems during the construction phase.
The firm also voiced concerns over "unknown health dangers".
"It is noted that there are five inverters (power outputs) proposed in the development," the document said. "There will be radio frequency radiation from these and there is a significant concern by local residents if the (possible) effects on their long-term health."
Policy vacuum
Another proposed build that has been delayed until the planning authority gives its ruling is Highfield Solar Ltd's proposed 150-hectare solar farm in Duleek, Co Meath, which would be the largest of the renewable energy projects in the country.
David Mulcahy Planning Consultants was instructed by a group of six locals to prepare an appeal.
In it, the firm said its clients were concerned over the lack of planning guidelines for large-scale solar projects.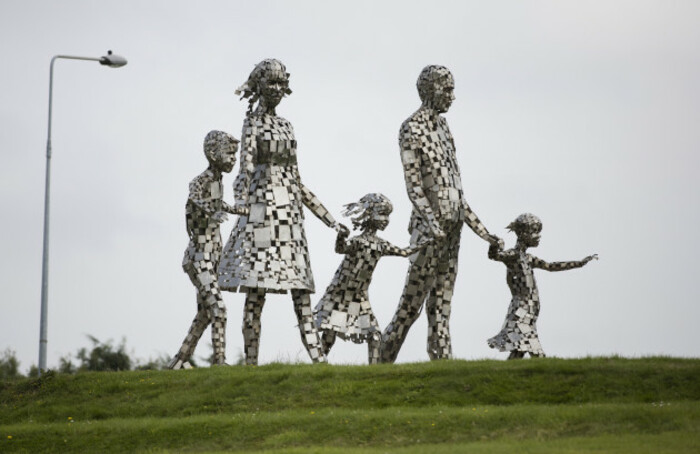 Source: Eamonn Farrell/RollingNews.ie
"Having regard to the policy vacuum that exists and the need for national, regional and local planning guidelines to allow for plan-led development, the proposed development should be deemed premature and refused permission," it said.
[embed id="embed_2"]
Duleek residents also raised concerns that the solar panels could become obstacles in the event of a flood.
They said the site on which the farm would be built has flooded in the past and told the planning board that "a Google search for 'Duleek flooding' reveals a YouTube video of significant flooding in the town, including the suburban estates".
'Hell on Earth'
Another Meath project – a 20-hectare farm in Kilbrew proposed by Power Capital Renewable Energy Ltd – was panned in an appeal submitted by the nearby Painestown Hill Committee.
In the document, the residents' group told An Bord Pleanála that the development would create a "sea of steel" that could cause a great deal of glare caused by sunlight on long summer days.
It claimed elderly locals in particular were "set to suffer from thousands of minutes of glint and glare for the rest of their days" when the sun bounced off the panels.
The Painestown committee was also alarmed about potential noise pollution during the construction phase of the project.
It painted a picture of noisy trucks and "steel-on-steel clanking noises, pile-driving, diesel vehicle engines and generators continuously running".
"To us, this sounds like 'hell on Earth'. It goes against the very essence of (Painestown) hill – its tranquility and mesmerising scenic beauty. To know it has been breached and severely damaged to ironically 'save the world' is not lost on us," it said.
The committee also highlighted that one family living near the site may have to get rid of their dog "should he repeatedly bark at the passing construction traffic adding to the onslaught of noisy sounds".
"They are now extremely anxious, living in fear of what their lives are set to become," the report said.
An Bord Pleanála is due to deliver a decision on the case later this month.
Sign up to our newsletter to receive a regular digest of Fora's top articles delivered to your inbox.