Nine years after moving its HQ to Ireland, 'experience gift' giant Smartbox will launch here
The French-founded company has more than 600 staff in Dublin – and it plans to keep expanding.
'EXPERIENCE-GIFTING' OUTFIT Smartbox is launching its services in Ireland in the coming weeks with the target of selling a quarter of a million of its vouchers annually within five years.
The company, which already operates in nine markets across Europe under a range of brands, offers 'experience vouchers' that can be redeemed for meals, hotel stays, spa trips or adventure activities.
Although these vouchers will only be available in Ireland from early November, the French-founded Smartbox has had a presence here for nearly a decade with more than 600 staff now based at the company's Dublin head office.
The company's CEO, John Perkins, said that after years of growth in other countries such as France, Germany and Italy, he is now focused on rolling out the concept in the local market.
He added the vouchers have become more popular in recent years as people are looking to give presents that are "more personal than just a gift card".
"When you get a Smartbox for a one-night getaway, you get a voucher and a booklet explaining how it works. You register your voucher online and then you see all the hotels you have access to for the value of your voucher," Perkins told Fora.
"You can check availability and reserve your booking online. You can also exchange the voucher – so if you get a parachuting gift and you decide that's not your cup of tea you can change it for a weekend getaway."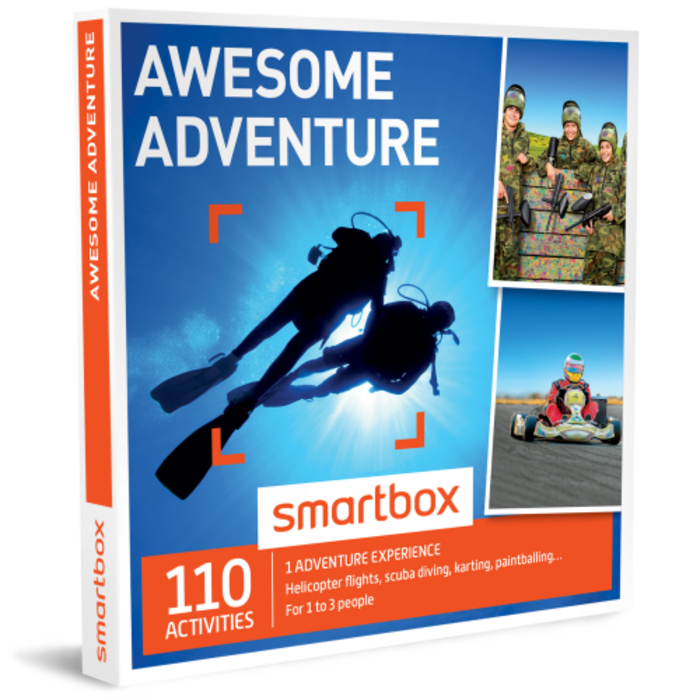 Source: Smartbox
Smartbox has already signed up 450 'experience providers' in Ireland, including restaurants, hotels, spas and activity outlets. But Perkins is expecting that figure to increase as more people in Ireland become familiar with the concept.
"It took about a year to build up our products and educate businesses on our platform. But we have more partners joining every week, and by this time next year we'll probably be close to 1,000 partners," he said.
In the Irish market, Smartbox will initially sell 18 different gift boxes, ranging in price from €29 to €300, in Debenhams stores and online. These will be divided into four categories: getaways, adventures, gourmet and pampering.
For example, there will an adventure package for €99 where the customer can choose from helicopter flights, scuba diving or karting.
To be featured on the platform, businesses pay Smartbox a commission on all vouchers that are redeemed.
Perkins would not disclose the percentage commission his firm charges but said that the system works because it brings back repeat customers for companies.
"We see ourselves as a marketing platform for hotels, restaurants, spas. We help them promote their services. There is no upfront marketing fee, no sign-up fee, no annual fee. We have a one-time commission and then the customer is theirs.
"We have over 40,000 partners now across Europe because it's a great way of building business. The fundamental difference between us and something like Groupon is that we sell an experience at full price to give to somebody as a gift.
"A Groupon customer is very much a bargain-hunter, buying it for themselves, using it at the venue, and then they never come back unless they have another discounted voucher."
The model is already established in countries such as France, Italy, Germany and Sweden, and last year the company sold around seven million gifts worth over €500 million. Perkins said he is confident that the concept will take off in Ireland too.
"In five years time we're targeting that the Irish business will have sales worth about €20 million. If the average price of a voucher is around €80, then we'll be selling 250,000 experiences yearly."
Dublin HQ
Smartbox was founded in France in 2003 and gradually started expanding into international markets. In 2009, it moved its headquarters to Dublin, leaving only small commercial offices in other cities.
"I think the company decided that the future of the business was going to be more outside of France than inside. To do that international development, you really want to put your headquarters and all your staff in one place," Perkins said.
"But the conclusion was that it would be very difficult to be base multilingual staff in Paris, in a Francophone country. So we moved the back office operations to Dublin."
Source: Smartbox
Smartbox started out with around 100 staff in the Irish capital but now has a workforce of more than 600 in its Talbot Street office. This includes roles in IT, digital, finance, sales and customer support.
The latest accounts for the Irish company, covering the year to the end of April 2017, show it posted revenue of €174 million – up from €154.6 million in 2016 – for an after-tax profit of €11.3 million.
"Hopefully in a few years if we get bigger we'll have to keep expanding, so I think we'll increase the Irish workforce," Perkins said.
Many companies have spoken about the challenges of recruiting – and retaining – staff in Dublin at the moment, with close to full employment, competition for high-skilled roles and an ongoing housing crisis. 
"A lot of other companies have expanded over here in the last few years so that makes it a challenge to recruit staff," Perkins agreed.
"But I think the advantage that Smartbox has is that Dublin is the company's HQ. This is where all the strategy is done, all the product creation, platform development, where all the decisions are made.
"We're not just a subsidiary of a large American tech company – so that helps us continue to attract people. Without a doubt it's a challenging market, but we're still very happy to be in Dublin because it has brought us a lot of success so far."
For the time being, Perkins' focus is on continuing to develop Smartbox's tech platform in Dublin, while also rolling out its services in Ireland. He noted that it has taken a while to launch Smartbox here but he is bullish for the future.
"It was just a question of market size. But finally we said that we can't continue to just develop the larger European markets – we've got such a big presence in Ireland that it would be great to develop the service here too," Perkins said.
"That's why Ireland has become a priority now. Everyone says Irish people love gifting so we're quite optimistic."
Get our NEW daily digest of the morning's most important headlines for innovative Irish businesses.